Saddlehorn Winery
by
Kathy Sullivan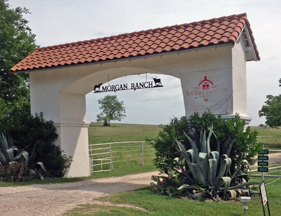 Summary: Saddlehorn Winery in Burton, Texas is on the Texas Bluebonnet Wine Trail. The winery, with vineyards, is located on a ranch between Houston and Austin.
Saddlehorn Winery is located on Morgan Ranch and owned by Steve and Galin Morgan. To reach the winery, visitors will pass under an archway labeled Morgan Ranch (another sign also notes that this is Saddlehorn Winery) and continue along an extended driveway. In the distance a set of red buildings beckon visitors to follow along to the winery and tasting room.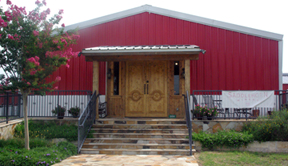 Steve began making wine in 1999 at home with wine kits. He also traveled to wine regions. A friend of his also started making wine from kits. They found that the resulting wines were not very good.
Not quite ready to give up, Steve and his friend decided they should make wine from grapes. They visited a grape grower they knew who grew Blanc de Bois and Black Spanish varieties. They purchased grapes and also sourced frozen must and juice from California.
The first wine from grapes they produced was much better than the kit wines. They were impressed enough with the results, that Steve began buying winery equipment. In 2003 he purchased the ranch and prepared the soil. The first vines were planted in 2006 with the first harvest in 2008. Today Saddlehorn Winery has three acres of vineyards with Blanc du Bois and Black Spanish varieties.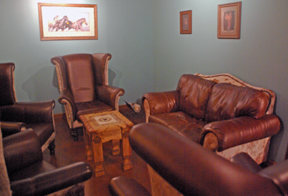 Tasting Room and Winery
The tasting room, located in a renovated horse barn, is spacious. Seating areas are available for enjoying a glass of Saddlehorn Wine. Behind the tasting counter, large plate glass windows provide views of the winery.
In the winery, a rocking chair and a table, with a wine bottle and wine glass, add a sense of the romantic to the winery. This is where Steve enjoys sitting and enjoying the ambiance after a day of winemaking. On the day of our visit, Blanc du Bois juice was mixed with yeast. Once the yeast becomes hydrated and the right temperature, it will be added to the juice.
Recently, an event room with seating for about 100 people has been added to the facility. Private events include weddings, showers, receptions and meetings.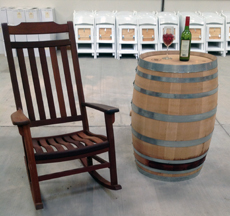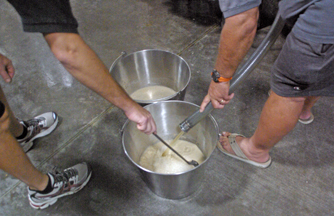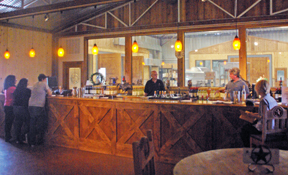 White Wines
Blanc de Bois 2012 was produced with estate grown grapes. The light yellow wine offered tropical fruit and citrus notes. The taste had nuances of grapefruit, citrus, and tropical fruits. The finish was crisp and fruity. Chardonnay 2012, produced with fruit from the state of Washington, was a light yellow color. Wine notes included apple and citrus. Pinot Grigio 2012, also from Washington, was a straw color. Citrus nuances were on the aroma and the taste was of grapefruit. The crisp finish had grapefruit hints. Muscat 2012, produced from Texas fruit, was a light yellow color. The aroma and taste offered floral notes especially orange. The crisp finish was slightly sweet with orange hints.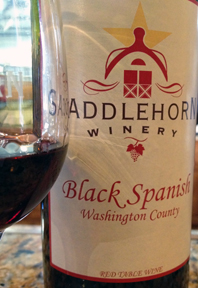 Red Wines
Black Spanish 2011 was produced from estate grown grapes. The wine was a dark ruby with a sienna hue color. The aroma reminded one of black jammy fruits. The taste was of black jammy fruits and licorice. The finish was fruity with tannins. Black Spanish Dessert Wine, also made with estate grapes, was a dark purple to black color. Nuances included dried fruit. The taste was sweet. The finish, not overly sweet, was fruity with dried fruit hints.
Saddlehorn Wine Club
The Saddlehorn Wine Club has free membership and offers several opportunities for members. Some of the benefits include: complimentary tastings, wine and gift shop discounts, advance notice for new releases and winery events.
Enjoy a visit to Saddlehorn Winery located on a ranch in the delightful Texas countryside between Austin and Houston.
Saddlehorn Winery
958 FM 1948
Burton, Texas 77835
GPS: N30º 12.103' W96º 33.414'
Article written August 2013
---
Visit these Texas wineries that partner with Wine Trail Traveler.