Flat Creek Estate (Part 1)
by
K. L. Sullivan
Summary: Located in Texas Hill Country, just an hour outside of Austin, Texas, Flat Creek Estate offers visitors a delightful experience. This is a Tuscan-style winery you will want to visit.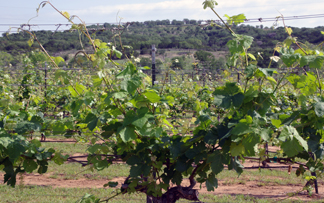 As we drove through Texas Hill Country, we were anticipating our visit to Flat Creek Estate. We seemed to be so far from any type of metropolis, we thought we might be visiting a small boutique style winery. Upon our arrival, we realized that Flat Creek Estate offers a whole lot more. Rick and Madelyn Naber, owners of Flat Creek Estate, have created a stunning destination site for visitors. We met Rick, who provided our wine tasting and winery tour.
Rick is excited about the progress the winery has made since purchasing the 80-acre parcel in 1998. They planted the first vineyard in 2000 and in 2002 started building the facility. Currently the vineyards consist of 20 acres planted with Sangiovese, Pinot Grigio, Pinot Blanc, Shiraz, Muscat Blanc and Tempranillo. By 2005, they were looking at positioning themselves to be an agritourism site with a combination of winery, bistro and event center. In 2007, they added an outdoor pavilion. Today when visitors arrive at Flat Creek Estate they can expect a wine tasting in a delightful room, tour, wine and food.
Tasting Room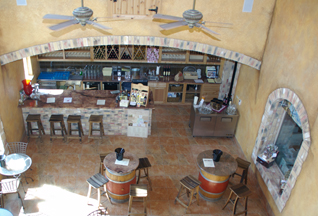 The Tuscan-style tasting room is delightful. Visitors enter the tasting room by walking through a curved glass entrance, down a long stairway to the tasting counter. Along the stairway wall, three paintings of dancers decorate the wall. These painting images are used on wine bottle labels. Arched windows provide light and views of the outdoors, while other arched windows provide views of the winery production area and special event room. Ceiling fans and lights add to the warm glow of the tasting room area. Tastings are at a granite countertop or at small tables that were created with old oak barrels topped with circular pieces of granite. Gift items are also available for sale.
Estate Club members have a special building, the original tasting room. Flat Creek Estate outgrew this building and it is now for the use of wine club members.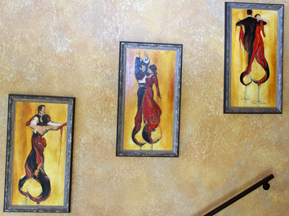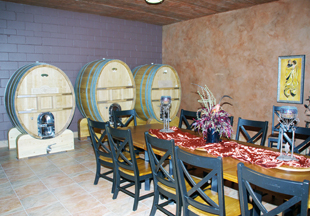 Flat Creek Wines
Currently the winery produces 8,800 cases of wine. Rick and Madelyn hope to reach 10,000 cases, the current capacity of the winery. The wine bottle labels are unusual and created by a local artist. Labels include "Dancing in the Wine" and Buckin' Horse. As we tasted wines, we enjoyed the ambiance of the tasting room.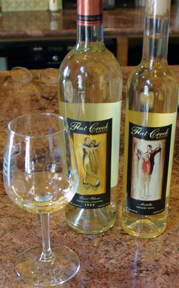 White Wines
Buckin' Horse White was a Viognier wine with a floral aroma and taste. The taste also had honeysuckle and pineapple nuances and was smooth. The finish was crisp and fruity. Pinot Grigio 2007 offered a citrus aroma with a velvety, lemon taste. The finish was crisp and fruity. Pinot Blanc Estate 2008 had a mild citrus aroma. The taste was velvety with a fruit salad taste of citrus and tropical fruit. The finish was soft and fruity.
Red Wines
Super Texan 2006 was a blend of Sangiovese, Cabernet Sauvignon and Merlot. The aroma and taste were of red cherry. The finish was crisp and fruity with mild tannins. Buckin' Horse Red is an everyday red table wine. The finish and taste were fruity while the finish was crisp with some mild tannins.
Sweet Wines
Muscato D'Aroncia was an Italian-style Orange Muscat. The aroma and taste were of oranges and had floral nuances. The finish was crisp with orange notes. With a residual sugar of four percent, this is not a dessert wine. However, it pairs well with appetizers. Muscato Blanco was produced with the Muscat Canelli. The aroma was of honeysuckle. The taste was like fruit salad of oranges and peaches. With a residual sugar of four percent, the finish was crisp and delicious.
Dessert Wines
Mistella, produced with first run juice, was fortified with a grape brandy. The wine was aged in neutral oak for a year. The taste was of a fruity salad. The finish was sweet and fruity. This would make a fine dessert by itself. Port (tinta Madera) was produced using the traditional method. The aroma and taste were a fruity jam and the mouth feel was like velvet. The finish was sweet and fruity with just a hint of heat on the finish. The Port label says, "Enjoy with Stilton, a glowing fire, and a good friend."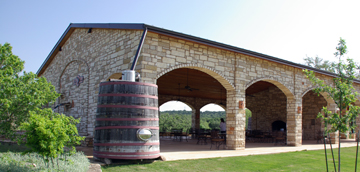 Private Events
With both an event room and a pavilion, private events are definitely do-able at Flat Creek Estate and with style. The open-air pavilion is delightful as it is constructed of stonewalls with many arches that provide views of the vineyards. Visitors can purchase picnics at the Bistro on Jammin' in the Vineyards Sundays to enjoy at the Pavilion. The indoor event room and restaurant has indoor seating for 100.
Read Flat Creek Estate Part 2
Flat Creek Estate
24912 Singleton Bend East
Marble Falls, Texas 78654
GPS: N30º 28.875' W98º 02.681'
---
Visit these Texas wineries that partner with Wine Trail Traveler.