Delaney Vineyards
by
Kathy Sullivan
Summary: Delaney Vineyards has two production locations. Currently the Grapevine, Texas location with its French-style chateau and 10 acres of grapevines is used for showcasing the wines with wine tastings, tours and events. Jerry Delaney, owner and winemaker, was Texas born and bred. Delaney Vineyards is one of the largest wine producers in the Texas northeast region.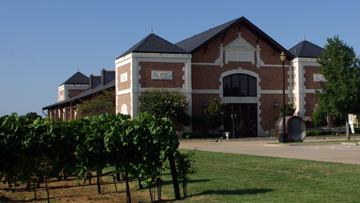 Delaney Vineyards offers tastings at their facility in Grapevine, Texas. The elegant French-style chateau was built as a replica of a French chateau. The chateau sits amid 10 acres of vineyards that adds to the experience of visiting the winery.
Jerry Delaney, owner and winemaker, started the vineyards in 1993 and opened the chateau in 1996. The ten acres in Grapevine, Texas are planted with Cynthiana grapevines also referred to as Norton.
Delaney also owns 125 acres of vineyards in West Texas. Lamesa Vineyards were planted in the early 1980's. There is also a winery facility at Lamesa but all tastings take place at the Grapevine location. Grape varieties include Cabernet Sauvignon, Muscat Canelli, Merlot, Cabernet Franc, Petit Verdot, Chardonnay and Sauvignon Blanc.
The Italian granite tasting counter is located in the large event room. The high brick walls with dark wood overhead beams across the vaulted ceiling add to the ambience of the tasting area. Oak barrels line the walls.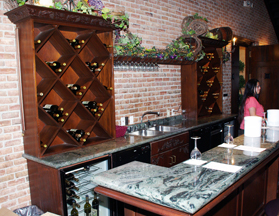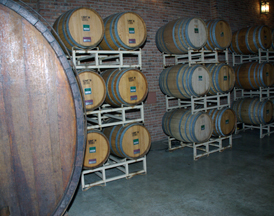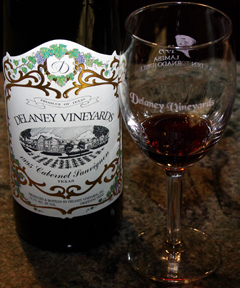 White Wines
Sauvignon Blanc 2007 was a pale yellow color with a citrus aroma. The taste offered citrus with a bit of pear. The finish was crisp with citrus. Chardonnay Reserve 2006 was pale yellow. The aroma offered citrus and oak nuances. The taste was velvety with citrus. The finish was crisp and buttery with citrus notes. Muscat Canelli had an aroma of orange blossoms. The taste offered floral and orange blossom nuances. The finish was crisp and dry.
Red Wines
Cynthiana 2007 offered an aroma of smoke with a taste of smoke and spice. The finish was crisp with tannins. Merlot 2005 presented an aroma and taste of black fruit. There were tannins on the finish. Three Daughters 2006 was named after Delaney's three daughters. The wine was a blend of Cabernet Sauvignon, Petit Verdot and Cabernet Franc. The aroma and taste were of black fruit. The finish had tannins with a long fruit finish. Cabernet Sauvignon 1995 offered spices on the aroma and taste. The fruity finish had tannins.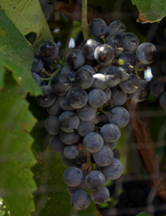 Events
The winery has two large events each year. In August there is the Harvest and Grape Stomp and every April the winery has a Blessing of the Vines. Private events include weddings and corporate events. Special private tours and tastings are available for groups. A kitchen is onsite for catering services.
While visiting Grapevine, Texas be sure to include time for a visit and tasting at Delaney Vineyards.
Delaney Vineyards
2000 Champagne Blvd
Grapevine, Texas 76051
GPS: N32º 53.134' W97º 05.852'
---
Visit these Texas wineries that partner with Wine Trail Traveler.