Rancho Ponte
by
K. L. Sullivan
Summary: A visit to one of Texas newest wineries, Rancho Ponte, in Texas Hill Country is warm and friendly. Opening in February 2009, the winery tasting room has a clean, new feel to it. The winery is a family owned commercial business run with family involvement from sales staff to website technology. Roberto Ponte is the owner and winemaker.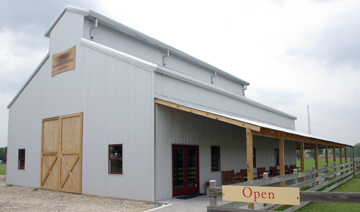 We enjoyed our visit to Rancho Ponte, one of the Texas wineries that opened in 2009. Before moving to Texas, Roberto farmed in Temecula, California. Roberto worked vineyards in Venezuela and comes from four generations of family involved in the wine industry. He enjoys the wine industry and finds satisfaction from learning. According to Roberto, winemaking includes an "endless variety of tastes and smells."
Currently the winery is producing 1,000 cases and would like to grow to 3,000 cases. Roberto wants the winery to stay small and in the family. As a family winery, they are doing everything themselves and he wants to keep it that way. Roberto likes making small batches of hand crafted wines.
The Rancho Ponte tasting room is located in a large, modern barn-style building. A covered patio extends along the side of the building. The benches provide a nice place to relax and enjoy a glass of Rancho Ponte wine.
The tasting room has a large rectangular shaped island in the middle of the room that serves as the tasting counter. This counter can accommodate many people on it four sides. The top of the tasting counter is of golden-yellow butcher block. Small green lights provide light over the tasting counter and wall lights enhance the yellow walls. A row of barrels, along an end wall, adds to the ambience of the room. Small tables of gift items are spaced around the room allowing one easy access to browse while tasting wine. As you taste wines, browse the wine accessories and other delightful items that include decanters, cheese trays, candleholders and gourmet food items.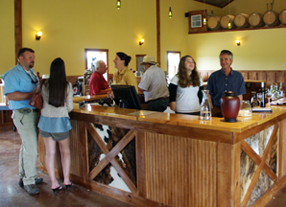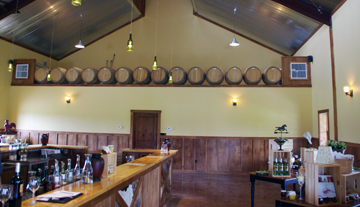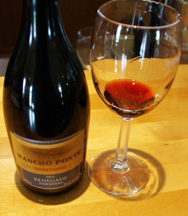 White Wines
We tasted several wines beginning with the 2007 Pinot Grigio. The wine offered an aroma and taste of grapefruit with a crisp finish. Chardonnay 2007 had oak aroma with caramel nuances. The mouth feel was smooth with a taste of pear. The finish had oak and fruit nuances with light tannins. Radiance, a wine produced from Riesling, offered a floral and citrus aroma. The taste was like a fruit salad of pears, peaches and citrus. The finish was fruity and sweet and became drier on the finish.
Red Wines
Rancher's Reserve 2005 was produced from Tempranillo. The aroma and taste were of dark fruit. The finish was crisp with light fruit notes and mild tannins. Triple M Blend 2006 was a blend of Mourvedre, Merlot and Muscat Canelli. There were raspberry nuances on the nose and taste. The finish was fruit forward and crisp. The wine dried on the aftertaste. Bella 2007 was a Merlot with a reddish orange color. The aroma was of light red fruit. The taste was sweet and silky with a fruity finish. This wine would be good chilled on a hot day or paired with hot, spicy food.
Port
Renegade 2003 was a vintage port with 20.6 percent alcohol. This Zinfandel port offered a dried fruity nose and taste. It was very smooth with no heat in the mouth and some on the finish.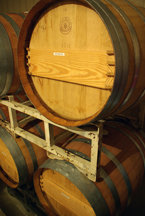 Roberto gave us a tour of the winery and property. With a background in grape growing, he knows the soil conditions needed for producing quality grapes. He bent down and picked up some soil. As it was, the soil will need some work before Roberto will plant the vineyard. We walked to the barrel room. The small room held several French barrels aging wines.
Enjoy a visit to Rancho Ponte where family is an important part of the winery.
Rancho Ponte Vineyard
315 Ranch Road 1376
Fredericksburg, Texas 78624

GPS: N30º 13.225' W98º 48.184'
---
Visit these Texas wineries that partner with Wine Trail Traveler.