Hye Meadow Winery
by
Kathy Sullivan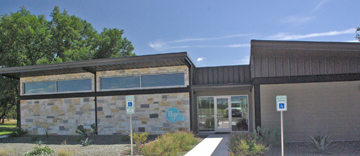 Summary: Hye Meadow Winery, a relatively new winery in Texas, has accomplished a lot in a few short years. The owners were originally in other fields of work, but as their lives changed they were drawn to the idea of starting a winery and vineyard in Hye, Texas.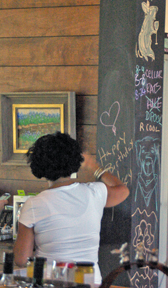 The Hye Meadow Winery tasting room is located in a sleek modern-style, one-story building. Inside, the u-shaped tasting counter is made of oak staves. Windows overlook a patio and the Texas Hill countryside. Dark wood walls, decorated with local artwork, add to the ambiance of the room. Of special note is the decorative black slate throughout the room where visitors can write simple messages like "Happy Birthday" to someone special.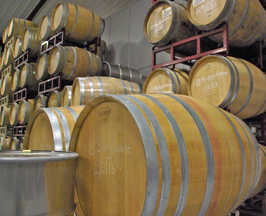 The winery building is located several yards from the tasting room. Inside we viewed round and square stainless steel tanks. Several oak barrels were also in sight. Plenty of space is available for this young and growing winery.
Hye Meadow Winery is one of the newer wineries in Texas with an intriguing story of how and why this family winery was started. We met Mike Batek who had spent fifteen years teaching elementary Spanish. When his wife Denise was laid off from work, they stepped back, looked at their lives and decided changes should be made. Mike proudly told us, "Denise is my best friend."
Mike and Denise looked at what their options were and decided to focus on the positive but they also were realistic and made a list of the worst possible things to happen if their new enterprise did not work out. One of the items on the list was they would have to move into a smaller house, which Mike did not think was too terrible.
Mike and Denise liked wine and decided to put everything into starting a winery and a vineyard. They enjoy the association of pairing wine with Texas foods. The Hye Meadow Winery tasting room opened in August 2013. Mike is interested in viticulture and Denise is taking classes in winemaking. Currently Hye Meadow is producing 3,000 cases and they hope to reach 10,000 cases.
Hye Meadow Winery will eventually have 10 acres of vines that will include Montepulciano, Tempranillo, Aglianico and perhaps Tannat.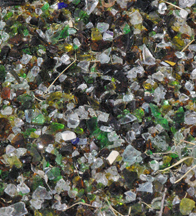 Mike and Denise discovered a unique way to recycle their glass bottles. The bottles are sent to a manufacturer who crushes the bottles creating smooth sparkling mulch. The recycled tiny bits are smooth and provide a colorful addition to landscaping. Mike said he liked the glass bottle mulch, "Because it sparkles."
White Wines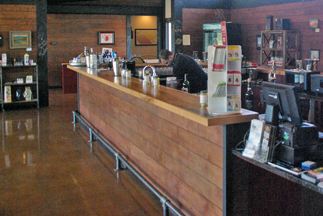 The U-shaped tasting counter can accomodate several wine tasters on three sides. Our wine tasting began with a Sparkling wine made with Symphony, Malvasia, and Muscat Blanc. This light yellow wine was floral with some sweetness. The wine dried on the finish. It was crisp and refreshing. Trebbiano 2012 was a light yellow with 12.5% alcohol. The wine offered floral and yellow stone fruit yielding to a hint of spice on the finish. The wine had a long aftertaste. It was medium-bodied with medium acidity. Viognier Texas High Plains AVA 2012 was yellow with 14.3 % alcohol. The wine was yellow with floral and white peach notes. The wine was medium-bodied with medium acidity. The wine had a long aftertaste. The wine retails for $24. Orange Muscat 2012 Texas High Plains AVA was 11.5% alcohol with a yellow color. The wine offered notes of orange blossoms, honeysuckle and melon. The wine was full-bodied and slightly sweet but dried on the finish. It had a medium acidity. Retail price is $16.
Red Wines
Junkyard Red NV was a blend of Tempranillo, Syrah and Mourvedre. The wine was a translucent ruby with a sienna hue. The taste reminded one of red and black berry fruit salad. The tannins were mild and the wine was medium-bodied with medium acidity. The retail price is $24. Tempranillo Texas High Plains AVA 2012 was a ruby translucent color with 11.5% alcohol. It offered dark red fruit, black cherry and spice (cloves) aromas and flavors. The wine had medium tannins, was full-bodied with medium acidity. The finish had fruit and spice notes. This wine retails for $36.

Events
Several feet from the tasting room, an outdoor event area is available. One area is covered and has plenty of space for tables and chairs. Next to this space is a table and chair area under the shade of trees. It is wheelchair accessible. Hye Meadow offers public events and offers their site for weddings for up to 200. Watch the Hye Meadow Winery website for upcoming public events.
Enjoy a visit to this friendly, easy to find winery on Rt. 290 in Hye, Texas.
Hye Meadow Winery
10257 U.S. Highway 290 West
Hye, Texas
GPS: N30º 14.464' W98º 34.109'
Article written in September 2014
---
Visit these Texas wineries that partner with Wine Trail Traveler.