Fredericksburg Winery
by
Kathy and Terry Sullivan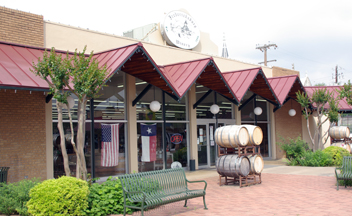 Summary: Fredericksburg Winery is a fun-loving, Texas, family-run winery to visit. Located near the center of Fredericksburg, this urban winery is easy to discover and you will want to stop by each time you visit Fredericksburg. Stop for the wine and for the spontaneous entertainment of comments between staff and visitors. If you notice the sweet preserves near the tasting counter, beware of the sign. If you would like to sample them, wait until you have completed your wine tasting.
We met Cord Switzer who we discovered has a serious nature when it comes to quality wine and wine legislation. However back in the tasting room, he is full of fun and a spontaneous comedian. According to Cord, Fredericksburg Winery is a family-run and owned winery. Almost every person who works there is part of the family. Cord referred to his 89-year-old mother as an "antique labeling machine." Oma hand labels every bottle at the winery.
Update 2013
We were saddened to hear of Oma's passing in 2010. Return visitors to Fredericksburg Winery still ask about Oma, and ask about the antique labeling machine. They are told that she now labels wine for a higher winemaker. Jene Switzer remembered one of his Mother's wishes. She wanted to go for a helicopter ride. Unfortunately, the winter was too cold and her health deteriorated. However, Jene said the family has taken her ashes up for a helicopter ride.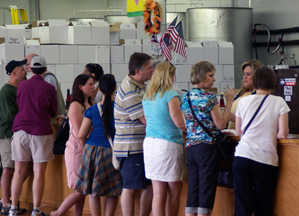 Cord's interest in wine goes back to the 1970's, when his wife worked for American Airlines and selected wines for the airline. They began traveling to wineries in Napa and started talking to the major players in the California wine industry including Mondavi. This led Cord to taking distant learning courses through UC Davis. By 1983, he was looking at promising potential spots and eventually found Fredericksburg. In 1995 he was able to lease a part of a store and set up a wine retail store, Texas Wine & Champagne Company. Slowly the family acquired winemaking equipment and in 1996 produced 500 cases. Fredericksburg Winery's first release was on Fredericksburg's 150th Anniversary, May 8, 1996. Eventually they acquired the whole building.
Today the Switzer's produces 6,000 cases using only Texas grapes. This is a challenge as Texas is susceptible to late spring frosts, Pierce's disease and hurricanes. All Fredericksburg Winery wines are sold from the tasting room.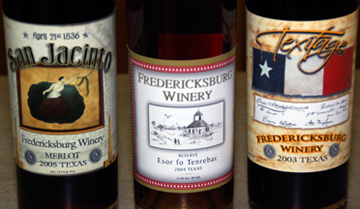 Wine Labels
Wine names and labels have stories behind them. For instance rather than using Meritage, they chose to use Texitage. Why this name – Dry Rose Esor fo Tenerebac? Reverse the letters and you will discover the wine. The wildflower series of labels feature flowers of the Hill Country.

Wines
White Wines
Corderillas was a blend of Chardonnay, Chenin Blanc and Gewürztraminer. The aroma was floral with spice. The taste was fruity and smooth. The finish was also fruity with lingering fruit. Zebebration was a blend of Riesling, Muscat and Gewürztraminer. The aroma was floral and the taste was silky with fruity and honeysuckle nuances. The finish was sweet and fruity and began to dry on the finish.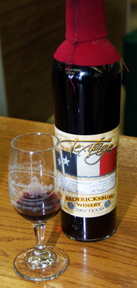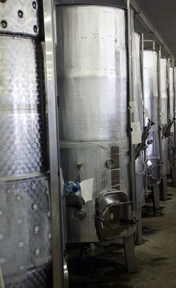 Red Wines
Texitage 2003 was a blend of Petit Verdot, Cabernet Sauvignon and Cabernet Franc. The aroma and taste had blackberry nuances. The finish was crisp and fruity. Dry Rose Esor fo Tenrebac 2004 was a Cabernet Sauvignon. The aroma had strawberry notes. The taste was of a light red fruit and the finish was crisp and light.
Merlot 2005 offered an aroma and taste of dark fruit. The finish was crisp and fruity. Barons Bach Burgundy was a blend of Sangiovese and Zinfandel. There were cherry nuances on the aroma and taste. The finish was fruity with sweetness that dried on the aftertaste. F & N, a blend of Zinfandel and Sangiovese, offered an aroma of perfume. The taste was smooth with red cherry, violet and perfume nuances. The finish was sweet with violet notes. Enchanted Rock Red was a blend of Ruby Cabernet and Pinot Noir. The aroma was of light red fruit and the taste was reminiscent of raspberries and strawberries. The finish was fruity.
Dessert Wines
Orange Muscat offered an aroma of oranges. The taste was satin smooth with orange nuances. The wine finished with orange notes. We ended our tasting with Bin 214, a late harvest Sangiovese. With a residual sugar of 19.1, it was a "blackberry cobbler in a bottle."
Cord is look forward to establishing a winery club. He already has the name. Since he has worked with the Army, he decided on the name "The Flight Club." It will have three Commander flights to choose between.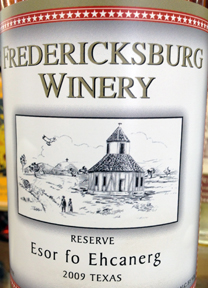 Update 2013
Several wines were tasted during a late July 2013 visit, with Jene. The 2010 Texitage was a blend of Petit Verdot, Cabernet Franc and Merlot. The ruby colored wine had a Sienna hue. It offered jammy fruit on the aroma and dark fruits including plum and blackberries on the taste. There were tannins on the fruity finish. The 2009 Esor fo Ehcanerg was a wine made especially for Texas A&M Aggies. Jene stated that Aggies do things backwards, so they would have no trouble identifying the grape in the wine by it name. Hint, read the name backwards. The dark orange colored wine had a light red jammy fruit taste. This would be an excellent 3P wine. Good for a patio, porch and pool. The 2009 Tempranillo was a ruby color with Sienna hue. It had dark fruits on the aroma and taste.
Come and Take It was the name for a Muscat Canielli wine. The yellow colored wine was 11 percent alcohol. Jene talked about the sweet wines. Rather then fermenting them dry and back sweetening them with sugar or concentrate, he stops the fermentation before all the sugar is converted to alcohol. Jene does this by micro filtering the wine past the stage where yeast cells are filtered out. The Come and Take It was very aromatic with a floral nose, especially orange blossoms. Orange blossom was also noted on the taste and crisp finish.
Enchanted Rock Red is the number one selling wine at Fredericksburg Winery. It is a blend of Zinfandel and Ruby Cabernet. The red colored wine offered red berry fruit on the aroma and taste. It was sweet and fruit forward. The wine pairs well with spicy foods.
Cord's Serious Side
In addition to wine, Cord has an appreciation for the military and wine legislation. A series of military displays highlight the 1st Cavalry Division and a wine label was created for this divisiion. Active military members receive a discount at the winery and Cord tries to speak to each member of the military as they taste wines.
Cord mentioned that this area of Texas was a large wine industry area before Prohibition but that after Prohibition only seven wineries came back. In the 1950's, the oldest winery closed because they were "tired" of dealing with the government. Cord is actively involved in the wine legislation at the local, state and national level. He believes that the way to change legislation is by grass roots efforts. For example, show up at meetings and let your legislators know where you stand.
In terms of the difficulties of owning a winery and being a winemaker Cord said, "There has never been a time when someone asked for help and didn't receive it."
When visiting Fredericksburg be sure to stop at the Fredericksburg Winery for quality wine and camaraderie.
Fredericksburg Winery
247 West Main Street
Fredericksburg, Texas 78624
GPS: N30º 16.627' W98º 52.506'
---
Visit these Texas wineries that partner with Wine Trail Traveler.