Windy Winery
by
Kathy Sullivan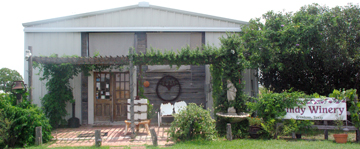 Summary: Windy Winery is a boutique winery in Brenham, Texas where visitors will discover a patio where they can enjoy wine and views of the Texas countryside.The owners focus on producing wines that will please visitors. They sell a lot of sweet wines while also producing dry wines. They participate in the wine and lavender trail festival each year.
We discovered the name for Windy Winery to be very appropriate for this boutique winery. On the day of our visit a soft, brisk breeze was constantly blowing through the vineyards and past the winery tasting room. Originally, they had a winery building but it blew away in January 2012 most likely due to a wind sheer.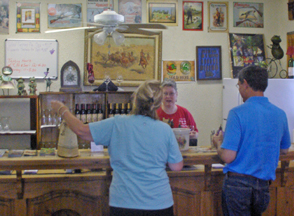 Tasting Room
The Windy Winery tasting room is small with an eclectic assortment of items to browse. Among the wall displays is a quilt with the winery logo. A large poster of Jesus' family tree is displayed. A few pieces of antique furniture including a large radio, antique stand and oak tables add to the style of the room. Farther back is a work area where hand labeling takes place.
The owners of Windy Winery, August and Linda Meitzen have been growing grapes for a long time. Their first vineyard with two acres of grapes was in the Texas Hill Country where about every three years the Meitzens would lose grapes to a late freeze. In 1999 they moved to Brenham where there would be a less likely chance of a spring freeze. The vineyard was planted in 2000. In the beginning while growing grapes, they made wine as a hobby eventually becoming a commercial winery in 2004.
August noted that, "We have fun here because we keep it small." Current production is 900 cases and they would like to double their production.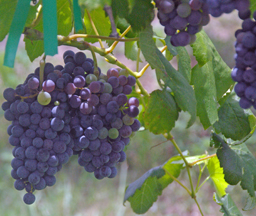 Vineyards
Today August and Linda have five acres of Lenoir (Black Spanish), Blanc du Bois, Hybrid Nuscadines and Champanel.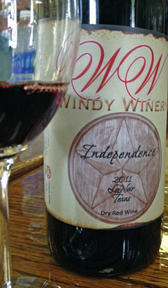 Wines
Oasis was produced with Blanc du Bois. This light yellow wine had a floral aroma with a taste of citrus notes. The crisp finish had citrus with floral nuances. Lady Lavender was a unique wine produced with white wine infused with lavender. The lavender was sourced from a local grower. The wine, with three percent residual sugar, was crisp with nuances of lavender.
Independence was produced with the estate grown Lenoir (Black Spanish) variety. The wine was a ruby color with a sienna hue. The aroma was of dried black fruits. The taste was very fruity with dried black fruit, prune and raisin notes. The finish was crisp and fruity. Saucy Red was produced with estate grown Lenoir. This ruby wine offered an aroma and taste of dark fruit notes. The taste was slightly sweet with a residual sugar of three percent. The finish was fruity with tannins.
When visiting Windy Winery, visitors will discover a warm and friendly welcome.
Windy Winery
4232 Clover Road

Brenham Texas, 77833
GPS: N30º 14.063' W96º 21.343'
Article written August 2013
---
Visit these Texas wineries that partner with Wine Trail Traveler.