Lost Creek Vineyard
by
K. L. Sullivan
Summary: Lost Creek Vineyard has come back from a devastating flooding in June 2007. The winery is now a destination site with wines, concerts and a lovely restaurant. The motto for the winery is "Food for wine." Currently, Lost Creek Vineyard is selling its 2004 and 2005 reserves. People are invited to eat, drink and stay awhile. The winery offers a comfortable and enjoyable environment.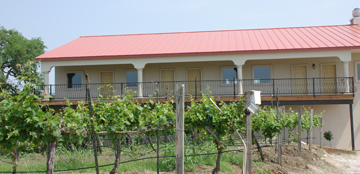 Lost Creek Vineyard is a wonderful example of the saying: "there is a silver lining in every cloud." Lost Creek Vineyard planted three acres of vines including Cabernet Sauvignon and Shiraz and was producing wine. David Brinkman, owner and winemaker, lost most of his winery and inventory due to a major flood in June 2007. Heavy rains pushed the limits of LBJ Lake. Eventually the water rushed out and created flood levels never seen before. The area, including parts of Lost Creek Winery, temporarily became a part of the lake. David lost almost everything. Cases and barrels of wine floated away or were buried deep in debris.
This calamity would have been enough to discourage many from continuing the winery but not David Brinkman. David worked with Texan determination to save what was possible and rebuild. He completed most of the recovery and reconstruction himself. The winery and tasting room are now located on higher ground and the revived winery has become a destination site. The first wedding at Lost Creek Vineyard was David and Valerie's in October 2007.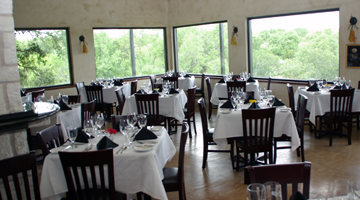 Today, Lost Creek Vineyard is bigger and better than ever and has become very popular for it's fine dining restaurant, The Treehouse Bistro. The winery tasting room also features The Tree House Sushi Bar. Later in 2009, several rooms above the tasting room and restaurant will be available for lodging. The restaurant opened in the Fall of 2008 and has attracted large crowds. With a staff of six chefs including a pastry chef, the restaurant is busy. David is considering options to increase more table space. The menu includes appetizers, salads, entrée's and desserts. Current entrees include Vine Smoked Baby Back Ribs, Grilled Salmon, and Grilled Ahi Tuna Salad.
David became interested in wine and making wine from wine kits in the 1990's. At the time, his friends commented that it was good wine. Today David has three acres of grapes and purchases Cabernet Sauvignon and Syrah from neighboring vineyards.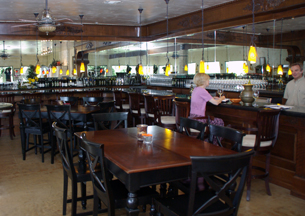 While tasting wines at the tasting counter, notice the large bar wall with an immense mirror. David discovered a section of this bar and was able to create the rest of it to match. Seating at the tasting counter is some of the most comfortable seating we've discovered at a winery tasting counter. Dark wood stools with backs are enhanced for your comfort with cushions. We enjoyed several wines.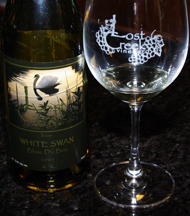 Chardonnay 2005 with an alcohol level of 13.2 percent offered an aroma and taste of apple and pears with a finish that was crisp and fruity. The 2005 White Swan Blanc du Bois had a citrus and slight floral aroma. The taste was of citrus and spices. It finished crisp and fruity. Buddy's Blend 2004 was a blend of Cabernet Sauvignon, Shiraz and Merlot. The taste was smooth with blackberry and spice nuances. The crisp finish had mild tannins with some pepper. Buddy's Select 2005 was a blend of Cabernet Sauvignon, Shiraz and Merlot. It offered a blackberry and spice aroma with smooth blackberry and pepper notes. The finish was crisp with tannins. In addition to the Texas wines produced at Lost Creek Vineyard, the tasting counter also has imported wines.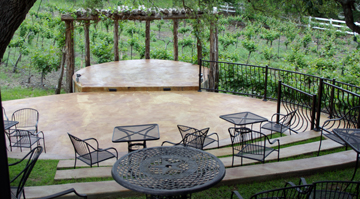 Located behind the winery is a landscaped venue for concerts. The amphitheatre features grass seating in stadium style and the panorama is delightful.
When planning your visit to Lost Creek Vineyard, plan on staying and enjoying a wine tasting and dinner. When planning your visit, check out the events and consider enjoying a concert. With the opening of the rooms for lodging, Lost Creek Vineyard is becoming an agri-tourism destination.
Lost Creek Vineyard
1129 Ranch Road 2233
Sunrise Beach, Texas 78643

GPS: N30º 34.473' W98º 28.198'
---
Visit these Texas wineries that partner with Wine Trail Traveler.