Cork This! Winery
by
Kathy Sullivan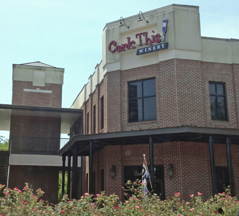 Summary: Anyone living near Conroe, Texas just outside of Houston has access to a one-of-a-kind urban winery and tasting room located in the small town of Montgomery. For anyone near Cork This! Winery, the winery provides a relaxing and fun place to hang out. Look for wine by the glass, wine slushies, cheese and salami trays.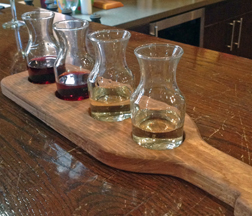 Visitors can create their own series of wine flights. Simply check off four wines to taste. The tastings are delivered by way of a small wooden paddle with grooves to hold four small glass carafes. A wine glass accompanies the assortment and visitors can taste the wines in any order they wish. These wine paddle flights are served at the tasting counter and at tables.
The idea for Cork This! Winery began in 2009 as an idea of two entrepreneurs who wanted to start their own small business. Over lunch one day, they thought a winery would be fun. Today Karla Nash is the sole owner of Cork This! Winery and has created a lovely atmosphere for wine lovers. As an urban winery, Cork This! Winery has created a facility that includes many aspects of a winery tasting room.
Although we did not have the opportunity to meet Karla we discovered that she has a sense of humor. Both the name of the winery and the cautions on the wine label descriptions are humorous.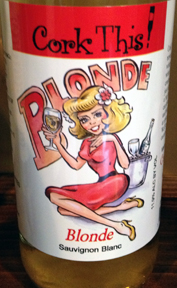 Wines
Blonde was a slight yellow Sauvignon Blanc. The mouthfeel was slightly oily. The wine offered hints of grapefruit and tropical fruits. Karla's "Warning: Consumption of wine is the leading cause of inexplicable rug burns on the forehead."
Partyon your Palate was a light ruby Zinfandel. The wine offered an aroma and taste of perfume and red fruits. The finish was very jammy with fruits and had mild tannins. "Warning; Drinking this wine may cause you to find a deeper/spiritual side to the geek sitting next to you."
Overly Committed was a Pinot Grigio that had a pale yellow color. The aroma was of apple and melon. The dry taste also had apple notes. The finish was crisp and dry. "Warning: The consumption of wine may cause you to take off your shoes because you believe it's their fault that you're having problems walking straight."
Republican Red, produced with Barbera grapes, was purple with red hues. The wine had a light aroma. The taste was dry with a hint of sweetness from the grape. "Warning: Drinking too much wine may cause you to think your pillow closely resembles the kitchen floor."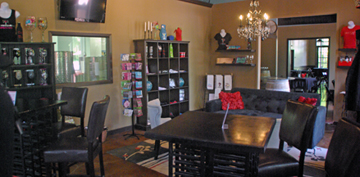 The winery with stainless steel tanks is adjacent to the wine tasting counter and shop. Two additional areas on the first floor have numerous tables and chairs. Cork This! Winery is available for a variety of events. Events include: rehearsal dinners, private parties, baby showers and bridal showers.
When planning your visit add some extra time for just enjoying the ambiance. Of course, Cork This! Winery is a great place for an impromptu get-together. Some people stop by Cork This! Winery for an aperitif on their way to an evening dinner.
Cork This! Winery
21123 Eva Street, Suite 100
Montgomery, TX 77356
GPS: N30º 23.277' W95º 41.873'
Article written August 2013
---
Visit these Texas wineries that partner with Wine Trail Traveler.