Stone House Vineyard & Winery
by
Terry Sullivan
Off a winding road near a golf course and a country club lies a boutique winery and vineyard. Stone House Vineyard and Winery is a neighborhood winery. Several people sat outside on a covered patio overlooking the vineyard on a sunny Sunday afternoon. This small production winery specializes with a Native American grape.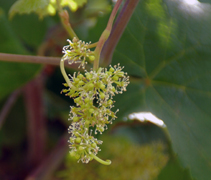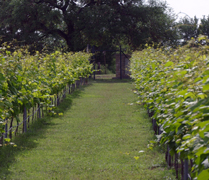 Stone House Vineyard and Winery has six and a half acres of Norton grapes. At the time of our visit in early May, the grapes were flowering and the vineyards looked unharmed from the late spring frost that plagued many Texas vineyards. Close by, Lake Travis offers some moderation to the temperatures in the vineyards.
We met with Angela Moench who recounted her interest in a vineyard. Her family has a vineyard in Australia. Angela was born in the Barossa Valley, South Australia. Angela and Howard decided to plant something different in Texas. After researching grapes they decided to plant the Norton grape. The vineyards were planted in 1999. Norton is a Native American grape and is tolerant of Pierce's disease. Their first vintage in 2002 won a double gold medal. Angela's family in Australia was shocked and amazed. Today Stone House Vineyards and Winery produces between 700 and 900 cases of wine.
The Norton grape is one of the oldest Native American varieties in commercial production today. It is also known as Cynthiana and the name Norton is attributed to a Virginia doctor, Dr. Daniel Norton. The grape was commercially available in the 1830's and wine made from this grape won many awards in Europe during the 1800's. It was widely planted in Virginia prior to Prohibition and torn out of the vineyards during Prohibition. Rediscovered in Missouri, the grape variety has seen a resurgence of plantings in Virginia, Missouri and Texas as well as other Midwestern states.
The tasting room area has the tasting counter at one end and retail area along the side. Food and clothing items are available for sale. At the opposite end of the tasting counter, doors lead out to the covered patio. Adjacent to the tasting room is a quiet area with tables, oak barrels and an oak tank. Stone House Vineyard and Winery uses French oak to age the wine.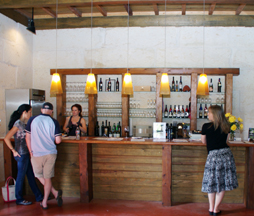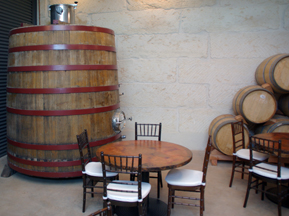 While talking with Angela we enjoyed a glass of Claros, the Norton wine. It offered dark fruit and spice aromas. The smooth taste was also of dark fruit and spices and the wine was crisp and fruity on the finish. Stone House Vineyard and Winery produces two wines. The Claros and Scheming Beagle Port. Visitors can taste these two wines as well as a portfolio of wines from Australia.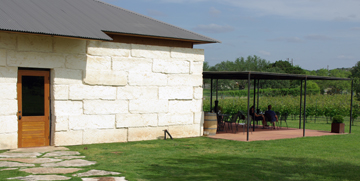 Enjoy a relaxing visit to Stone House Vineyards and Winery. Located about thirty minutes from Austin in a residential area, the approach foreshadows the gentle nature of this winery and setting. Taste the Norton wine made from a grape that already has developed a cultish following in several states.
Stone House Vineyard
24350 Haynie Flat Road
Spicewood, Texas 78669
GPS: N30º 26.194' W98º 03.981'
---
Visit these Texas wineries that partner with Wine Trail Traveler.