Torre di Pietra
by
Kathy Sullivan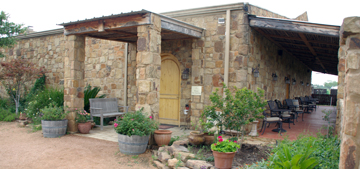 Summary: Enjoy a visit to Torre di Pietra where Ken Maxwell designed the tasting room to give a semblance of a wine cave. The low lighting, stonewalls, fireplace and leather furniture all add to the ambiance of the tasting room. Torre di Pietra's wine selection includes classic wines as well as Blanc du Bois, Touriga Nacional and Black Spanish wines. You will want to be sure to taste several different wines when you visit. Ken believes that today, "People are looking for value. We lowered our prices in January."
Torre di Pietra denotes Tower of Stone and refers to the buildings built of sandstone. The sandstone adds ambiance both inside and outside the winery and fits in well where old winemaking meets old-style buildings.
We met Ken Maxwell, owner and winemaker, and he invited us to sit under the pavilion as we learned his story. Ken had been in the semiconductor business for many years but the draw of his family's history brought him to the land and the world of wine. He learned his winemaking skills from his father and grandfather. Today Ken really enjoys working in the vineyard and winery.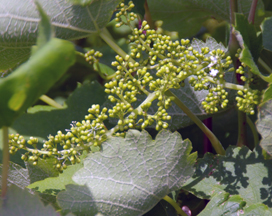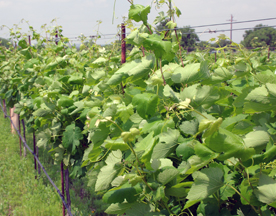 Ken owns two vineyards with a total acreage of 50 acres. The vineyards at Davies, Texas have Zinfandel, Primitivo, Petite Syrah, Touriga Nacional, Mataro (Mourvedre) and Malbec. In 2003, Ken planted a vineyard outside of the tasting room. This vineyard includes Black Spanish (Lenoir), Blanc du Bois, and Cynthiana (Norton). These vineyards did not appear as though they suffered as much damage as other vineyards during a late 2009 freeze.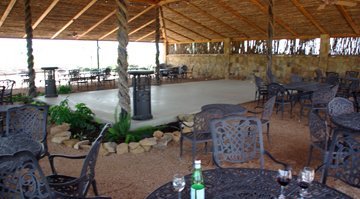 Pavilion
Torre di Pietra hosts music events on Saturdays year round. The pavilion with a permanent roof, open sides and a cement platform provides views of the vineyards. Numerous tables with chairs surround the cement slab where live music is performed. You may want to purchase a glass of wine and sit at one of the tables to enjoy the vineyards in a relaxing setting.
Tasting Room
Our first impression of the tasting room was reminiscent of a wine cavern. The low lights with walls of stone create an impression of a dark cellar. The room has a long tasting counter along one side. At one end of the tasting room, a stone fireplace offers leather seating. Numerous giftware items are available for purchase. These include ceramic wine bottle holders, cheese trays, olive oil, stemware and decanters.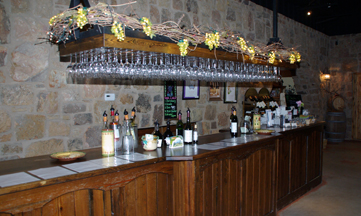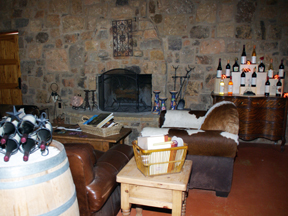 Wines
We returned to the cavern-style tasting room where we tasted several wines from the extensive list.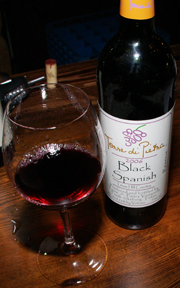 Ultra Premium Wine
We began with Touriga Nacional. The mint aroma was followed by the taste of mint, rosemary and fruit nuances. The finish was fruity with notes of mint, cherry and raspberry. Petit Syrah 2005's aroma and taste reminded one of blueberries. The finish was fruity with tannins. Tango Port had an aroma of smoke and cigar notes while the taste was fruity. The finish was balanced.
Premium Wine
Mataro (Mourvedré) 2006 had a fruity nose and taste. The taste was smooth while the finish had layers of flavors on the finish. Flavors ranged from blackberries to olives. Claret 2005 had a spice aroma. The taste was of spice, olives and red cherries. The finish had a very long aftertaste. Sangiovese 2005 had an aroma and taste of cherries. The finish was crisp with cherry notes and mild tannins. Texas Dirty Girl was produced with Chardonnay. The aroma was of tropical fruit especially pineapple. The taste also had tropical fruit and had a crisp, fruity finish.
Torre di Pietra offers music every Saturday year round. Consider visiting Torre di Pietra on a Saturday and enjoy a blend of music and wine in a relaxing setting.
Torre Di Pietra Winery
10915 East Hwy. 290
Fredericksburg, Texas 78624

GPS: N30º 13.275' W98º 43.056'
---
Visit these Texas wineries that partner with Wine Trail Traveler.