Driftwood Estate Winery
by
Kathy Sullivan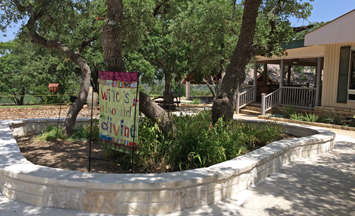 Summary: In the summer of 2014, we returned to Driftwood Estate Winery where we discovered new additions to the winery site,viewed more vineyard acreage and tasted several recently produced wines.
The addition of a covered event area with views of vineyards and the tasting room allows the winery to have private and public events including weddings, wine club parties and business meetings. Most events take place during the fall and spring.
We enjoyed our visit to Driftwood Estate Winery where we learned more about the harshness of the Texan temperamental weather and the constant struggle viticulturists have against Pierce's disease. Despite these difficulties, Texas winemakers have a phenomenal determination to conquer these difficulties and produce quality wines.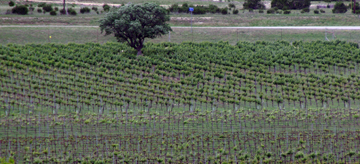 Gary Elliott, owner and winemaker, of Driftwood Estate Winery is just one of many Texans determined to push on and succeed. Gary started his vineyards in 1998. In the past few years, Gary had damage to the vineyard from spring freezes and harvest rains. In 2007, it rained every day for a month. In spring 2009 the vineyards were healthy and he was looking forward to a productive harvest when there was a sudden freeze and he lost his grape crop for 2009. Rather than giving up, Gary sourced grapes for 2009. During our first visit to Driftwood Gary commented that it is a "roller coaster ride." However, he has Texan determination. Currently, he has 18 acres under vine. Varieties in the vineyards include: Chardonnay, Viognier, Chenin Blanc, Cabernet Sauvignon, Sangiovese and Syrah. Gary also sources grapes from the High Plains AVA.
Vineyards and winemaking is a passion for Gary. His parents were involved in agriculture and owned a vineyard in California. His sister also owns a winery in California. The first wine bottled by Driftwood was in 2003 and the winery opened a month later. Production for the first year was 1,200 cases. Current production is about 4,000 cases and Gary would like production to grow to 10,000 cases.
Currently Gary has a 6,000 square foot barrel room and plans to add a new 10,000 square foot winery to the property.
The tasting room overlooks the vineyards down below a steep hillside. The views are delightful. Gary has provided seating where visitors can relax and enjoy the views with a glass of Driftwood wine. Just outside the door to the tasting room is a small covered porch with four round-solid surface tables and seating. The base of each table is an old oak barrel.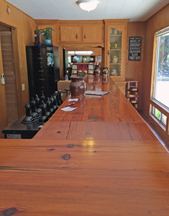 Inside the tasting room, an L-shaped pinewood countertop and pinewood walls create a warm feeling. Large windows provide light. While tasting wines browse the accessories including candles, wine jellies and wine accessories. T-shirts with quotes are also available. Quotes include "Peace, Love & Wine," and "Liquid Happiness."
Driftwood Wines
We tasted several wines in the Driftwood tasting room.
Orange Muscat 2013 was very aromatic with orange notes. This sweet wine had a medium body and a long finish. The wine had 11.8% alcohol and retails for $18. Starry Night was a pale color wine that was sweet. This sparkling wine was a demi-sec and the wine 11% alcohol.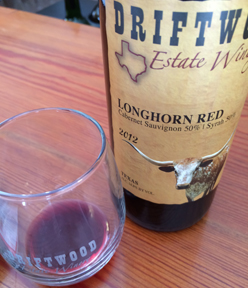 Sangiovese 2011 Texas was produced with 75% Sangiovese from estate vineyards and 25% Cabernet Sauvignon. The wine was a translucent ruby color with notes of cherry and leather. The wine, with a medium body and acid, had medium tannins. The wine had a long, cherry aftertaste. The wine was 14.1% alcohol and retails for $25. Longhorn Red 2012 Texas was a blend of Cabernet Sauvignon and Syrah. The wine was produced with 75 percent of the grapes from Driftwood's vineyards and 25 percent from Gary's sister's vineyard in Paso Robles. The wine was a translucent dark ruby color. The wine offered notes of blackberries, cassis, leather and chewy tannins. The wine was full bodied with medium acid. Longhorn Red 2012 had 14.8% alcohol and retails for $35. Syrah 2012 Texas Hill Country AVA was a translucent dark ruby color and offered notes of blackberry, plum, violets and leather. The wine had bold tannins and was full bodied with medium acidity. The wine had 15.8% alcohol and retails for $35.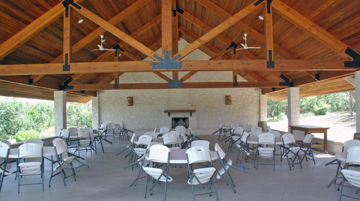 Events
The winery frequently has events. Special events vary between music and special dinners. For up-to-date information be sure to check the winery website. Anyone interested in hosting a private event is encouraged to contact the winery. Small and large events can be held at the winery.
Enjoy your visit to Driftwood Estate Winery. Consider bringing a picnic lunch to enjoy with a glass or bottle of Driftwood Estate wine.
Driftwood Estate Winery
4001 Elder Hill Road
Driftwood, Texas 78619

GPS: N30º 06.177' W98º 05.148'
Article updated August 2014
---
Visit these Texas wineries that partner with Wine Trail Traveler.