Chisholm Trail Winery
by
Terry Sullivan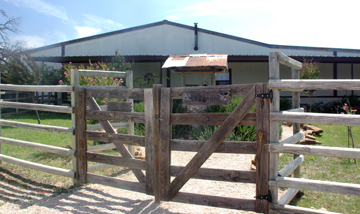 Summary: A little part of the old west remains at Chisholm Trail Winery. Experience a saloon setting with plenty to do. On weekends a wood stove is fired up to make pizzas.
In the late 1800s, cattlemen rounded up longhorns and drove them north to Kansas. The cattle drives followed a route, one of which is the Chisholm Trail. Chisholm Trail Winery takes it name from this legendary trail that also helped to frame the image of the American cowboy. The winery capitalized on that theme, by creating a tasting room experience that transports you back to a saloon a century ago.
Paula Williamson, owner and winemaker, was not happy in her 25-year career in law. However, during that time, she did tour Europe enjoying wine and vineyards. Then in 1992 she purchased a property near Fredericksburg and planted 23 acres of grapes. In 2001 she opened the winery and added on to it over the years. Just as driving cattle is a hard job, Paula discovered growing wine grapes also have their challenges. She lost the vineyard, Paula explained, "Due to human error." She is now in the process of slowly replanting the vines. Currently Blanc du Bois, Lenoir, Ruby Cabernet and Zinfandel grapes are sourced from vineyards in Texas, while other grapes are sourced from outside the state. Paula learned her winemaking skills from a local winemaker and later a consultant from California.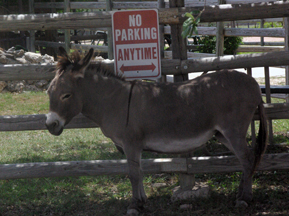 Today, four longhorns still roam the property. You may notice two donkeys, Jack and Daisy. They are the winery's mascots. They are not shy of photo opportunities.
Tasting Room
The tasting room has a saloon atmosphere. Take time to stroll along the many artifacts. A pool table provides some sport while cozy alcoves for two enhance a romantic mood. On Fridays, Saturdays and Sundays a wood fireplace is used to bake pizzas.
The saloon theme is really evident during an annual birthday event. Old-time saloon costumes are worn by saloon girls, and cowboys demonstrate a shoot-out.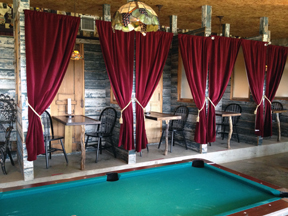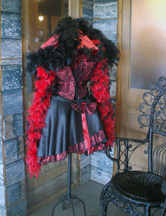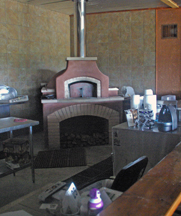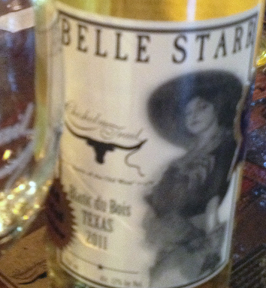 Wines
All wines tasted were made with grapes sourced from Texas vineyards. Chisholm Trail Winery also makes wines with grapes sourced from outside Texas. Most of the wines come with a story that Paula wrote. The story is on the back label. For example, for the wine Belle Starr, Paula wrote:
"She understood, but never accepted, the fact that her beloved husband was accidentally shot and killed by a Sheriff's posse. Her huge ranch became a safe refuge for those wanted by the law but only if she thinks they have been misjudged. Her beguiling smile enchants the lawmen who depart her ranch certain the desperadoes are long gone. No one stops to ponder how such a refined, gentle, and delicate woman runs her ranch so smoothly. Celebrate the cocksure waywardness in the Spirit of the Old West with this deliciously delicate dry white wine with surprising flair."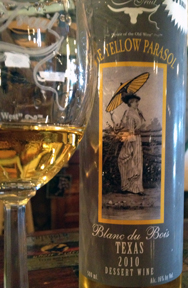 The 2011 Belle Starr Blanc du Bois was a yellow color with floral aroma. There were flowers, grapefruit and apple on the taste. The finish was crisp with grapefruit and apple predominant. High Noon II was a Blanc du Bois. This yellow colored wine had a floral aroma. The taste was sweet with pineapple and yellow stone fruit. The finish was crisp and fruity. The 2010 Yellow Parasol was a fortified Blanc du Bois. The wine was fortified with grape brandy, and had an alcohol of 16 percent. The gold colored wine had tangerine and honeysuckle on the aroma and taste. The finish was also fruity and floral. You do not notice the alcohol on this wine. Many people like it served over ice.
The 2011 Lone Wolf was made from Lenoir. The dark ruby wine had leather and dark fruit on the aroma. The taste reminded me of plums and leather. There were mild tannins and a fruity finish with oak influences. Ghost Rider was made from a blend of Ruby Cabernet and Zinfandel. This is the number 1 selling wine at Chisholm Trail Winery. The red colored blend had spice and cherries on the aroma. The taste was sweet with cherries and baking spices especially cinnamon and nutmeg. The finish was sweet, fruity and spicy.
With a visit to Chisholm Trail Winery, you can experience a part of the old west and taste wines made with Texas grapes as well as grapes sourced outside Texas.

Chisholm Trail Winery
2367 Usener Road
Fredericksburg, Texas 78624
Article written August 2013
---
Visit these Texas wineries that partner with Wine Trail Traveler.