Woodrose Winery
by
K. L. Sullivan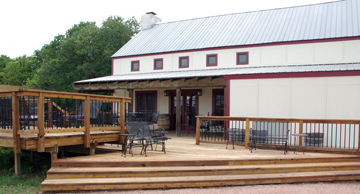 Summary: A visit to Woodrose Winery includes seating at tables for wine tastings. A large two-level deck and tables provide ample space for visitors to enjoy a glass of wine. Watch for the opening of the event/dance hall building in 2009.
The Woodrose vineyards consist of 6.9 acres of Cabernet Sauvignon and Syrah. In 2009, they planted another 2.2 acres including Malbec, Mourvedre and Sangiovese. The winery produces 4,000 cases.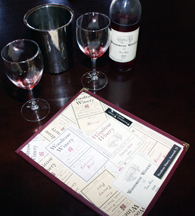 The tasting room opened in 2003. Michael Guilette purchased the winery and vineyards in 2005. Currently a few feet away from the tasting room, a large event room/dance hall is under construction and expected to open later in 2009. Woodrose Winery offers tastings at tables in the tasting room and at tables on the large decks. Enjoy visiting a winery where the wine tastings are brought to you at a table. This restaurant-style atmosphere creates a good and relaxing way to enjoy tasting wines. A deck at the front of the tasting room offers space for enjoying a glass of wine but it is the two-level deck, at the back of the winery, that is delightful. Wrought iron tables and chairs with overlooking shade from trees provide a delightful afternoon retreat. Large windows on the front of the tasting room provide views of the vineyards. Windows on the back of the building highlight the two-level deck amidst many trees.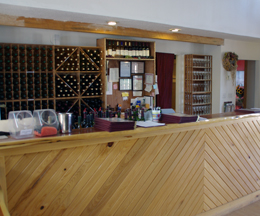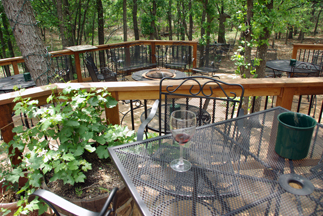 In the tasting room we tasted several wines. The Blanc du Bois 2008 offered an aroma and taste of lemon and grass. The finish was crisp with a citrus finish. Texas Rain Rosé 2008 with an alcohol level of 12.6 percent was a light red to red-orange color. It was a blend of Zinfandel and Blanc du Bois. The aroma and taste were of strawberry and raspberry nuances. The finish was crisp and dry. Zinfandel 2007 had raspberry and candy nuances on the aroma and taste. The finish was crisp and fruity. Merlot 2006 was a dark ruby color. The aroma was of dark fruit and the taste was crisp and fruity. Cabernet Sauvignon 2007 was a blend of Cabernet Sauvignon and Syrah. The result was a bouquet and taste of blackberries. The wine was crisp with light tannins and lingering fruit sensations. Muscat 2008 had a floral and orange bouquet. The taste offered orange nuances and was smooth. There was orange on the dry finish.
The tasting room offers a selection of bottle holders, bottle stoppers and fun t-shirts. One t-shirt has the quote, "I Would Give Up Wine, But I'm NO QUITTER."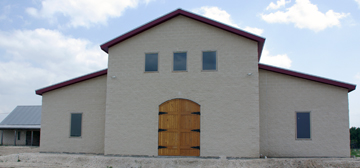 The winery is housed in another building on the property. The vineyards are next to and behind the winery building.
If you are planning an event, you may want to consider hosting it at Woodrose Winery. Private event possibilities include weddings, rehearsal dinners, bachelor parties and corporate events.
Woodrose Winey
662 Woodrose Lane
Stonewall, Texas 78671
GPS: N30º 13.433' W98º 40.519'