Lewis Wines
by
Terry Sullivan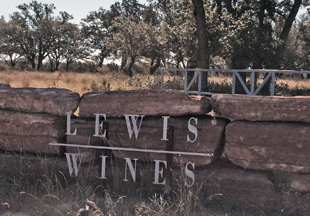 Summary: Lewis Wines winery is located between Hye and Johnson City in the Texas Hill Country wine region along Rt. 290. Wine enthusiasts will need to make an appointment to visit the winery and taste the wines.
A rock wall with the words Lewis Wines marks the access road to the winery facility. The winery is owned by Doug Lewis and Duncan McNabb. While in school in Austin, Doug's roommate poured wines for Llano Estacado in grocery stores around Austin. He would brink home the leftovers. Doug started enjoying wine. When the opportunity presented itself, Doug helped to make wine at Pedernales Cellars also in Texas Hill Country. "It was my second harvest working at Pedernales Cellars when Frederick, David and Jim offered me the opportunity to make a couple barrels off of their extra fruit (2010 was a bumper crop), and my plan was to sell my wine to another winery. With Duncan's help, I ended up making closer to 20 barrels of wine. Then, for several reasons, we decided to start our own label."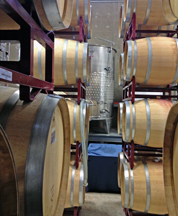 The winery is increasing production. In 2014 they expect to craft 3,000 cases. Onsite there are six acres of vineyards planted. Varieties include Arinto, Tannat, Touriga Nacional, Tinto Cão and Alicante Boushcet. There is also another estate vineyard, Round Mountain Estate that has six acres of grapes planted. Varieties at that site include Tempranillo, Touriga Nacional, Tinto Cão and Tannat.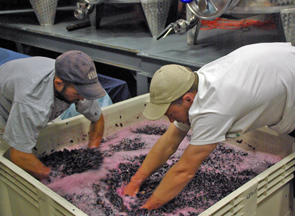 At the time of our visit in late August, the winery was already making wine. Several fermentation bins had grapes in them fermenting. Duncan and Doug are are also the winemakers. They were at the winery punching down the caps in the fermentation bins. They used their hands rather than a tool to punch down the Tempranillo cap. Not worried about getting their hands and arms colored purple, they use their hands because it is gentle and they can feel the temperature of the juice in the bin. After punchdown, they moved to the next bin. After all the bins were punched down, the winemakers cleaned up.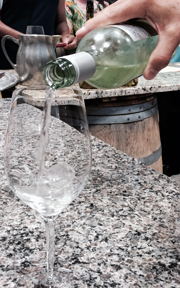 White Wines
During our visit, Rob Reynolds, wine club manager, poured our wines for the tasting. Our first thought was for a young winery, they are making some very nice wines that are showing some maturity. The 2013 Swim Spot is a 10% alcohol blend of mostly Blanc du Bois and a splash of Chenin Blanc. The light yellow color wine offered tropical, lemon and grapefruit notes. The light-bodied, high acidity wine retails for $14. The 2013 Chenin Blanc, Mesa Vineyards was a light yellow color at 13% alcohol. The wine was floral with some yellow stone fruit hints. This wine was medium-bodied and had high acidity. It retails for $24. The 2012 Texas White was a blend of Viognier and Chenin Blanc. Half of the Viognier was aged in French oak. The 13.5% alcohol wine was floral with some oak and citrus. The wine with medium-body and acidity had some melon on the finish. It retails for $26. Our last white wine tasted was a 2012 Viognier from Bingham Vineyards. This 13.9% alcohol, light yellow color wine had floral and citrus notes. It was medium to full bodied and had high acidity. It retails for $24.
Red Wines
We tasted three red wines. The 2010 Mourvedre Blend was crafted while Doug worked at Pedernales Cellars. The 12.5% alcohol wine was a blend of Mourvedre, Tempranillo, Syrah and Grenache. The translucent ruby color wine had a sienna hue. It offered a cherry aroma and taste with a touch of oak. The wine had tannins, was medium-bodied and had medium acidity. It retails for $26. The 2011 Merlot made with grapes sourced from Granite Hills Vineyard was 13.3% alcohol and also had a translucent ruby color with sienna hue. The wine had earthy notes, dark fruit and a hint of leather. The wine had medium tannins, was full-bodied with medium acidity. It retails for $27. Our final red was a 2011 Tempranillo, Parr Vineyard. At 14% alcohol, the transparent ruby wine offered dark fruits especially black cherry and leather. The wine had bold tannins and was full-bodied with high acidity. It retails for $32.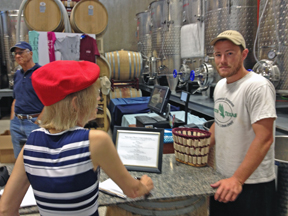 Although a new winery, Lewis Wines has an impressive wine portfolio now. Call to make an appointment.
Lewis Wines
3209 Highway 290 West
Johnson City, Texas 78636
Article written August 2014
---
Visit these Texas wineries that partner with Wine Trail Traveler.