Farina's Winery and Café
by
Kathy Sullivan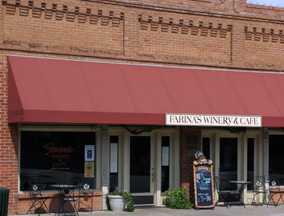 Summary: Farina's Winery & Café offers a unique, affordable, fun and friendly atmosphere and according to the owner, Gary Farina, is a "great destination for visitors and locals."
Farina's Winery & Café is located on South Main Street in Grapevine, Texas. Next door and with a doorway between the two areas is an antique store also owned by Gary Farina. After operating the antique store for several years and using the adjacent area as an antique auction site, he chose to start the café and add a winery.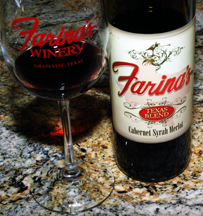 For Gary the winery is at the beginning stages. He is taking it one step at a time. So far he has produced 200 cases of Texas Blend using all Texas fruit. This is a blend of Cabernet Sauvignon, Merlot and Syrah. The aroma was of black fruit while the taste was of black fruit with notes of blackberries. The crisp finish offered fruit and mild tannins. This wine was bottled and cellared by Cross Roads Winery in Frisco, Texas. Gary is now working producing a white blend. Currently the winery and café offer Farina's wine, other Texas wines and international wines.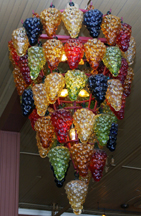 Inside, the winery and café offers a pleasant ambiance with subdued lighting. Eye catching is a one of a kind chandelier made by Richard Blenko and West Virginia Blenko Glass Factory. The light fixture is created with hand blown glass grape bunches in various colors. Each of the 62 grape bunches weigh about 1½ pounds a piece.
The wine counter is along one wall of the café and the base and backdrop are antique pieces from England and Belgium. Other antiques add to the pleasure of tasting wine and eating in the café. The kitchen is at the back of the café and is open to viewing as the chefs quickly prepare meals. The café focuses on Italian cuisine. Gary's family owned and operated Farina's Restaurant in Irving, Texas until it closed. Now many of the family recipes are served at this Grapevine location. If you look carefully through the windows of a small event room you'll notice stainless steel wine tanks.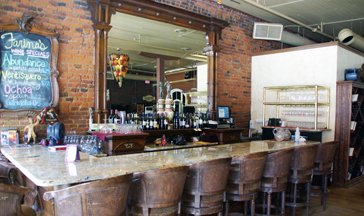 Enjoy visiting Farina's Winery & Café and plan on enjoying lunch there. Be sure to stop and browse in the antique store next door.
Farina's Winery
420 S Main St.,
Grapevine, Texas 76051
GPS: N32º 56.206' W97º 04.653'
Note: this GPS is for a public parking area. The winery is within one to two blocks from this parking area.
---
Visit these Texas wineries that partner with Wine Trail Traveler.