D'Vine Wine, Grapevine
by
Kathy Sullivan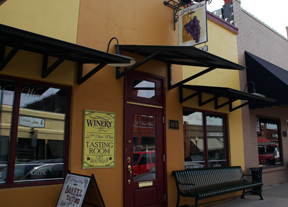 Summary: D'Vine Wine is a franchise winery located in Grapevine, Texas. Here we discovered wines produced with juices supplied from the parent company. On a hot day consider purchasing an ice cold Wine-A Rita available in Peach and Sangria. Eventually Sebastian Gracki, General Manager, would like to produce a dessert wine with Pinot Grigio.
D'Vine Wine is located in the historic area of Grapevine, Texas. The Tuscan style tasting room is a delightful small room to taste wines in while visiting the small shops that line the street.
D'Vine Wine offers two types of experiences. Visitors can stop by and taste numerous wines, by the glass or the bottle. A tasting counter with seating and small tables is available for anyone who would like to stop and visit for a while. Those who live in this area of Texas have the opportunity to produce their own barrel or carboy of wine. Wines can be aged in American oak or produced in stainless steel tanks. In addition to still table wines, sparkling wines are also available in the tasting room.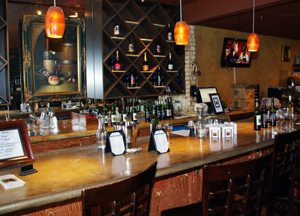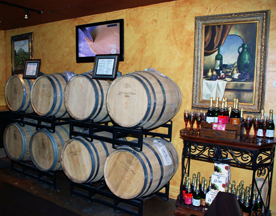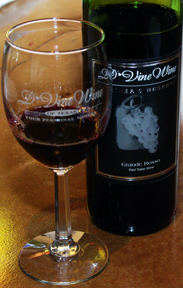 White Wines
We tasted several wines while visiting with Sebastian Gracki, General Manager. Chardonnay NV, barrel aged for six months, had a yellow color. There were apple notes on the aroma. The wine offered a taste of apple and citrus nuances. The finish was crisp. A barrel tasting of oaked Chardonnay NV followed. This wine was a golden color with a light apple aroma and taste. There was apple on the aftertaste that changed to butter and oak on the finish.
Red Wines
Grande Ross NV was made from several Italian grapes. The result was an aroma and taste of black fruit. There was also a hint of smoke on the aroma. The fruity finish had tannins. Conquistador NV also aged in oak for 12 months was barrel tasted. It was a blend of Malbec, Cabernet Sauvignon and Merlot. The wine offered an aroma of coffee and chocolate nuances while the taste was chocolate. The finish was crisp and fruity with chocolate. D'vinello NV was a Super Tuscan that was barrel tasted. This wine was aged in oak for 12 months. The blend included Sangiovese, Zinfandel and Merlot. The aroma had cherry notes with a hint of perfume. The cherry taste was smooth and the finish offered mild tannins.
Events
D'Vine Wine offers a large range of events, both private and public. Private events can include weddings, showers, rehearsal dinners, birthdays, anniversaries and holiday parties. Public events by D'Vine Wine include dinners featuring Taste of Italy, Taste of France and Taste of Spain where wines are paired with dinner. Other events include Wine & Cheese 101, Tapas Night, and "Winemaker for a Day."
If you would like to have the experience of making wine with guidance stop at D'Vine Wine in Grapevine, Texas.
D'vine Winery
409 S Main St.
Grapevine, Texas 76051
GPS: N32º 56.206' W97º 04.653' Note: this GPS is for a public parking area. Four wineries (Farina's, D'Vine Wine, Homestead, La Buena Vida) are within one to two blocks from this parking area.
---
Visit these Texas wineries that partner with Wine Trail Traveler.