Su Vino Winery
by
K. L. Sullivan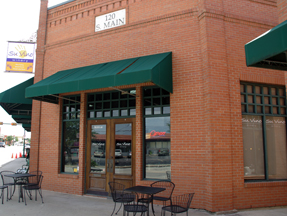 Summary: Su Vino Winery is a micro winery located in Grapevine, Texas. Opening in March 2003 the winery provides wines produced onsite, a comfortable atmosphere and a place to host small events. Owner, David Scott, wants you to know that Su Vino is a "fun place" to come, that it's a hands-on facility and has an "unsnobbish" appeal.
Located in Grapevine, Texas Su Vino is a micro winery that offers visitors a selection of wines from sparkling to dessert wines. Tastings are five wines for five dollars. Small and large cheese platters are available for purchase. Located midway between Fort Worth and Dallas, Su Vino offers a place to stop, relax, and enjoy wine paired with a cheese platter.
Su Vino opened in March 2003. The exterior of the building is brick while the interior is finished with dark wood and burgundy walls. One delightful wall has large text in various fonts and colors highlighting many wine descriptors. We met owner, David Scott, who commented that although he has a winemaker, he is the "chief taster." Six thousand cases are produced here onsite. David prefers purchasing grapes from the same vineyards year after year. Most of his must and juice are obtained from California vineyards.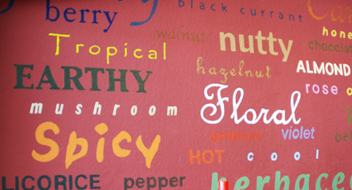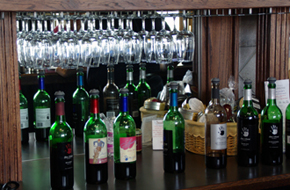 One of the goals of Su Vino is to be hands-on for consumers. People have the opportunity to choose a wine and bottle it with their own labels. Su Vino provides a large book of labels to choose from to fit the label to the occasion whether it is a wedding, birthday or anniversary.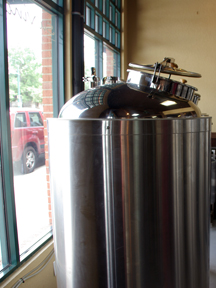 Frequently events are held in the tasting area. Su Vino hosts corporate events, birthday celebrations and showers. They also feature their own events including educational events, blending sessions and Girls Night Out. Occasionally on weekends a dessert maker will come in to provide desserts for pairing wines.
David won a double gold medal from the Florida State Fair for his Zinfandel. Numerous other Su Vino wines have won awards. Medals are displayed on the wine bottles. Currently the best selling wine is Summer Rain that offers apple nuances.
The tasting room offers numerous gift items including decorative door signs with wine sayings including "In Case of Emergency Administer Wine," and "If you don't like the food have more wine." A large array of decorative bottle stoppers and Christmas tree ornaments are available. Stemware includes paint decorated wine glasses and winogram glasses with initials. If you can't make it to Su Vino, visit their online store that features many gift items.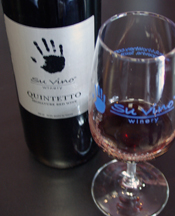 We tasted Su Vino wines including Zinfandel that had a dark purple opaque color. It offered a cedar and pepper aroma with a plum and dark berries taste. The finish had bold tannins and was fruity. Quintetto, was a Bordeaux blend, produced with five grape varieties: Cabernet Sauvignon, Merlot, Petit Verdot, Cabernet Franc and Malbec. Ruby NV, a Pinot Noir based wine, had 12 percent alcohol. Ruby was named after the winemaker's grandmother. This wine was a translucent dark red with red fruit sweetness and a fruity taste. The residual sugar was 1.25 percent. The wine finished with mild tannins and fruit notes. Consider pairing this wine with hamburgers.
Most of the wine is sold onsite although they will ship to customers. If you enjoy shopping on line, browse the extensive selection of gifts that is on the Su Vino website.

Su Vino Winery
120 S Main St # 40
Grapevine, Texas 76051
GPS: N32º 56.418' W97º 04.701'
---
Visit these Texas wineries that partner with Wine Trail Traveler.