Yepez Vineyard
by
K. L. Sullivan
Summary: Located on the outskirts of Baytown, Yepez Vineyard offers visitors a small boutique style winery to visit. This is a family operated winery. Winemaking involves both sides of the family and the Yepez daughters help at the winery on the weekends. Lena and David Yepez, owners, primary goal is to be a boutique handcrafted winery. They enjoy producing quality wines and seeing people enjoy them.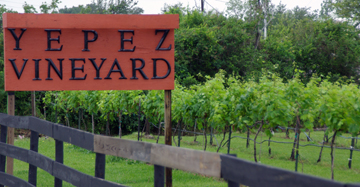 With the help of family and friends, David and Lena Yepez, owners, planted the one-acre vineyard with Blanc de Bois and Lenoir six years ago. The Blanc de Bois is a wine that originated in Florida. The grape grows well in hot, humid areas and resists Pierce's disease. The tasting room opened in 2008. This commercial winery is open on Friday, Saturday and Sunday since David has a fulltime career as an assistant middle school principal.
The parking area for the winery is located just a short distance away. A stone gravel pathway leads to the tasting room doors. Tall antique-style streetlights line the way to the wood doors decorated with grapevine wreaths. Take time to enjoy the delightful landscaping. Two large beautiful peacocks are housed in a cage nearby. Lena was quick to give credit to her husband for the detailed and very enjoyable landscaping.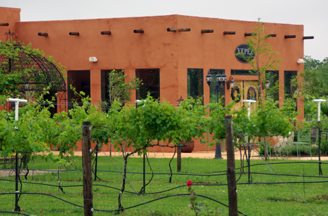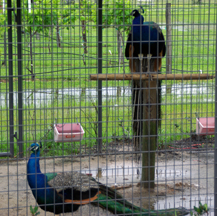 We met Lena Yepez who explained that the idea of the vineyard came about because of their desire to have a home surrounded by vineyards. The site is 17 feet above sea level. Hurricanes can cause a serious problem for the winery and they have experienced losses but are optimistic and determined to continue.
As Lena commented, "it took on a life of its own." Today with grapes sourced from other Texas vineyards, the Yepez produce less than 500 cases each year. They would like to stay small and be a boutique winery.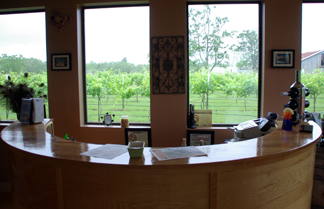 The tastefully decorated tasting room portrays a warm, friendly ambiance. A petite, curved tasting counter enhances the boutique concept. Twelve windows allow plenty of light and provide views of the vineyard and landscaping. At the time of our visit the bright, green grape leaves were frolicking in the breeze.
As we learned more about the winery from Lena, we tasted several wines. Non–vintage Chardonnay offered an apple aroma with apple and caramel notes. The finish was crisp and fruity. The 2008 Estate Blanc du Bois offered a fruity aroma and taste with a perceived sweetness. The fruity finish yielded to earthiness. The 2005 Cabernet Sauvignon was reminiscent of an organic wine as they decided to use a "modified filter" for the wine. This wine was dry and fruity with a young taste. It had good texture. Suggested pairings included lamb, wild game and chocolate. Merlot was dry with a spice and dark fruit taste. The finish was dry with tannins. Savannah's (Semi-Sweet) Red had a translucent color. The taste was of black fruit, currents and plum. This wine was a blend of Cabernet Sauvignon and Zinfandel. According to Lena, this is a "fun wine." The aroma was sweet and fruity with a red fruity taste. It finished with tannins. Dessert Fig Wine had a yellow with a hint of red color. The wine was sweet and fruity. This dessert wine dried on the aftertaste.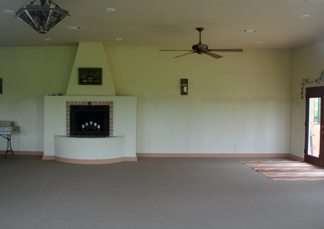 Anyone needing an event space should check out what Yepez Vineyards has to offer. The event room adjacent to the tasting room offers a fireplace. This petite winery is all about ambiance.
Yepez Vineyards is open Fridays thru Sundays throughout the year. Be sure to take time while enjoying wine to observe the lovely landscaping. Families are welcome to bring a picnic lunch. A playground is available for children. Picnic tables and chairs are available in the front and back of the building.
Yepez Vineyard
12739 FM 2354
Baytown, Texas 77520
GPS: N29º 43.389' W94º 51.194'
---
Visit these Texas wineries that partner with Wine Trail Traveler.