Fischer & Wieser's Das Peach Haus
by
Terry Sullivan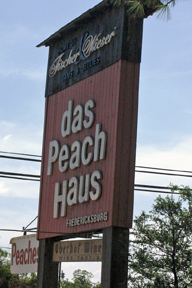 Summary: Although not a winery, the Das Peach Haus does offer wine tastings and food tastings. The Fischer & Wieser brand of food items offer an explosion of tastes.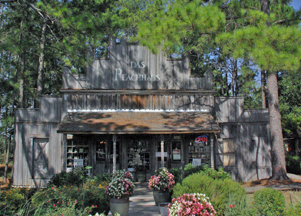 We learned of Das Peach Haus from Internet research. The overwhelming reviews were very positive. So we made an appointment, although appointments are not necessary. The location is easy to find as long as you are on Rt. 87 South and not on Rt. 87 North. A large red sign marks the location of several buildings. Once we parked the car, we followed the signs for "Wine Tasting."
Upon arriving in the retail area, we learned that several dishes were prepared for us. Within seconds we experienced an explosion of flavors. Das Peach Haus does not make their own wines. They have a staff member who selects wines from Texas and beyond.
We met owner Mark Wieser who for 45 years has sold fruit from this location. In 1928, peaches were grown on the property. Mark grew up eating peaches. When he was old enough, he helped to harvest and sell the peaches. When Mark became the owner of the property his goal was to have a nice roadside market. Mark attended Texas A&M. Mark was a teacher for 15 years. During that time he worked in the orchard on weekends and during the summer. In 1965, Mark used his first paycheck as a teacher to purchase 600 fruit trees. He began replanting the orchards. Over the years, Mark planted and replanted thousands of trees. The present roadside building was bought and moved to the site in 1969. The building, in the early 1900s was a warehouse for the Lone Star Brewery. Mark discovered that he made as much money selling fruit in three months as he did teaching during the year. "There was certainly a future in selling fruit," he commented.
While teaching, Mark coached and taught Case D. Fischer. They became friends and now Case is a co-owner of the business.Today the business is a corporation that also includes Jenny Wieser, Mark's niece, as a stockholder. Case understood flavors and was instrumental in developing new products such as jellies and sauces. Case and his wife Deanna, along with Mark would travel to food shows in Texas and sell their products. Soon they expanded to food shows in other states. Not only did they sell new products, they also showed consumers how to use them. For example, the Texas 1015 onion jelly is perfect for a glaze for steak or potatoes. The company was the first company to introduce chipotle peppers to the American consumer. For Fischer and Wieser, "It's all about taste."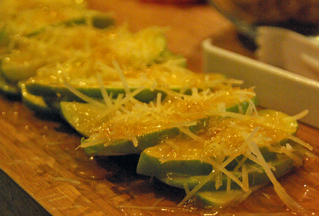 Foods
We sampled some foods prepared with Fischer and Wieser products. A dip was made for tortilla chips that contained Fischer & Wieser Roasted Blueberry Chipotle Sauce and cilantro. It matched well with the red wines. One product, peach honey was drizzled over apple slices and topped with grated parmesan cheese. The peach honey is called honey because of the consistency. You take peaches and sugar and cook them until they flow like honey. The apple, peach honey and cheese appetizer was delicious and paired well with the white wines. Also prepared was a grilled pork tenderloin with the Original Roasted Raspberry Chipotle Sauce. The pork and raspberry flavors exploded in the mouth as did the other food items. This dish paired particularly well with the Malbec and Pinot Noir.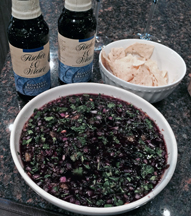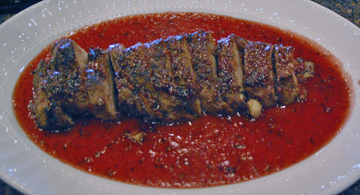 Santa Maria Cellar Wines
We tasted several wines from Santa Maria Cellars. This is just one of the many wines that Das Peach Haus carries. Santa Maria Cellars is located in Fredericksburg and is owned by winemaker Martin Santamaria. The 2012 Sauvignon Blanc was a yellow color wine with 12.5% alcohol and offered apple and peach hints. The 2012 Pinot Grigio was also 12.5% alcohol wine that was a yellow color. It offered citrus on the aroma and taste.
The 2012 Cabernet Sauvignon, at 12.5% alcohol was a translucent dark ruby color. The wine had dark fruits, especially black cherry, spices and chocolate aromas and flavors. There were bold tannins on this full-bodied with medium acidity wine. The 2012 Malbec was an opaque dark ruby color. The 12.5% alcohol wine had an aroma and taste of both red and black raspberries. The wine had medium tannins and was medium to full-bodied with medium acidity. The 2012 Pinot Noir was also at 12.5% alcohol. It had a very raspberry aroma and taste. The wine had medium tannins and offered a medium-body and high acidity.
If you enjoy flavors and pairing foods and wines, stop by Fischer & Wieser's Das Peach Haus while in Fredericksburg. You will get many ideas for different dishes and wines to pair with them.
Fischer & Wieser's Das Peach Haus
1406 South US Highway 87
Fredericksburg, Texas 78624
GPS: N30º 15.157' W98º 52.321'
---
Grilled Pork Tenderloin with the Original Roasted Raspberry Chipotle Sauce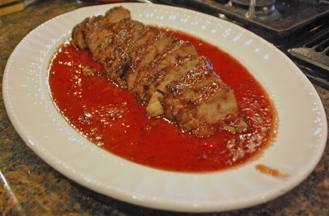 Ingredients
½ cup olive oil
2 t minced fresh rosemary
1 T minced garlic
1 t sea salt
1½ t freshly ground black pepper
2 pork tenderloins, trimmed (about one pound each)
1 3/4 cups of Fischer & Wieser The Original Roasted Raspberry Chipotle Sauce
Directions
Combine the olive oil, rosemary, garlic, salt and pepper in a small bowl. Whisk to blend well.
Place tenderloins in a ziplock bag and cover with the olive oil mixture.
Marinate the pork tenderloins in the refrigerator for 12 to 24 hours.
When ready to grill, bring the pork tenderloins to room temperature and heat a gas char grill to medium.
Grill the meat turning often, until a meat thermometer registers 145º about 25 - 30 minutes.
While grilling the meat, pour The Original Roasted Raspberry Chipotle Sauce into a small saucepan and cook just to heat the sauce through.
Remove meat from heat and set aside. Loosely cover with foil for 10 minutes to rest.
Slice meat and serve with the warmed sauce.
Serves 2 - 4
Recipe provided by Fischer & Wieser's Das Peach Haus.
Article written August 2014
---
Visit these Texas wineries that partner with Wine Trail Traveler.