12 Corners Vineyard
by
Kathy Sullivan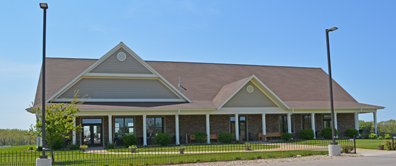 Summary: 12 Corners Vineyards is located in Benton Harbor in western Michigan. The property was originally home to a variety of fruits. Today the vineyards are filled with vinifera and hybrid grape varieties. Be sure to take a photo of the wagon filled with oak barrels or a the nearby white gazebo.
Arriving at the tasting room at 12 Corners Vineyards, we quickly asked about the unusual name 12 Corners, after all we did not notice any such number of corners. According to the staff, 12 Corners refers to a weird section of 12 corners located up the street. It has been that way for decades.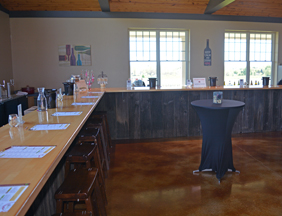 The 12 Corners tasting/retail room is large with two tasting areas and a retail area with wine and wine related items. The main tasting counter is L-shaped providing plenty of space for visitors to taste wines. The side of the tasting counter appears to be made of old, weathered barn siding. Visitors can meander through the large tasting room to browse the wines and gift items available. A long covered patio/porch with numerous tables and chairs is available for guests who wish to enjoy good weather with a glass of wine. The peaceful area overlooks the vineyards.
Glen Greiffendorf is the winemaker. He grew up on a grape farm which was growing juice grapes for Welch's. Glen went to a Michigan State Viticultural Days event. He became interested in growing wine grapes. Eventually he began working at Fenn Valley Winery. He has been making wine for 10 years. Today he wishes that when he began making wine he knew more about the technical part of winemaking. Today Glen is focused on producing quality wines. The winery has a number of stainless still tanks and oak barrels.
Vineyards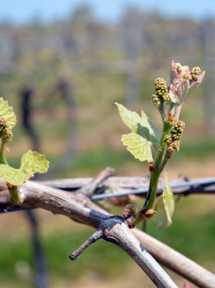 At the time of our May visit, the vines were pushing forth new growth and the tiny shot berries were forming. The vineyards at 12 Corners Vineyards were established in 2011. The winery was built in 2012 and opened July 1, 2013. The vineyard consists of 38 acres of grapevines that include Cabernet Franc, Chardonnay, Pinot Noir, Merlot, Riesling, Traminette, Aromella and many more vinifera and hybrid varieties. Aromella is a Cornell developed grape. Glen noted that American grapes almost always have a high crop. However, the vinifera grapes need to be cropped to make good wine. Lake Michigan, three miles away, provides some lake affect on the vineyards.
Near the vineyards is a vintage wagon holding six-stacked wine barrels. This has proved to be an important spot for visitors to take a photo. The vineyards provide the background. On the day of our visit, we observed several people posing for pictures taken of them standing in front of the wagon and barrels.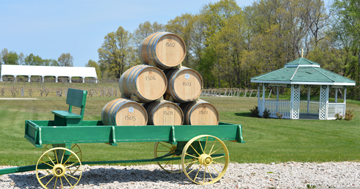 History
The winery was started by a group of friends native to Michigan. They knew about the area and 12 Corners. They saw the growth in the wine industry and together decided to plant a vineyard and build the winery.
Wines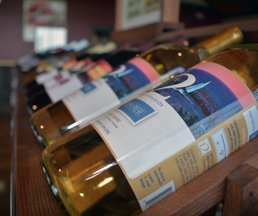 The winery is currently producing 5500 cases of wine. Both French and American oak are used in the winery. 12 Corners Vineyards offers a variety of wine styles including, dry, sem-dry, sweet, dessert, ice wine and hard cider.
The Aromella Estate Grown Lake Michigan Shore 2016 was a light yellow color. The wine offered a floral and orange blossom aroma. The taste was sweet with oranges and honeysuckle. This is a 3P wine, great for patio, porch and pool. Chardonnay Estate Grown Lake Michigan Shore 2015 was produced in stainless steel. The yellow color wine offered notes of apple and pear. The taste was very velvety and full-bodied. The finish was fresh and fruit forward. Traminette Estate grown Lake Michigan Shores 2014 was a yellow color. The aroma had floral and spicy notes. The taste included flowers, some tropical influence and spices. The finish was floral followed by mineral traits.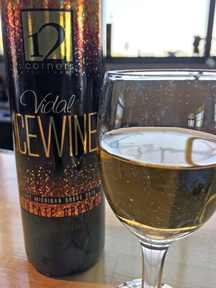 Marquette Lake Michigan Shore was a dark, opaque purple. The wine offered an earthy aroma reminding one of a forest floor. There were also notes of black fruit. The dry taste reminded one of black fruit including black raspberries. The wine had medium tannins. The finish was dry and fruity. Cabernet Franc Lake Michigan Shore 2014 was estate grown. The aroma was intense with notes of pepper. The taste included notes of black pepper, black fruits and was earthy. The wine had tannins. The finish was long.
Vidal Icewine Lake Michigan Shores 2016 was a gold color. The aroma was reminiscent of honeysuckle. The taste offered honeysuckle notes with a hint of citrus. This full-bodied wine offered layers of dried tropical fruits. The finish was crisp with a hint of lemon.
Enjoy a wine tasting at 12 Corners Vineyards. When visiting be sure to ask about the reference to the local 12 corners.
12 Corners Vineyard
1201 N. Benton Center Road
Benton Harbor Michigan 49022

GPS: N42º 08.0504' W86º 22.4796'
Article written June 2017
---