White Pine Winery
by
Kathy Sullivan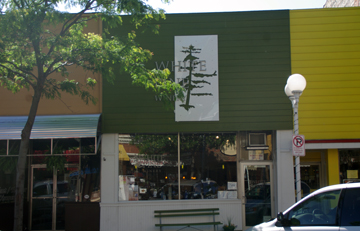 Summary: White Pine Winery is a boutique winery located in St. Joseph, Michigan. According to owner and winemaker, Dr. Dave Miller, the goal of White Pine Winery is to "showcase the best of Southwest Michigan." The winery concentrates on producing wines with grapes that do well in Southwest Michigan
White Pine Winery was named for Michigan's state tree. The tasting room is located in St. Joseph, Michigan, a town on the edge of Lake Michigan. Vineyards are located about eight miles from the tasting room. The owner, viticulturist and winemaker, Dr. Dave Miller, chose to open the tasting room in St. Joseph. He noted that it would be difficult for visitors to find the tasting room if he located it near the vineyards.
The White Pine Winery tasting room is nestled between two shops on State Street. This is a tourist area with numerous boutique shops along a brick street block. Considerable foot traffic takes place in this area especially during tourist season.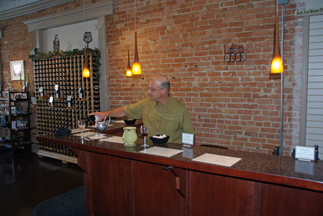 Inside the narrow building, visitors will discover the tasting counter located towards the back of the room. Browse the numerous wine-related items available for purchase. The building was originally a bakery built in the mid 1800s. Portions of the old brick walls are visible. Dr. Miller noted that the brick ovens are still located in the storage area at the back of the tasting room.
Background
Dr. Dave Miller has an extended interest in plants that encompass advanced degrees in plant physiology. His doctorate involved photosynthesis and grape crop levels. He was offered a position in peach tree research at Clemson University but decided to accept a position as assistant winemaker at St. Julian. The winery wanted a winemaker who also had a vineyard background. Miller started working for St. Julian in 1997. He planted vines in 1998 and was winning awards by 2003/2004.
Eventually Dr. Miller decided to start his own winery. He uses Fenn Valley Winery, a Michigan winery and custom crush facility, to produce his wines. Eventually he will obtain the winemaking equipment he needs for his own winery. Miller was able to open the White Pine tasting room in September 2010. White Pine Winery produces 1,500 cases and Miller plans to increase production. Miller wants to focus on a few grape varieties that do best in the climate of Southwest Michigan. He believes that Pinot Grigio, Riesling, Merlot, Syrah and Cabernet Franc make consistently good wines from the Lake Michigan Shore region.
In 2012, Dr. Miller will teach a winemaking class at Michigan State University.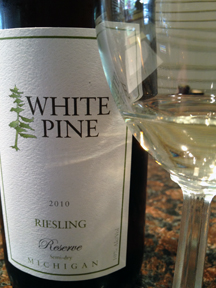 White Pine Wines
Pinot Grigio 2011 was a pale straw color. The aroma and taste were of pear with tropical hints. The finish was crisp with fruit. This is a good 3-P wine. (Good for the patio, porch and pool.) Riesling Reserve 2010 was a light straw color. The aroma was of yellow stone fruit. The taste was silky and fruity, slightly sweet with peach notes. The finish was crisp and dried on the aftertaste. This is another good 3-P wine. Merlot Reserve 2010 was red with an aroma and taste of cherries with hints of vanilla. The finish had chewy bold tannins with cherry fruit notes. Serendipity was a blend of Cabernet Sauvignon, Merlot and Cabernet Franc. This red wine had an aroma of black fruit. The taste had notes of plum and blackberry with an herbal hint. Tannins were on the fruity finish.
Whether living in the local area or vacationing in Southwest Michigan, visit St. Joseph's tourist area and stop by the White Pine Winery tasting room.
June 2012
White Pine Winery Tasting Room
317 State Street
St. Joseph, Michigan
GPS: N42º 06.543' W86º 28.927'
---