Tabor Hill Winery and Restaurant
by
Kathy Sullivan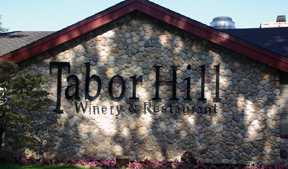 Summary: Visit Tabor Hill Winery where you will discover a delightful restaurant with gold finches flitting about bird feeders just outside the large windows. A lounge is also available for relaxing and tasting wines. The goal of Tabor Hill Winery is to make good wine and food. They want visitors to have a great experience. When visiting the winery consider taking the tour.
The tasting room features Tabor Hill wines and gourmet chocolate from Norman Love Confections. Refrigerated cheeses are also available. The interior walls of the tasting room are of 18th century barn siding salvaged from three barns on the property. Since the winery was bonded in 1970, it is the third oldest winery in Michigan.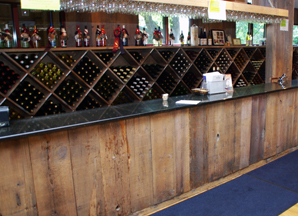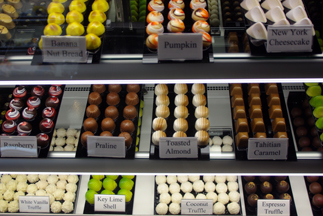 A few steps away, the Great Escape Lounge with chairs at the counter offers an atmosphere conducive to tasting wines and staying awhile. The Tabor Hill Restaurant has two dining areas and a connected outdoor stone patio. The countryside and vineyard views provide an elegant experience.
The vineyards, with 65 acres, have one of the oldest Pinot Noir vineyards in the Midwest. Other grape varietals include Chardonnay, Riesling, Cabernet Franc, Merlot, Syrah and Valvin Muscat. Although temperatures can dip as low as -14 degrees Fahrenheit, heavy snowfalls protect grapevine roots. The winery production facilities are located in buildings a few yards away from the tasting room and restaurant.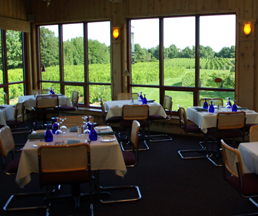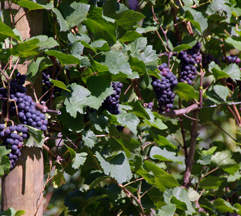 Several wines were available for tasting on the day of our visit.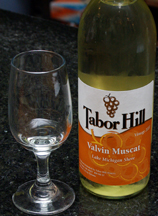 White Wine
Barrel Select Chardonnay 2006 was a light yellow with an aroma of apple and oak. The taste offered apple, citrus and butter characteristics. The finish was crisp and citrusy. Dry Riesling 2007 had a mineral aroma with a fruity taste and notes of green apple. The finish was crisp and dry. This is a good food pairing wine. Valvin Muscat 2005 was an off-dry wine produced from a handpicked harvest. The aroma offered orange and tangerine nuances. The taste was dry with some sweetness from the grape. Lake Michigan Shore Kerner was produced from a Riesling hybrid. Summer fruit nuances included peach and apricot.
Red Wine
Pinot Noir 2007 was produced from vines planted in the late 1980's. The wine was a red, translucent color. It offered an aroma and taste of red cherries and strawberries. The finish was crisp and fruity. Lemberger 2007 was a light ruby red. The spice aroma was accompanied by a taste of red fruit and spice. The finish was spicy.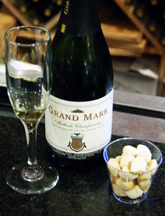 Sparkling Wine
Grand Mark non-vintage is the premier wine at Tabor Hill. This sparkling wine is a blend of 90 percent Chardonnay and 10 percent Pinot Noir. Grand Mark was dry, crisp and cleansing. The wine offered an apple and citrus aroma and taste. Tabor Hill produces about 75 cases of Grand Mark. Other sparkling wines available for purchase include Blanc de Blanc and Angelo Spinazze's Spumanté.
Dessert Wine
Cabernet Franc Port 2004 was a ruby red color. The aroma was of dried fruit while the taste was of black fruit. It offered a nice balance between acid, dried fruit and alcohol. Cherry wine was produced from 100 percent Michigan Balaton cherries. It offered a cherry aroma and taste. The sweetness yielded to tartness on the finish.
In addition to wines, Tabor Hill Winery produces three non-alcohol sparkling juices. When visiting consider tasting the White Champagne, Raspberry and Peach juices available. No sugar is added to these juices.
When planning a visit to Tabor Hill Winery & Restaurant, plan to enjoy a meal in the elegant restaurant.
Tabor Hill Winery
185 Mt. Tabor Road
Buchanan, Michigan 49107
GPS: N41º 54.869' W86º 27.141'
---