Longview Winery
by
Kathy Sullivan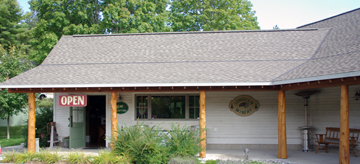 Summary: Longview Winery is located at a convenient spot on Leelanau Peninsula for visitors to stop at and taste wines. After visiting the tasting room, visit the adjacent restaurant.
The owner and winemaker, Alan Eaker, is a former university art professor. After his first retirement from the University of South Florida in Tampa, he and his wife moved to Michigan's Leelanau Peninsula where they discovered his desire to grow grapes and create wines. The vineyards are located on Leelanau Peninsula several miles from the tasting room. The vineyards were planted in 1999. The more than 15 acres include Chardonnay, Riesling, Pinot Gris, Cayuga, Pinot Noir and Cabernet Franc.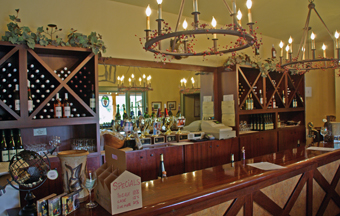 Alan opened the winery in June 2005. Today the winery produces 1,700 cases of wine. Grape varietal wines are estate grown and bottled.
The Longview Winery tasting room, located at an intersection, is in an ideal location for travelers. The wine tastings are in a rectangular room with a long dark walnut wood counter. Three wrought iron chandeliers add to the ambiance of the room
White Wines
Chardonnay 2009 was a pale yellow color. The aroma offered green apple with mineral nuances. The taste also had green apple notes but with lemon. The finish was crisp and fruity. Suggested pairings included salmon, crab cakes and grilled scallops. Riesling 2008 had 1.5 percent residual sugar. The taste was sweet and fruity with a hint of grapefruit. Pairing suggestions included spicy Thai, Chinese or Mexican dishes. Dry Riesling 2009 had an aroma of floral and tropical notes. The taste was creamy with tropical, citrus and rose nuances. The finish was crisp and fruity. Riesling 2008 was yellow. The aroma offered mineral and tropical fruit nuances. The taste had notes of apple and tropical fruit. The finish was crisp and fruity. Pinot Gris was a pale yellow. There were grapefruit notes with a hint of tropical fruit on the aroma. The taste had grapefruit and pineapple nuances. The fruity finish was crisp. A suggested pairing was salmon.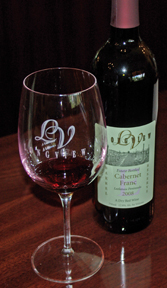 Red Wines
Pinot Noir 2008 offered cocoa and red raspberry nuances on the aroma. The taste also had cocoa and red raspberry nuances with a slight hint of pepper. The finish was fruity with medium tannins. This paired well with a piece of handmade dark chocolate. Suggested pairings included veal, pork and chicken. Cabernet Franc 2007 was dark red. The aroma offered herbal and black fruit notes. The taste had black fruit with spice nuances. The finish had mild tannins with fruit and spice nuances. Suggest pairings included rack of lamb and grilled steak. Cabernet Franc Barrel Reserve 2008 offered an aroma and taste of blackberries. The finish had medium tannins and was fruity.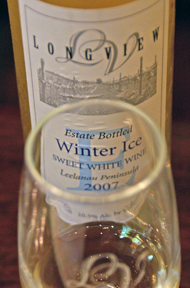 Dessert Wines
Winter Ice 2007 was produced with Cayuga grapes that Alan harvested himself. These grapes were frozen on the vine. This was a dark yellow ice wine with an aroma of tropical fruit. The taste was reminiscent of jam. The finish was crisp with a long tropical fruit taste. Cherry Port with 18 percent alcohol offered cherry notes throughout the taste. Enjoy this with a piece of handmade chocolate in the tasting room. A note on the wine list suggests reducing for a sauce with wild game. Cherry Mead was produced with local honey and a bit of cherry. This was the area's first commercially produced mead. The first taste was sweet and then dried. Honey notes lingered on the finish.
Note: Restaurant
Not to be missed when visiting Longview Winery, is the adjacent restaurant owned by Alan's wife. Their son, Aaron, is the chef for the restaurant. If planning to visit both the winery and restaurant, check for the restaurant's hours.
Enjoy a visit and tasting experience at Longview Winery's tasting room on Leelanau Peninsula in Cedar, Michigan.
Longview Winery
8697 Good Harbor Trail
Cedar, Michigan 49621
GPS: N44º 51.156' W85º 47.463'
---