Brys Estate Vineyards and Winery
by
K.L. Sullivan
Summary: Although Coenraad Stassen, winemaker at Brys, produces 75% white wines, his focus is on increasing the red wines produced at Brys Estate Vineyard & Winery. Eighty percent of the sales are at the tasting room. When customers enter the tasting room, a staff member greets them with a friendly, "Good afternoon, welcome to Brys." Visitors have wonderful views of the vineyards and Traverse Bay.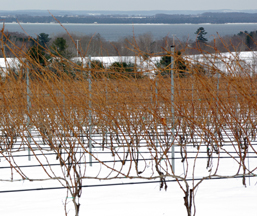 Brys Estate Vineyard & Winery is a boutique winery on an 80-acre estate owned by Walter and Eileen Brys. The property had originally been apple and cherry orchards until the 1970's. The Brys planted a cover crop in 2000 and planted vines in 2001. Today the vineyards consist of 23 acres of grapes. In Spring 2008, the vineyards will expand with another nine acres. White grapes grown on the estate include Chenin Blanc, Chardonnay, Pinot Gris, Gewürztraminer, Riesling, and Pinot Blanc. Red varieties include Cabernet Franc, Merlot, and Pinot Noir. Currently the winery produces approximately 5200 cases. Eighty percent are estate grown.
The tasting room opened in 2005 and is finished with brick and mahogany. A farmhouse on the estate was restored and received a certificate for preservation.
We met with Coenraad Stassen who studied at the Stellenbosch University in South Africa. He likes using South African yeasts and techniques he learned while in South Africa. Coenraad is looking forward to making fine red wines. He talked about terroir. Coenraad agrees with the general principle of terroir but knows that sometimes the concept is very much misunderstood. He related a story of hearing about someone who thought if a grapevine was planted in the same spot as a cherry tree had been, the wine from the grapes grown on that spot would have a cherry flavor.
Coenraad does not believe that Cabernet Sauvignon will grow well at this time in the area because of the climate. However, Merlot and Cabernet Franc will be "half-decent" even in a bad year. He would like to focus on producing ultra premium red wines.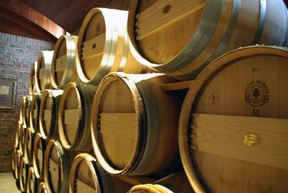 Coenraad gave us a tour of the winery. The barrel room has brick walls, large ceramic floor tiles and a table for 10. The combination of wood, brick and ceramic add an old world charm to the barrel room. Stainless steel tanks, some with a heavy ice built-up around the sides line the walls of the tank room. Coenraad's office also includes his lab, both of which are the neatest office and lab that we have observed. Scientific apparatus was currently being used to analyze red wine. On the tour, we inquired as to the willow rings around the barrels in addition to the typical barrel rings. Coenraad explained that wood boring insects will eat the wood from the willow rings before they eat the wood from the barrel. He added, "We don't have any boring insect problems."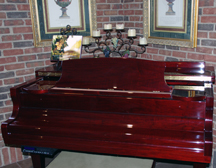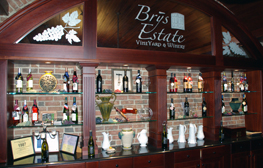 The tasting room is warm, inviting and comfortable. Brick walls and mahogany woodwork along with the ceramic flooring give the visitor an excellent environment to enjoy tasting Brys Estate wines. A piano rests in a corner of the room with a sofa and chairs. This adds to the hominess one experiences in the tasting room. Wine bottles are highlighted by being displayed in mahogany wall units. The tasting bar is topped with granite that blends with the brick and woodwork in the room. Wine accessories line book shelves as well as table tops throughout the tasting room.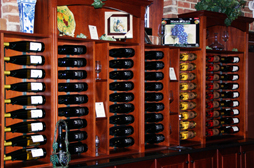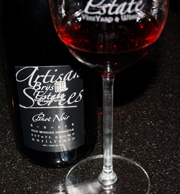 We tasted several wines with Coenraad. The Pinot Grigio 2006 had a citric fruit nose and taste; was light with a crisp finish. Naked Chardonnay 2006 was very fruit foreword with a pineapple and citrus taste. It had a crisp finish. Pinot Noir Rosé had a reddish-orange color. It was fruit forward and was light and refreshing. Signature White was a blend of 55% Riesling, 20% Gewürztraminer and 25% Pinot Gris. It was very fruity with a bit of effervescence on the tongue. Dry Riesling 2006 was citrus fruity and soft. Artisan Pinot Noir 2006 had ruby red color. It had a red fruit flavor and earthy taste with fruit on the aftertaste.
The tasting room has a warm and cozy feeling. Plan to spend some time there talking about the wines and browsing the gift items. Any pianists may want to ask if they could play a selection.
Brys Estate Vineyards and Winery
3309 Blue Water Road
Traverse City, Michigan 49686
GPS N44° 53.168' W 085° 30.589'
---