Lehman's Orchard Winery
by
Kathy Sullivan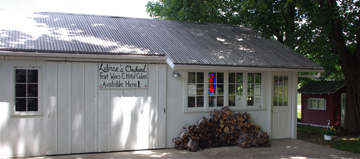 Summary: Lehman's Orchard Winery is much more than a winery. Lehman's produces wines, ciders and has a variety of items available in the orchard tasting room. Today the third generation, Steve Lehman, is in charge of the facility.
Lehman's property has been owned by the Lehman family since 1929 when Richard Lehman acquired it. Richard, a schoolteacher, planted 40 acres of tart cherries. Steve Lehman, Richard's grandson, took over the farm 12 years ago.
Steve understands the necessity of "value added" farming. Four years ago, the orchard had an abundance of fruit and Steve decided to make wine. He noted that fresh fruit can be sold in season while wine and hard ciders can be sold year round. Lehman's also has their own commercial cider press and produces six different ciders. Steve tells consumers that if they like the fruit they will probably like the wine.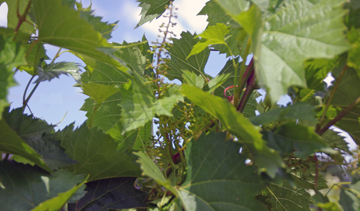 Orchards and Vineyards
In 2012 Lehman has five acres of vinifera grapes including Traminette, Pinot Grigio, Gruner Veltliner, Riesling, Chardonnay, Petite Sirah, Syrah, Cabernet Franc, Cabernet Sauvignon, Merlot and Pinot Noir. Orchards have 10 acres of apples, 8 acres of peaches, 12 acres of cherries, 7 acres of blueberries and 3 acres of sweet cherries. The availability of fresh fruit for U-pick is dependent on the harvest availability. In 2012 the local orchard farmers had a very warm early spring causing trees to blossom early. Two severely cold days arrived and many of the blossoms died. Cherries and blueberries were severely affected.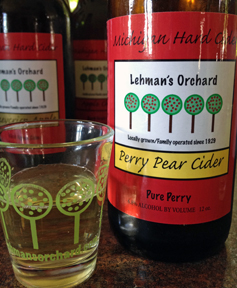 Hard Ciders
Hard ciders had six to eight percent alcohol. The Honey Crisp Apple had an apple aroma and taste with a slight fizz. Peary Pear Cider was a straw color. The aroma and taste had pear notes. This Peary Pear Cider had 6.8 percent alcohol and very slight effervescence.
Honeycrisp Apple, a straw color, had apple notes. The finish was crisp with a semi-sweet apple aftertaste. Pure Pear was a straw color with a green tint. Pear notes were on the aroma and taste. The semi-sweet wine had a pear aftertaste.
Home winemakers interested in making a carboy of fruit wine can purchase frozen blueberries, Balaton Cherries and tart cherries in bulk. Packaged in 25-pound containers, the fruit is enough for two five-gallon carboys. Winemakers can also purchase Honeycrisp apple juice available in five-gallon quantities.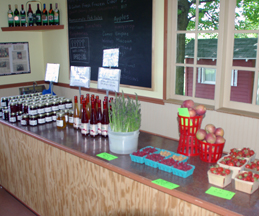 Farm Market Winery Tasting Room and Market
Lehman's offers a large variety of wines, ciders, fresh produce and more in their tasting room. Browse the market and the online store for cherry, apple and pear products, wines, hard ciders, honey items, nuts, nut butters, trail mixes, and vinegars. In addition, frozen fruits are available in pails. These are for home winemakers.
Craft Shows
Lehman's Orchard participates in several craft shows in Michigan and Indiana. They can also be found at Summer Farmers Markets.
Enjoy a stop at Lehman's Orchard Winery and Market where you can choose from a variety of food products including wines, ciders and fresh fruits.
Lehman's Orchard Winery
2280 Portage Road 

Niles, Michigan
GPS: N41º 47.275' W86º 18.251'
---