St. Julian Winery
Parma Tasting Center & Retail Store
by
K.L. Sullivan
February 2009 update:
St. Julian has increased their portfolio by adding Pinot Noir, Sauvignon Blanc, Syrah, White Heron and a Grey Heron Vodka. In February 2009, they will release Blueberry Pomegranate blended sparkling juice. In the spring, a new Founders Passport will be added. In her online interview, Angela Braganini, wrote, "This port is special to Parma because it is made from the Foch and Frontenac grapes that you see planted in the vineyard outside of the Parma tasting room!" St. Julian has updated the inside and outside of the Parma tasting room. The winery currently produces 250,000 cases. According to Angela, "We would like visitors to know that we offer free samples year round and have wines to satisfy every palate, as well as every budget. We have a friendly and knowledgeable staff that is eager and willing to assist in finding the perfect wine for you."
---
Today St. Julian Winery is located in Paw Paw, Michigan. They distribute their wines through several St. Julian retail outlet shops in Michigan. If you don't have time for a trip to Paw Paw, stop at one of their retail outlet shops. We enjoyed our visit to the shop in Parma.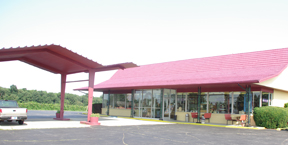 Their trademark, "Italian Roots…Michigan Soil", best identifies St. Julian Winery. Started in 1921 in Windsor, Canada by Mariano Meconi, today St. Julian Winery is Michigan's oldest and largest winery. Currently the winery produces over 50,000 cases of wine. In addition to the Paw Paw, Michigan winery, St. Julian has several tasting center and retail stores throughout the state including Frankenmuth, Union Pier, Dundee and Parma. The locations at Dundee and Parma are located along the Pioneer Wine Trail and both locations participate in wine trail events. The retail outlet store in Parma was originally a Stuckey store with gasoline available at a pump directly in front of the restaurant.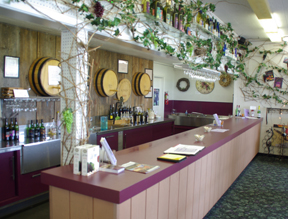 The tastefully renovated tasting counter is located where the original kitchen existed. Wine glasses hang over the tasting counter. Large glass windows provide plenty of bright daylight in the carpeted tasting room. The gasoline pumps no longer exist and the area is decorated. At the time of our visit, a steady stream of visitors was stopping by. Some knew exactly what they wanted and the others stopped for a tasting before purchasing wine. Several left with cases of wine, always a good sight.
High on the back wall is a history with pictures of the development of the winery. Throughout the store are colorful displays of the many wines St. Julian produces. A wide selection of wine accessories and wine related gifts are available. Look for baskets, glassware and more. Foods are available including crackers, olive oil, cheeses and salsa. Clothing is available for adults and babies. Personalized, reusable coasters are available with Private Reserve on the bottom edge.
We learned from Rondi Torrey, the Parma store wine consultant, that after the winery's start by Meconi in Windsor Canada in 1921, the winery moved to Detroit in 1934 and later moved to Paw Paw in the 1940's. From the winery's beginning in Canada with the name Border City Wine Cellars, the name changed to Meconi Wine Company. In 1936, the winery moved to Paw Paw to be closer to the vineyards. At the same time, the name changed to Italian Wine Company. In 1941 due to an anti Italian sentiment, the winery name changed from Italian Wine Company to St. Julian Winery. St. Julian is the patron saint of Faleria, the Italian village where Mariano Meconi grew up. In 1971, a fire destroyed the original building in Paw Paw.

In the Parma shop parking lot, a large wood tank sits atop a trailer. The tank was used to transport juice from Paw Paw vineyards to the Detroit winery. It took several hours to move the juice across the state. Just beyond the tank are rows of vineyards. The purple color of the red wine grape Maréchal Foch punctuates the green foliage of the grape leaves.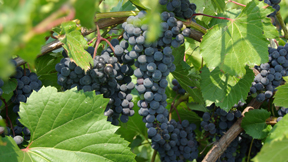 The wines at St. Julian Winery are divided into several categories on their tasting list; Premium White Table Wines, Premium Red Table Wines, Premium Pink Table Wines, Famous St. Julian Sparkling Wines, Premium Dessert Wines, St. Julian Fruit Brandies, St. Julian Specialty wines and Our Famous Sparkling Juices (non-alcoholic.) Sparkling Wines include Blanc de Blanc, champagne and four fruit sparkling wines. We tasted several wines. St. Julian's produces more than 30 wines and it will take several more visits before tasting all of them.
St. Julian Pinot Grigio 2005, a Double Gold Winner at the 2007 San Franciso Chronicle Wine Competition has a fruit bouquet and fruit flavor. The fruit and acid is balanced and is a light refreshing wine. The Blue Heron is a blend of Riesling, Seyval, and Vidal with 9% alcohol. Sauterne is a blend of Vidal, Seyval, and Cayuga with a fruit bouquet, sweet fruit flavors and 5% residual sugar. Braganini Reserve Meritage has a red fruit bouquet with a nice blend of red fruit and a medium aftertaste. Braganini Reserve Merlot is very smooth and peppery, it may remind one of a Syrah. We also enjoyed trying the sparkling wines.
St. Julian offers a large assortment of non-alcoholic juices. Fruit flavors include apple, cranberry, raspberry, grape, passion fruit, cherry, peach, and wildberry. Privatge labeling is available only on St. Julian Sparkling Alcohol Free White Grape Juice and other select wines for special occasions.
Our wine host was delightful and knowledgeable. We enjoyed our visit to St. Julian's tasting center and retail store in Parma, Michigan.
St. Julian Winery
Tasting Center & Retail Store
2110 North Concord Road
Parma, MI 49269
GPS: N 42° 15.799' W084° 38.985
---