Gill's Pier Vineyard and Winery
by
Kathy Sullivan

Summary: Gill's Pier Vineyard and Winery on Leelanau Peninsula offers a delightful wine experience in a well-planned tasting room. A short walk from the winery, a large pond and patio with tables and chairs provide an enjoyable place to have a glass of Gill's Pier wine.
Gill's Pier Winery is located on Leelanau Peninsula next to M-22. The driveway to the winery is lined with two rows of young grapevines. The grapes include Leon Millot, a dark purple to black skinned grape and Vignoles, a pinkish skinned grape that makes a white wine.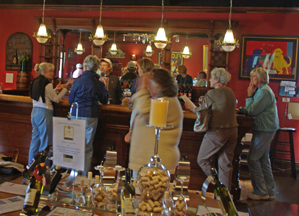 Tasting Room
The tasting room is located in a modern-style pole barn. Travelers will discover a sophisticated setting in which to taste wines. The antique tasting counter was discovered in New York. The dark wood and large mirror behind it accent the wine tasting experience. The décor is exceptional with antiques, framed poster art and one of a kind items. A large chandelier created with deer antlers has teardrop crystals attached creating a charming and dynamic focal point. The dark wood floor and red walls add to the ambiance of the room. An adjacent room, the St. Wenceslaus Room, has been carefully decorated with antiques including the antique doors from a Belgian Monastery.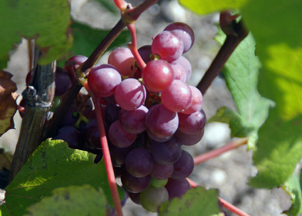 Gill's Pier Vineyard and Winery is owned and operated by Kris and Ryan Sterkenburg. The 4½ acre vineyard is onsite and the wines are produced in Traverse City at the Left Foot Charlie Winery facility. Grapevines were planted in 2002 and the four and a half acres include Cabernet Franc, Merlot, Riesling and Sauvignon Blanc.
The Sterkenburgs decided to name their vineyard and winery to honor the history of the area. The Gill family settled in the general area. They were mostly potato farmers. At the entrance of the winery driveway stands an 1800's potato wagon built by the Harrison Wagon Company. Gill's Pier was where ships brought lumber for the nearby sawmill. According to Steven Kilgren, the remains of the pier can still be seen today.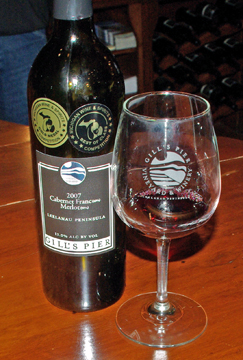 White Wines
Royce 2008 was a light straw color. This blend consisted of Chardonnay, Seyval and Auxerroes. There were pear and citrus nuances on the aroma and taste. The crisp finish had notes of fruit that yielded to mineral. Riesling 2008 was produced from onsite grapes. The aroma had citrus and apple nuances with hints of minerality. The taste was of a fruit salad with apple notes. The finish was crisp and slightly sweet. It was very fruity with citrus notes yielding to mineral. Suggested pairings included quiche, blackened salmon and Thai pasta. Whitewater's name is from the Conservancy. This wine was produced from Vignoles. It was semi-sweet. The wine offered hints of honey, apple and pineapple. Suggested pairings included fruit crepes, bleu cheese, chocolate cheesecake and gumbo.
Rosé Wines
Ankle Biter with a tinge of pink was a blend of Pinot Grigio and Cabernet Franc. This is a fun, off-dry wine. Suggested pairings included sushi, pizza, stuffed grape leaves and BBQ sauced short ribs.
Red Wines
Cabernet Franc/Merlot 2007 was produced from grapes onsite. This wine was a red-purple. The aroma had dark fruit nuances with hints of licorice. The taste had dark fruit notes. The finish was fruity with a touch of smoke and had medium tannins. Just Unleashed with a beautiful red/purple color was an off-dry wine. There was an aroma of spice and smoke. The taste offered hints of tobacco. The wine was smooth and finished dry. This was a blend of Regent, Dornfelder and Frontenac. Suggested pairings included smoked cheese, creamy tomato basil soup and dark chocolate.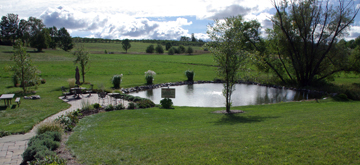 Enjoy a visit to Gill's Pier Winery. Plan to spend extra time with a walk to the landscaped small pond located not far from the tasting room.
Gill's Pier Vineyard & Winery
5620 N. Manitou Trail
Northport, Michigan 49670
GPS: N45º 03.493' W85º 41.797'
---