Circa Estate Winery
by
Kathy Sullivan

Summary: Wine enthusiasts to Circa Estate Winery will enjoy the dry, dinner type wines produced by David and Margaret Bell. The winery and vineyards are located on Michigan's Leelanau Peninsula. The winery provides a sense of timelessness from the past into the future. Come and stay awhile and embrace the wines and sense of peace provided in the tasting room or on the patio.
Circa Winery offers more than quality dry, dinner type wines. A visit is a complete experience involving wine, friends, art and ambiance. The tag line at Circa Winery is "Make Circa your own." Visitors are encouraged to taste wines and stay awhile in the relaxing atmosphere.
Circa Winery opened January 1, 2009. David and Margaret Bell, owners and winemakers, had started winemaking as a hobby and wondered, "what would happen if…." They began with a wine kit and wondered what would happen if we made wine from grapes. This was followed with "What would happen if we used more grapes?" As a result the hobby became a business. Margaret commented "I am happiest when we are working together."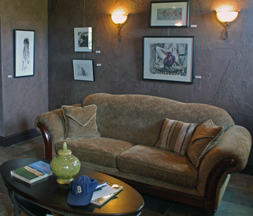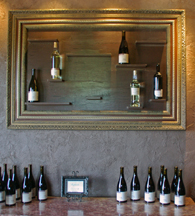 David and Margaret wanted the tasting room to have a sense of time. On the outside the building shows walls that look as if they have weathered through time. Inside the tasting room has a sophisticated, museum-like look and feel. The room is U-shaped with a small comfortable sitting area with two sofas and a fireplace. Walls are filled with artwork.
The tasting counter is in the center of the U-shaped building. The other side has wine bottle displays and three-dimensional framed artwork with actual wine bottles as a part of the artwork. Doors lead out to a patio. This landscaped area offers numerous small tables to sit at and enjoy the view of vineyards and country scenes with a glass of Circa wine.
The winery is located below ground. A large window allows visitors to view the tank room located on the lower level. Subdued lighting of the tanks provides a dramatic view, reminding one of a work of art.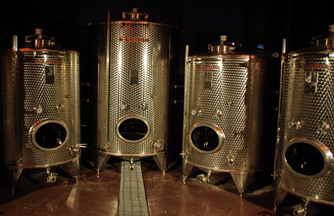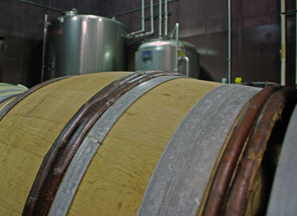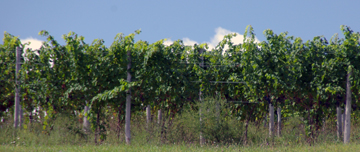 Vineyards
Currently there are 22 acres of grapevines on the property. These include Blaufränkisch, Grüner Veltliner, Cabernet Franc, Chardonnay, Riesling, Traminette, Vignoles, Seyval Blanc, Pinot Grigio, Merlot, Pinot Noir, Cayuga and Muscat Ottonel. All Circa grapes are harvested by hand.

Wine Tasting
In this tasting room visitors are encouraged to describe the wine rather than being told what they taste. The owners believe that everyone's palate is different and therefore wine descriptors can inhibit wine tasting. Using buttons with a variety of words to attempt to define wine, visitors are encouraged to discover ones that describes each wine for them. A basket of buttons with generic word descriptors is available for visitors to use in describing the wines they taste. Some words on the buttons include: alluring, naïve, rich, lively, perky and seductive. David and Margaret believe that there is no right or wrong wine description; everyone has a right to their own description of a wine.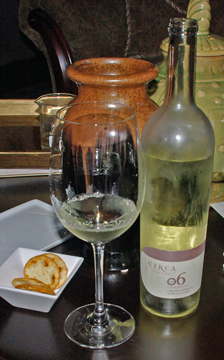 White Wines
Pinot Grigio 2008 offered an aroma of citrus nuances. The taste had a mix of citrus notes and the finish was crisp with a fruity finish. Chardonnay 2006 was a light yellow. There were notes of apple and citrus on the aroma. The taste was like a fruit salad mix with apple, pear and citrus hints. The finish dries with a long fruit aftertaste. An experimental wine still in the tank was produced with Traminette grapes that had been dried. There was a faint floral note on the aroma while the taste had a slight citrus with golden raisin nuances. The finish was crisp. Improvisation Lot 809 was produced in 2008 and then some 2009 was blended into it. The result was a wine with an aroma of floral and peach nuances. The taste had roses and peach notes. This wine was fruity and sweet with 2.5 percent residual sugar.
Red Wines
Requsite 2008 was produced with Blaufränkisch. The color was a red-purple. The aroma and taste had nuances of berry fruit while the fruity finish offered mild tannins.
Visit Circa Estate Winery, a winery where you will feel welcomed and where the owners are excited about sharing their views of wine.
Circa Estate Winery
7788 E. Horn Rd.
Lake Leelanau, Michigan 49653
GPS: N45º 00.923' W85º 41.868'
---