St. Julian Winery, Paw Paw
by
Kathy Sullivan
Summary: St. Julian Winery is Michigan's oldest and largest winery. Enjoy a visit to St. Julian where you will discover a wide range of wines and non-alcoholic beverages. In addition to their main site in Paw Paw, Michigan, they have four other tasting rooms in Michigan.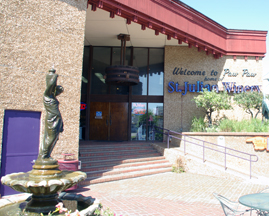 The entrance to St. Julian in Paw Paw, Michigan is lined with a brick patio. A fountain adds to the ambiance of the area. Just inside one will see a display of Simply Pink, Uncorking for the Cause. The tasting counter is centrally located in the tasting room and numerous gift items are available to browse in surrounding areas. Refrigerated wines, cheeses and sausages are on hand. Gift baskets with wine included are also available.
St. Julian has a Wine and Brandy Club. Membership is free and includes shipments every quarter. Price includes shipping and handling and is usually priced between $30 and $60.
St. Julian founded in 1921 by Mariano Meconi is now the oldest and largest winery in Michigan. Today David Braganini, Marconi's grandson is the President of St. Julian Winery. There are four other tasting rooms in Michigan. The tasting room at Frankenmuth is also a bonded winery and it is there that they age the Sherry. The other tastings rooms are at Union Pier, Dundee and Parma. A review of the tasting room at Parma is available on the Wine Trail Traveler website.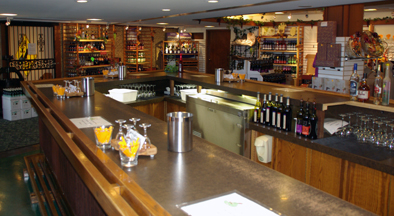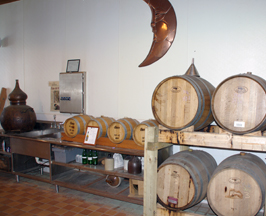 The wines produced by St. Julian are in three tiers that include St. Julian, St. J and Braganini Reserve Wines. The St. Julian wines are everyday wines while the St. J wines are varietal wines. The Braganini Reserve Wines are the "Sunday Wines."
Today St. Julian produces 98,000 cases of wine and 150,000 cases of juice. All of the grapes at St. Julian are sourced from the Lake Michigan Shore AVA. Distribution of the wines and juice is in the Midwest.
Throughout several hours both in the winery and late afternoon with David Braganini, President and Winemaker for St. Julian Winery and his daughter, Angela Braganini, Director of Public Relations, we tasted several wines. During our tour we had the opportunity to have barrel tastings.
Barrel Wines
During our tour with Nancie Corum, Associate Winemaker, we had the opportunity to taste wines aging in oak barrels.
The Pinot Noir 2005 was a red-purple color. The wine offered an aroma of oak and mushroom notes. The taste had heavy oak with wood nuances while there was some fruit on the finish. Syrah 2008 was a dark purple with cedar and pepper aromas. The taste was of black fruit and spices. Cabernet Sauvignon 2008 was a dark purple with an aroma of wood and spice. The taste was of blackberries and spice. There were tannins on the finish. Merlot 2008 offered an aroma that was earthy and fruity. There were wood notes on the taste and tannins on the finish.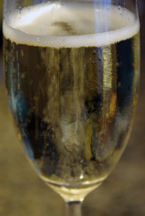 Sparkling Wines
The Braganini Blanc de Blanc was crisp, refreshing and cleansing. It offered citrus notes with an apple finish.
White Wines
ST J 2007 Riesling was a light yellow color. The aroma had mineral and floral notes. The taste was of a tropical fruit salad, while the wine was drying on the fruity finish. Braganini Sauvignon Blanc 2008 offered an aroma and taste of grapefruit. The finish was crisp and fruity.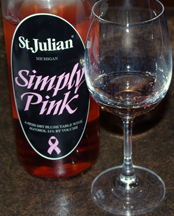 Blush Wine
Simply Pink was produced in memory of Julia Meconi. With an 11 percent alcohol, this semi-dry wine offers a light aroma with a light, sweet, summer fruit taste. Simply Pink is a blend of Pinot Noir, Merlot, Cabernet Franc and Cabernet Sauvignon. For each bottle purchased a donation is made to the National Breast Cancer Foundation.
Red Wines
Braganini Merlot 2005 was a ruby color with an earthy and spice aroma. The taste was of red fruit. The finish was fruity with tannins. Meritage 2005 was a blend of Merlot, Cabernet Franc and Cabernet Sauvignon. This Meritage had a ruby color. The aroma and taste was of dark fruit. The finish was fruity with tannins. St. Julian Red Heron was a semi-sweet red wine. The aroma was of Native American grapes while the taste was fruity and reminded one of visiting Grandma's house. The fruit lingered on the finish.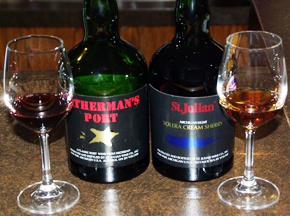 Specialty Wines
Cherry Wine with a cherry red color was produced with a blend of Montmorency and Meteor cherries. The aroma was of cherries and the taste offered notes of sweetness and tartness. Catherman's Port was produced with Chambourcin. It had 18 percent alcohol. The aroma was of dried fruit and the taste was smooth. There were dried fruit nuances on the finish. Solera Cream Sherry had an orange brown color with 16 percent alcohol. The taste was velvety and sweet. The finish was balanced with fruit, acid and alcohol. Fruit Infusions are bottled in unusual shaped bottles, with a graceful curve. Fruit Infusions are like cordials. Raspberry Infusion offered a deep aroma of raspberries. The finish offered long lasting raspberry nuances. Suggested uses included pouring over brownies or ice cream.

Enjoy a visit to St. Julian Winery where visitors can view a film about the winery and taste a large assortment of wines, sparkling wines and non-alcohol sparkling juices.
Events at St. Julian include winemaker's dinners, a September festival and Winter Wonderland in December. Be sure to check them out.
St. Julian Winery
716 South Kalamazoo Street
Paw Paw, Michigan 49079
GPS: N42º 12.700' W85º 53.511'
---