Peninsula Cellars
by
K.L. Sullivan
Summary: Peninsula Cellars tasting room is located just north of Traverse City. Enjoy views of Traverse Bay as you travel along Center Road. This is the second tasting room located in a one-room schoolhouse we have visited. Stop here if you want to buy a bottle of a truly unique wine. Peninsula Cellars produces the only white cherry wine in the region.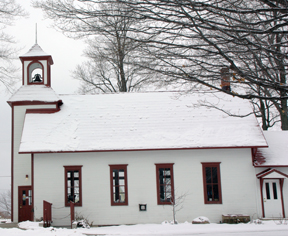 Driving past an old-time schoolhouse with a bell tower, we saw a sign "Open." Quickly we decided we had enough time to stop for a visit. Outside the schoolhouse, snow covered the ground and hung to the grapevines planted close by the schoolhouse. Inside the building, warmth and friendliness greeted us. When you visit, you will see the school's original floor, windows, lights, blackboards and bell.
We met Meghan Nichols, the tasting room attendant and discovered that Dave and Joan Kroupa, cherry farmers, have been producing wine for 14 years. The tasting room was originally the Maple Grove School from 1896 until 1956. A local artist was the next occupant who used the building as an artist studio. A later purchaser hoped to turn the schoolhouse into a home. Then in 1998, Dave and Joan Kroupa bought the property and used the school as a tasting room.
Today, Peninsula Cellars' vineyards consist of 22 acres on the Kroupa's farm and 2 acres by the schoolhouse. The two acres by the schoolhouse are Pinot Grigio. Peninsula Cellars produces about 8,000 cases a year.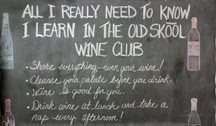 One of the schoolhouse's original blackboards states what one learns from belonging to the Old Skool Wine Club. These include share everything – even your wine, cleanse your palate before you drink, wine is good for you, and drink wine at lunch and take a nap every afternoon!
The tasting counter, centered in the room, is a polygon with a ceramic tile sides and redwood top. One section of the redwood has a carving of Peninsula Cellar's logo which is a map of the Old Mission Peninsula. Surrounding the counter are winery accessories. One of the unique items is the container in which the Riesling Ice Wine is sold. The container is a very thin wood that wraps around the bottle and fastens with a leather string. A variety of wine accessories and gifts are available. Choose between music CDs to drink by, wine bottle gift tats, cherry salsa or cherry honey mustard, wine bags and totes.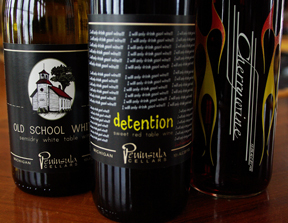 The three most popular wines are Old School White, Detention and Hot Rod Cherry. We tasted several wines. Detention, aptly named for a schoolhouse setting, was a blend of Baco Noir, Lemberger, and Cabernet Franc. It was a light red, with medium body and a long after taste. It had a residual sugar of 2.4%. Kroupa Orchards Cherry Wine was light-bodied with a reddish-orange color. It had a faint aroma and a tart cherry flavor that lingered. Hot Rod Cherry was produced from 100% cherries. Semi Dry Riesling 2005 was clear to slightly yellow, with floral and fruit on the nose and taste. It had some sweetness with acid on the finish. Pinot Noir 2004 was an orange/red color. It had a plum and red cherries taste and earthy characteristics. It was light to medium bodied. Melange was a blend of a grape brandy and wine made from Ulsters - dark, sweet cherries. It had a red/brown opaque color. It had a dark cherry nose and was full bodied. Melange had a sweet cherry finish and alcohol on the finish. After trying the Melange eat chocolate and taste the Melange again. You will find it less sweet, with cherries and alcohol on the finish.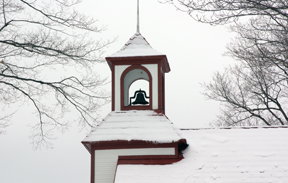 We learned that Peninsula Cellars produces the only white cherry wine in the region. This wine is very popular but unfortunately, this wine was unavailable for tasting. White Cherry is a blend of Emperor Francis and Gold cherries.
Visitors can taste and purchase award winning wines and observe a piece of American history in the old one-room schoolhouse. We enjoyed the connection between the names of some of the wines and the schoolhouse. Perhaps future wines can be named "Straight A."
Peninsula Cellars
11480 Center Rd
Traverse City, Michigan 49686
231.933.9787
GPS N 44° 51.241 W 085° 31.626
---