Karma Vista
by
Kathy Sullivan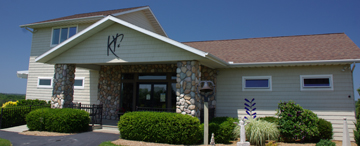 Summary: Enjoy a visit to Karma Vista Vineyards & Winery in Coloma, Michigan, located at a high elevation with views of vineyards and peach orchards. Vineyards include both wine and juice grapes.
Joe and Susan Herman, owners of Karma Vista Vineyards & Winery, are sixth generation farmers on the land. Joe's ancestors settled and began farming here in 1847. At the turn of the century, this area of Michigan was known as a large fruit growing area.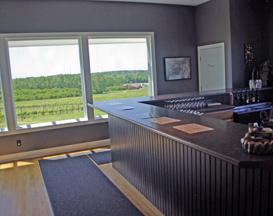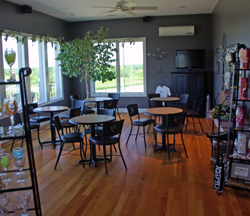 Tasting Room
The tasting room facility is located at the top of the hill with vineyards surrounding it. The tasting room is located in what appears to be a home but is a dedicated building built specifically to be a tasting room. Inside visitors will discover an L-shaped tasting counter overlooking the vineyards. Near by there is an area for giftware. A bit farther on, several small tables and chairs make a lovely area for enjoying a glass of wine. An outside deck offers additional seating at tables. Both of these areas offer views of the vineyards.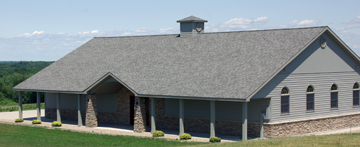 Winery
A short distance from the parking area, a winery building was recently added. Its design fits well into the landscape that includes vineyards and orchards. Inside there is plenty of room to add additional barrels and tanks. Current production is at 3,000 cases and Joe hopes to grow to 5,000 cases of wine.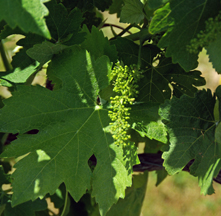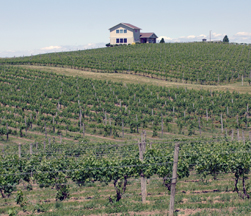 Vineyards
Joe and Susan Herman own 50 acres of wine grapes. Varieties include Pinot Noir, Merlot, Syrah, Cabernet Sauvignon, Riesling, Pinot Grigio, Chardonnay and Sauvignon Blanc. The vineyards at the winery are located at one of the highest parts of the county at 200 feet above Lake Michigan. This high ground is ideal for growing grapes in this region. The vineyards are 5.5 miles from Lake Michigan. In the spring, cold air moves down the hills usually leaving the vineyards untouched by frost. There is always a breeze that helps to protect the vines. Near the parking area there is a single row of Niagara grapes alongside the vinifera grapes. Joe noted, "A row of Niagara is a decoy row for birds and tourists."
As a farmer, Joe has orchards of peaches, cherries and also vineyards of juice grapes. There are 60 acres of peaches, 80 acres of cherries and 95 acres of Niagara and Concord grapes. The peaches and cherries are sold wholesale and the juice grapes are sold to Welch's.
Joe wants people to visit the winery tasting room for the wine and for the experience. "Karma Vista is us. It's what we do. We're growers and plan to be here for wine for a long time." People can buy good wines at stores but will not get a chance to talk to the winegrower or the winemaker. At Karma Vista, wine enthusiasts can do this.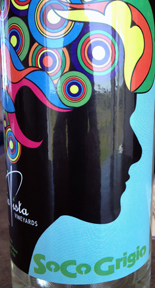 Karma Vista Wines
Sauvignon Blanc 2011 from a stainless steel tank was delicious. It was very aromatic, tropical and fruity with pineapple and melon. Syrah Reserve 2009 a ruby color had an aroma of pepper and cedar. The taste was of dark fruit, plum and cedar. The finish was crisp and fruity with mild tannins with fruit and a hint of spice. Stone Temple Pinot Noir 2010 was a very light red with a pink hue. The wine had cherry notes. The finish had mild tannins and cherry nuances.
Enjoy a visit to Karma Vista Vineyards and Winery, where you can taste a variety of wines while enjoying views of vineyards and a peach orchard.
June 2012
Karma Vista Vineyards & Winery
6991 Ryno Road
Coloma, Michigan 49038
GPS: N42º 10.854' W86º 17.308'
---