Bel Lago Vineyards & Winery
by
Kathy Sullivan

Summary: Bel Lago Vineyards and Winery is home to quality estate grown wines. The vineyards are also part of research studies by Cornell, University of Minnesota and German breeding programs.
Bel Lago Vineyard and Winery, located in Cedar, Michigan on Leelanau Peninsula offers a one-story tasting room experience within view of South Lake Leelanau. The name of the winery Bel Lago is Italian for Beautiful Lake. Bel Lago is a family owned winery where Charlie E. Edson, proprietor and winemaker, is enthusiastic about producing quality wines in northern Michigan.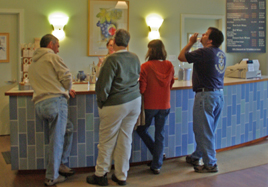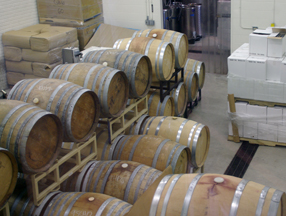 The light, brown siding of the tasting room fits in well with the landscape. Gardens along the front of the building are meticulous. Visitors will enjoy the inviting approach to the tasting room. Inside a slightly curved tasting counter has a side of light blue and sea blue ceramic tiles. There is room at the counter to comfortably serve six people at a time. A table with chairs is situated in the center of the room. A large window overlooks the winery below.
Charles Edson, his wife, father-in-law and mother-in-law, founded Bel Lago Vineyard and Winery. Bel Lago produces 4,000 cases of their own wine and also does custom crushes for other wineries. Grapevines were first planted in 1986/87. The family built the winery in 1998 and opened the tasting room in 1999.
Visitors to the tasting room in Cedar, Michigan will find that the wines are produced to showcase the terroir of the region. They will discover that quality wines are being produced from the quality estate vineyards.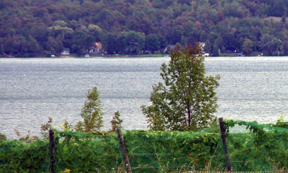 Vineyards
In 2010, there are 32 acres of vineyards with over 100 varieties. The major grape varieties include Pinot Grigio, Chardonnay, Riesling, Cayuga, Pinot Noir, Cabernet Franc, Merlot and Reggant. Five acres of vineyards are located adjacent to the winery while the other 27 acres are further north.
One hundred varieties many seem unusual but this large number is due to the vineyards being selected as a test site for Cornell University, University of Minnesota and German breeding programs.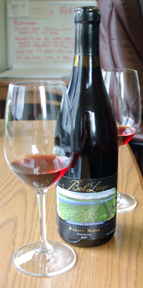 Red Wines
Pinot Noir 2007 was a dark red transparent color. The wine had an aroma of red cherries with a touch of pepper. The taste had red cherry notes with plum and spice nuances. The finish was crisp with mild tannins. Tempesta was a dark purple with a ruby rim. This was a blend of Cabernet Franc, Lemberger, Reggant and others. The aroma offered dark fruit and pepper notes. The taste had dark fruit nuances while the fruity finish had mild tannins. There was a very long aftertaste.
White Wines
Auxerrois 2009 was a light yellow color. The aroma and taste offered fruit salad notes including pear, melons and a hint of citrus. The finish was crisp and fruity. Suggested pairings were salmon and seafood. Pinot Grigio 2009 was a light yellow color with an aroma and taste of apple and pear nuances. The wine offered a smooth mouthfeel. The finish was fruity. Pinot Grigio and Chardonnay was a light yellow. The aroma was of tropical fruit. The taste was smooth with citrus yielding to pear. There was citrus on the finish that yielded to pear. Leelanau Primavera is the tasting room's most popular wine. The aroma offered citrus and apple notes. The taste was smooth with apple and pear nuances. The finish was crisp and slightly sweet. Riesling 2007 was a light yellow with mineral and floral nuances on the aroma. The taste reminds one of yellow stone fruit. The finish was fruity with a long fruit aftertaste.
Sparkling Wine
Brut Rosé was a pink orange. The wine was a blend of Pinot Noir, Auxerrois and Chardonnay. This wine had apple and strawberry nuances. The finish was crisp and refreshing.
Enjoy quality wines at Bel Lago Vineyard and Winery. Be prepared with a camera for photos of South Lake Leelanau.
Bel Lago Vineyard and Winery
6530 S. Lake Shore Drive
Cedar, Michigan 49621
GPS: N44º 53.045' W85º 43.478'
---