Flying Otter Vineyard and Winery
by
Kathy Sullivan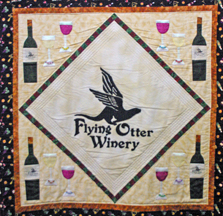 Summary: Flying Otter Vineyard and Winery is a family owned and operated vineyard and winery located in Adrian, Michigan. Visitors will have the opportunity to taste wines from the vineyards that have cold hardy grape varieties.
Bob Utter is the owner, winemaker and viticulturist of Flying Otter Vineyard and Winery. Bob has always been interested in wine and while a sophomore in college made his first wine with Welch's grape juice and adding sugar and Red Star yeast. Responding to whether it was good or not, Bob smiled and noted that it was very alcoholic.
Bob's next attempt at making wine was an apple and pear wine made from scratch. He even crushed the fruit with his feet. Over the years he used kits to make wine. It was while in France that his love of wine was firmly cemented. While in France he loved the wine, cheese and crusty bread.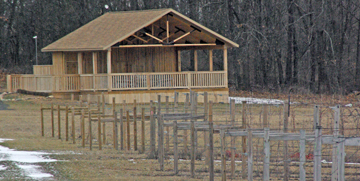 Vineyard
In 1996 Bob moved to their current location in Adrian, Michigan where he had 50 plus acres. After doing some research he planted a half acre of grapes in the sandy soil. Today he has three acres of vineyards. In the vineyards Bob uses an easy numeric system to identify each grapevine. Each grapevine has its own unique number. The climate is conducive to growing cold hardy varieties. Grape varieties in the vineyards include Frontenac, Marquette, Petite Pearl, Norton, Lemberger, Frontenac Gris, Frontenac Blanc, St. Pepin and Brianna. While Bob expects to plant more vines, he wants Flying Otter Winery to stay small. Bob also sources grapes from within Michigan.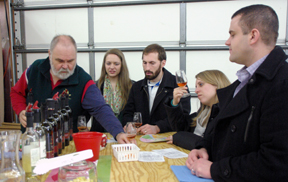 Winery/Tasting Room
By 2007 Bob started making wine from his grapes. As the years passed, he gave away wine. People began asking where they could buy the wine. As a result, Bob, his wife Linda, their son Jeff and his wife Sarah started a commercial winery in 2011, opening the tasting room the Saturday after Thanksgiving 2011. Bob mentioned the origin of the name for the winery. He has always had an interest in aviation, and at one time began building a plane. The "flying" comes from Bob's interest in aviation. The "otter" part of the name derives from Bob's last name "Utter" which means otter in Swedish, where their family ancestors originated.
Today the winery produces 1,000 cases. Most sales take place at the tasting room. Bob self distributes a little of the wine. Current wines produced include Noiret, Chardonnel, Traminette and a cherry wine made with Montmorency cherry juice added to wine.
The tasting room is located in a modern-style, rectangular building that Bob converted from a workshop to the tasting room and winery. While small, the tasting counter has room for six to eight people. Locally made quilted coaster squares and knitted/crocheted bottle top decorations are available.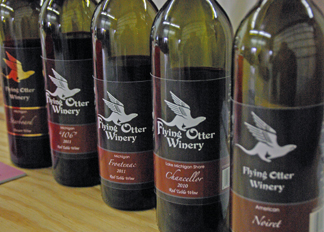 Wines
Currently Flying Otter has 11 different wines bottled and more in production. Visitors will want to note that Northern Lights is a blend of Chardonnel and Traminette.
On the day of our visit we tasted several of the handcrafted wines. Noiret 2010 was a ruby color with an aroma of smoke and cedar. The taste was earthy with dark fruit notes. The finish with soft tannins had nuances of smoke and pepper. Chancellor 2010, a dark ruby wine, offered aromas of berries with a hint of earthiness. The taste was of berries and plums while the fruity finish had soft tannins. Marquette 2011 was a dark ruby to dark purple. The aroma was of cherry. The smooth taste offered cherry and spice. The finish with very mild tannins had cherry yielding to spices. Frontenac 2011 was a dark ruby with an aroma reminding one of a fruit salad. The taste had black and red raspberry notes. The finish was fruity with tannins.
Sunshine was a blend of Frontenac Gris, La Crosse, La Crescent, St. Pepin and Brianna. The straw color wine had an aroma of melon and daisy notes. The taste was of melon and citrus. The finish offered citrus on the crisp aftertaste. Starboard was produced with Frontenac. This dark purple port-style wine offered jammy fruit and chocolate notes. The finish was crisp and chewy.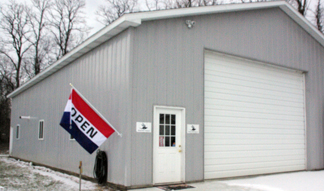 Cherry Pie wine was a combination of Montmorency cherry juice and a white wine. This light/orange wine had a residual sugar level of six percent. The wine had a light cherry aroma. The cherry taste lingered on the aftertaste.
Last year at the end of the season Bob built a large pavilion near the vineyards. This would be a wonderful spot to enjoy a picnic lunch with a bottle of Flying Otter wine.
Flying Otter Vineyard and Winery

3402 Chase Rd

Adrian, Michigan 49221
GPS: N41º 55.886' W83º 57.319'
Article written February 2013
---