Free Run Cellars
by
Kathy Sullivan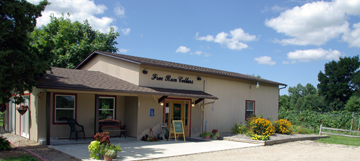 Summary: Free Run Cellars offers a comfortable tasting room with seating available inside and more seating on a patio. The many windows allow in a tremendous amount of light that add to the enjoyment of the wine tasting.
Free Run Cellars, located a short distance from the Round Barn Winery, is operated by Chris and Matt Moersch, who are the winemaker and general manager at Round Barn Winery. The purpose of this newer winery is to craft small batches of wine. Currently producing fewer than 1,000 cases of wine, Matt and Chris expect the production will increase to 3,000 cases. Wines available at Free Run Cellars are different than the wines at Round Barn Winery.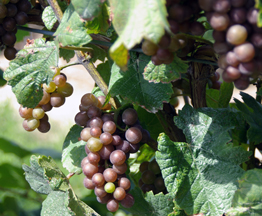 Adjacent to the tasting room are four acres of grapes featuring Pinot Gris. The vineyards were planted in 2005. Preparing the soil included placing drainage tiles throughout the vineyard. Currently the wines are produced at Round Barn Winery. There are plans to build a facility at Free Run Cellars in the future.
The one level tasting room provides plenty of light with several patio doors. Two tasting counters are in the room's center. A side area has tables and chairs for visitors to sit and enjoy the wine. Outside the back patio doors, picnic tables allow a delightful spot to enjoy a bottle of Free Run Cellars wine. Vineyards border this area adding to the wine country enjoyment.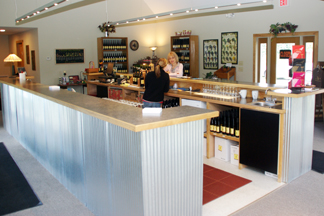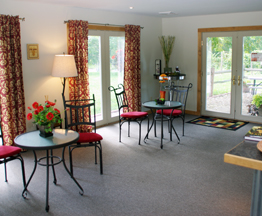 White Wines
Dry Gewürztraminer, with a residual sugar of 0.1 percent, is the only dry Gewürztraminer in the region. There were mineral and floral nuances on the aroma and a smooth tropical fruit salad taste. The taste had a slight sweetness from the grape while the wine had a lingering finish. Dry Riesling 2007 with 0.75 percent had a light straw color. This is considered a "compromise wine," that is a wine that both red wine and white wine drinkers will enjoy. The wine offered a mineral aroma and had a banana, pear and apple taste.
Rosé Wine
Pinot Rosé was made from the Pinot Meunier grape. It was a pink colored wine that was very dry. It had red berries on the aroma and taste. The finish was fruity.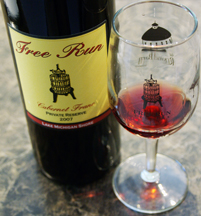 Red Wines
Cabernet Franc Estate 2007 had a red translucent color. This dry wine offered a pepper and fruit aroma. The taste was fruity with pepper. The finish had pepper notes. The 2006 Syrah was a translucent red color. It offered a red fruit aroma and taste. The crisp finish was accompanied with tannins and fruit.
Dessert Wine
Balaton Cherry, a dessert wine, with 7.2 percent residual sugar offered a combined sweet and tart cherry taste with a long cherry aftertaste.
When planning a visit to Free Run Winery also include plans to visit nearby Round Barn Winery.
Free Run Cellars
10062 Burgoyne Road
Berrien Springs, Michigan 49103
GPS: N41º 56.242' W86º 25.068'
---