Warner Vineyards
by
Kathy Sullivan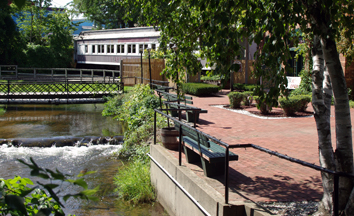 Summary: Warner Vineyards, a family-owned winery, is the second oldest winery in Michigan. When a fire destroyed the winery in the 1990's the winery began producing wine at Fenn Valley Vineyards. The Paw Paw, Michigan location is open for tasting wines.
History of Warner Winery
Warner located in Paw Paw, Michigan dates back to 1938. The winery originated with the Turner and Warner family. The original building was a water works plant located on the Paw Paw River. That location is now Kevin's Restaurant while the Warner tasting room is next door. After a 1990's fire destroyed the Warner winery facility, the wines began to be produced at Fenn Valley Vineyards and Wine Cellar in Fennville, Michigan.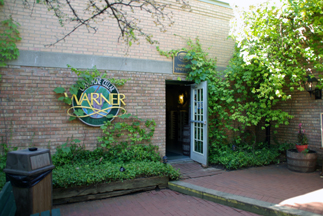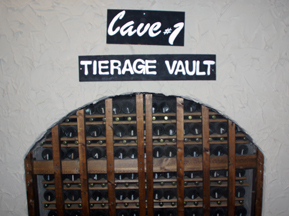 Warner's Tasting Room in Paw Paw, Michigan
After parking in the nearby parking lot, walk across a small covered bridge. The bridge passes over the Paw Paw River. Pass by a restaurant and Warner Vineyards tasting room will be on your left. The tasting room has subdued lighting and provides a semblance of a wine cavern.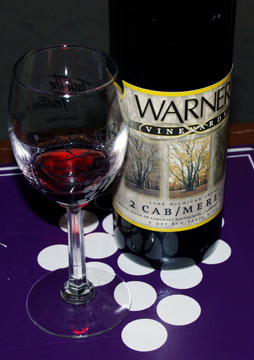 Red Wines
2 Cab/Merlot 2007 was a blend of Cabernet Sauvignon, Cabernet Franc and Merlot. The aroma and taste were of black fruit. The crisp finish was fruity with tannins. Veritas non-vintage was a Chambourcin and Cabernet Franc blend. The wine was a dark purple with an aroma and taste of black fruit. The finish had mild tannins and was fruity.
White Wines
Traminette 2008 was a pale yellow. The floral aroma had notes of honeysuckle. The taste was sweet with fruit salad nuances. Grapes of Love non-vintage was a blend of Vidal, Vignoles and Riesling. The result was an aroma of peach and pear notes with a sweet, velvety fruit salad taste. The crisp finish was fruity.
Specialty Wine
Holiberry was a blend of Riesling and Vignoles with cranberries. The result is a red translucent wine with a light floral aroma. The taste was floral, fruity and tart with cranberry notes. The finish was sweet and tart.
When visiting Warner Vineyards, enjoy the covered bridge and brick pathways leading to the tasting room in Paw Paw, Michigan.
Warner Vineyards
706 South Kalamazoo Street
Paw Paw, Michigan 49079
GPS: N42º 12.807' W85º 53.527'
---