Founders Wine Cellar
by
Kathy Sullivan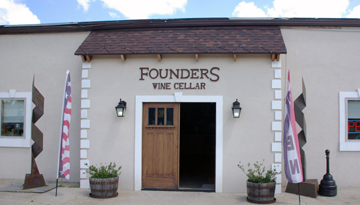 Summary: Founders Wine Cellar is located in Baroda, Michigan in the Lake Michigan Shore AVA. With so many wines to choose from the winery offers a wine for every palate.
Wine enthusiasts will discover the winery in the same facility that has been renovated to accommodate the tasting room in the front and the winery in the back. Visitors at the tasting counter can observe the activities in the winery while tasting wines.
Background
Len Olsen, owner and winemaker, has enjoyed wine for a long time. He recalls his early interest in wine when he went to the beach with a gallon of Chianti while others were taking a six-pack of beer.
Len Olson has been involved in Berrien County's wine industry since the late 1960's. In 1968 and 1969, he planted the first commercial plantings of European grapes in Michigan. He planted 27 varieties on 28 acres. Several varieties included Aurora, Vidal Banc, Baco Noir, Marechal Foch, De Chaunac, Chambourcin, Cascade, Chardonnay, Seyval, Vignoles and Johannesburg Riesling. His first vintage was 1970. Olson was one of the first in Michigan after Prohibition to obtain a winery license. In 1972 he started Tabor Hill Winery.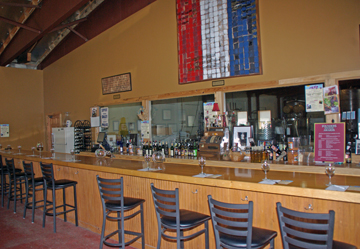 In 2009 he started Founders Wine Cellar in Baroda. The winery opened on July 14, Bastille Day. Len chose the name Founders because it comes from founding wineries that make wine from wine grapes. Today he sources grapes for Founders Wine Cellar from Lake Michigan Shore AVA.
Visitors will find a large tasting room area with several antiques. Saddles make an interesting spot for visitors to have photos taken. There is plenty of room to spread out and there are tables and chairs in one section. Look at the many photos on the wall near the tasting counter. They provide a history of Len's involvement in the wine industry. The tasting counter is long and can accommodate a group. Wine enthusiasts sit at the tasting counter. Behind the tasting counter, windows provide a glimpse into the winery.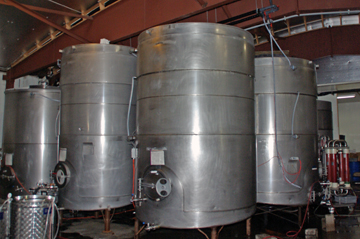 Len seeks to supply his winery with used but quality equipment. He proudly points out the stainless steel tanks that he purchased used from Chateau Montelena in Napa Valley. These were the stainless steel tanks in use at Chateau Montelena in the 1970s when Chateau Montelena won the Judgment of Paris in 1976 for their Chardonnay.
Founders Wine Cellars produces an array of wines. Len noted that the winery "has a taste for every palate." Today Len and his son work together in the winery.
Events at Founders Wine Cellar
Every Friday is Wine-Down Friday. Music, cheese platters and wine can be enjoyed from 5pm to 8pm. Private events can also be scheduled for the large tasting room.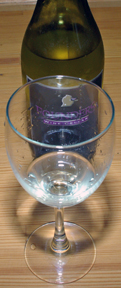 White Wines
Chardonnay 2009 was a light straw color. The wine offered an aroma of smoke with a taste of apple and pear. The finish had apple with slight tannins. Pinot Gris 2009 was a light straw color. With apple on the aroma, the taste also had apple with a hint of grapefruit. The finish was crisp. Chardonel 2009 was a light straw color. The aroma and taste had apple notes. The finish was crisp with apple and some nut on the aftertaste. Mary Anna 2009 was an oaked Chardonel. The light straw color offered apple on the aroma and taste. A hint of caramel was also on the taste. The finish was crisp and fruity.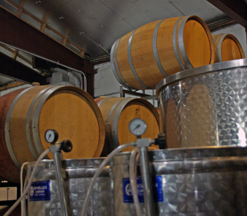 Red Wines
Pinot Noir 2009 was a light ruby. Cherry notes were on the aroma and taste. The finish was crisp. Married in the Vineyard 2007 was ruby. This was a blend of Cabernet Sauvignon and Cabernet Franc. Dark fruits were on the aroma and taste. The fruity finish had tannins.
Specialty Wines
Smorleaux was produced with chocolate and marshmallow. As its name suggests it may remind fans of smores. First Kiss with 12 percent alcohol offered an aroma of chocolate. The taste reminds one of chocolate and raspberry notes.

Founders Wine Cellar is easy to find in Baroda, Michigan. Stop by anytime or on a Friday after work for Wine-Down Friday.
June 2012
Founders Wine Cellar
8963 Hills Road

Baroda, Michigan 49101
GPS: N41º 57.369' W86º 29.107'
---