Lone Oak Vineyard Estate
by
K.L. Sullivan
Lone Oak was the first estate winery we have visited in Michigan. We met Kip Barber, who is co-owner with his wife. Kip is the winemaker and vineyard manager. During our visit, he was managing the tasting room where we tried several of his fine wines. Kip produces wines from vinifera grapes.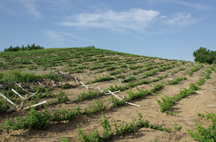 Driving along the driveway to the tasting room you will see acres of vineyards covering a hillside. The vines are very close to the ground so that Kip can cover them during the winter. This helps to prevent winter damage. Kip has developed a unique style of trellising his vines. He designed his trellis system to take the best possible advantage of the rays of the sun. In the spring the vines grow along a low-angled trellis. This enables more of the grape leaves to absorb sunlight throughout the day. At harvest time, posts are moved upright to make the grapes easily accessible for picking.
The history of Lone Oak Estate Winery is fascinating and if you have a chance to talk to Kip you will enjoy listening to his story. Kip also believes that visitors to wineries should ask questions, talk with the winemaker and learn about wine.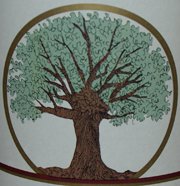 Lone Oak's label features an oak tree and we learned that a friend of Dennise is an artist. She created several pictures and Kip and Dennise used a combination of the pictures to create the label. But why the Lone Oak name? While Kip and Dennise walked about the property they came upon a large white oak. They tried to wrap their arms around the tree, but the trunk was so large that they could not do so. It was at that point they decided that the oak would continue to stand and be a focal point for the winery.
After completing college, Kip decided that he did not want a corporate nine to five job. He chose to be a woodworker. Soon after opening his woodworking shop, he was inundated with work. Years later a friend introduced Kip to wine with dinner and Kip became very interested in winemaking as a hobby. He began with a few vines. Kip said he "started with a book that cost $2.59 in the 1970's." He started learning about French wines.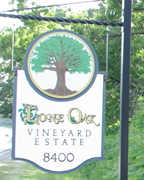 Kip and his wife purchased the current property on April 1, 1997 and immediately cleared the land to plant grapevines. Preparation of the land included bulldozing oak trees down. Kip was intent upon recycling the oak trees. Currently the wood from the trees is being dried and will eventually be used in the building of Kip's home and future restaurant. The oak wood will also provide the wood necessary to craft oak barrels. Kip will be building these barrels, which will be rectanglar-shaped and toasted. Eventually the current tasting room will be enlarged, but the immediate need is to build two more buildings for aging wines. Later plans include opening a bakery and cheese shop.
Today on 25 acres, Kip grows 12 grape varieties including: Chardonnay, Riesling, Gewürztraminer, Pinot Noir, Gamay, Zinfandel, Cabernet Sauvignon, Cabernet Franc, Merlot, Petit Verdot and Petit Syrah.
Kip focuses on growing grapes. The harvesting of the grapes is an important aspect of producing great wine. He firmly believes that picking grapes should be done by hand. Only ripe clusters should be picked rather than picking all of the grapes in a row at one time. Grapes ripen at various times even on the same vine, dependent upon the amount of sunshine they receive.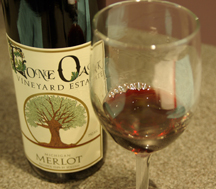 We enjoyed tasting wines at Lone Oak. Merlot has a dark fruit flavor and good balance between fruit, acid and tannins. It has a long aftertaste. The Raspberry dessert wine with 16% residual sugar has a full raspberry flavor and is perfect with dark chocolate. A unique idea for a special event is to dip your wineglass ¼ inch into dark chocolate and fill with raspberry dessert wine. The taste of the chocolate and raspberry wine is delectable. The Chardonnay has a vanilla and apple-citrus fruit nose. It too is well balanced between fruit and acid. The Anything But Chardonnay group would like this.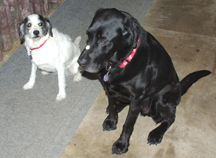 You may have heard of winery dogs, but at Lone Oak Vineyard Estate you will have the opportunity to see two trick dogs. The dogs will keep a cracker on their noses while Kip encourages them with "Stay, Stay, Stay" and when given a signal the dogs will toss the cracker in the air and catch it. According to Kip, the dogs will perform this trick in front of the winery visitors who provide approval.
Lone Oak Vineyard Estate is open year round. The hours are 12 Noon to 7pm. When you stop by the winery be sure to stop and look at the unique trellising system Kip devised.
Lone Oak Vineyard Estate
8400 Ann Arbor Rd.
Grass Lake, MI 49240
(517) 522-8167
GPS: N 42° 17.304' W084° 15.882'
---