Sandhill Crane Vineyards
by
K.L. Sullivan
According to Heather Price, Sandhill Crane Vineyards began as a hobby by her father, Norman Moffatt, a retired police officer. Today Heather's sister, Holly Balansag, is the self-taught winemaker and Heather is the Executive Director. Her mother and aunt work in the tasting room and her father is the vineyard manager.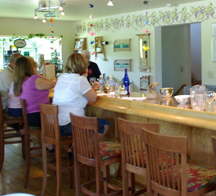 Sandhill Crane's tasting room is delightful, not too big and not too small, it provides a "friendly" atmosphere. One of the unusual aspects is the seating at the counter. Along with the tasting counter chairs and seating at tables, camaraderie between everyone pervades the tasting room. At the top of the wall behind the tasting counter are stenciled grapes and vines. A nice supply of wine accessories and gifts are available. One can purchase wildlife and nature pictures. Lovely wine bottle stoppers are available including several Christmas stoppers.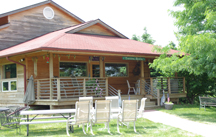 As we entered the tasting room, a tour group had just arrived and we enjoyed watching the jovial talking between tasting room experts and visitors. Everyone appeared to have a great time. Many visitors left with the purchase of a bottle of wine. Their tour bus driver stated that he enjoys bringing groups to Sandhill Crane Vineyards because of the tasting room staff.
One of the tasters in the tasting room, Todd Lampman, was on an unusual mission. This day was his birthday and every year on his birthday, he does good things for other people. We watched as he bought the last bottle of a particular wine and then opened it and poured some for everyone at the tasting counter. What a great idea: giving on your birthday rather than expecting a gift. Todd explained that, "wine should be shared." When more visitors entered the tasting room, he went behind the tasting bar to pour a tasting for them. He was entertaining and pleased all of the visitors and other workers.
Sandhill Crane Vineyards is named after the cranes in a nearby bird sanctuary. The cranes live here during the summer and then fly to Florida. Often they are in the vineyards and binoculars are available for bird watching.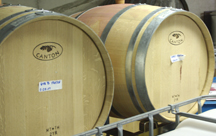 The vineyards consist of seven acres. Their first vintage was 2002, and the tasting room doors opened in September 2003. Today Sandhill Crane Vineyards produces 2500 cases. Any grapes purchased are from local vineyards. Currently most sales are from the tasting room.
Behind the tasting room is a room set aside for special events. Beneath the tasting room is the winery where currently the grapes are pressed, wine is produced and aged.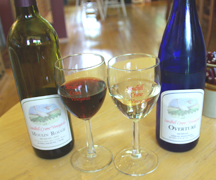 We tried several wines from their list of 19 wines. Choices include dry and off-dry wines, sweet wines and dessert wines. The Sassy Rosé with a picture of their winery dog (Rosé) on the label has a fruit nose and 0% residual sugar. However, the taste is sweet because of the fruit. Staccato is a very light red semi-sweet wine that white wine drinkers will also enjoy. Rhapsody in Red is a sweet wine and consists of a blend of 20% raspberry and 80% Chambourcin. Sandhill Crane's signature wine, Raspberry, is a dessert wine that tastes as if one is drinking fresh squeezed raspberries.
Sandhill Crane Vineyards is a special vineyard and on occasion proposals of marriage have occurred here. In addition several weddings have taken place. For one couple the winery special labeled two bottles of wine. One bottle for the day of the proposal and one bottle to be opened a year later. Heather described a young man who strung white lights in a location of the vineyard and when he took his girlfriend to view the vineyard the lights were lit by Holly, where he proposed. What could be more romantic? Heather was working with a young man who was going to arrive at the winery later in the day and propose to his girlfriend.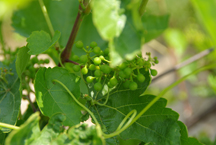 Heather plans events throughout the year. Many different activities happen here. Jackson's (city) birthday/Fourth of July is abig event. The winery participates in four wine events sponsored by the Pioneer Wine Trail one of which is a combination art fair and wine festival with a local museum. Another is a bus tour in October or November where five or six buses visit six wineries. Two other wine trail events pair food by local chefs with featured wines from each winery. Pampering for Women is a unique August event at the winery and in September is a raspberry festival. Private parties and off-hour parties also occur. If you are looking for a special activity be sure to checkout Sandhill Crane Vineyards.

Although Sandhill Crane Vineyards would like to grow, they want to remain a family-size winery. They want to expand the building and have a goal of producing 5,000 cases of wine each year.
We believe you will enjoy the friendliness and comfortable feel of the Sandhill Crane's tasting room. When you stop by the winery be sure to try their Raspberry dessert wine as well as their other wines and enjoy the ambiance.
Sandhill Crane Vineyards
4724 Walz Rd.
Jackson, MI 49201

GPS:N42° 18.051' W084° 17.845'
---