Contessa Wine Cellars
by
Kathy Sullivan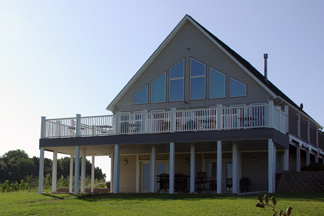 Summary: Contessa Wine Cellars sits atop a hill with countryside views of vineyards. The tall A-shaped modern facility was built in 2002 and provides a wonderful ambiance for experiencing wine tasting. Visitors to the winery can get an educational experience while tasting wines. The friendly experience adds to the delightful visit.
Contessa Wine Cellars is located in a modern style winery. The tasting room is bright with light from large windows and three sparkling chandeliers. The woodwork throughout the tasting room is exquisite. Comfortable chairs at the tasting counter create a casual way to say, "come and stay awhile." Meet Tabitha, the winery cat, who is comfortable in the tasting room.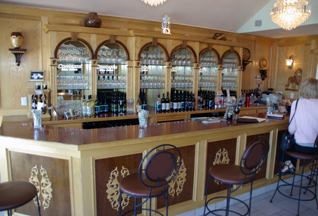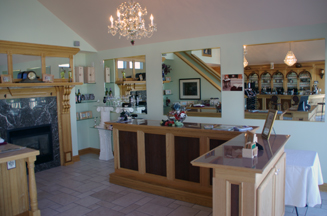 A European-style white deck with a step-down to another deck is a delightful area to enjoy a bottle of wine with friends. The deck overlooks the countryside and vineyards.
Contessa Wine Cellars, located in Coloma, Michigan is about five miles from Lake Michigan. Tony Peterson and his wife own the winery. Tony was drawn to creating his own winery after working with his father at Peterson and Sons Winery, in Kalamazoo. He worked there for 17 years, beginning when he was 12 years old. The name Contessa is Tony's mother-in-law's maiden name – Elizabeth Contessa Wuts. The artwork on the wine labels is by his mother-in-law, an artist. Wine labels feature Tony's wife.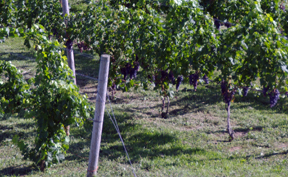 Tony purchased the property that was originally a peach orchard in 2001 and started building the winery in the same year. It opened for business in 2002. Vineyards were planted in 2003 and the property now has three acres of vines that include Merlot, Pinot Gris and Diamond. Currently grapes are sourced from the Lake Michigan AVA.
Contessa Wine Cellars produces about 1700 cases and Tony would like the facility to grow to between 3000 and 3500 cases. Currently wines from Contessa Wine Cellars are only available in Michigan.
At the wine tasting counter that was created by Peter Wuts, Tony's father-in-law, we tasted several wines during the time of our September 2009 visit. Notice the wood working details of the counter.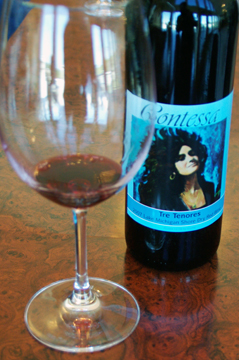 White Wines
Pinot Grigio 2008 was a pale yellow with an aroma and taste of citrus. The finish was of citrus with floral notes. Chardonnay 2005 was aged in American oak. The wine was a pale yellow. The aroma was of apple with oak nuances. The taste also had apple notes with caramel. The finish was soft with fruity and caramel notes. Divino was a blend of Riesling and Chardonel. The resulting wine was a very pale yellow with a taste of peach and citrus. The finish was crisp and fruity.
Red Wines
Merlot 2007 was a red translucent color. The aroma and taste were of red fruit. The finish was fruity with mild tannins. Tre Tenores was a blend of Cabernet Sauvignon, Cabernet Franc and Merlot. The aroma was of blackberry fruit while the taste was smooth with blackberry notes. The crisp finish was fruity with tannins.
When planning your visit to Contessa Wine Cellars, plan to stay awhile and enjoy the wines and ambiance. If you have time, purchase a glass of wine to enjoy on the expanded deck with an outdoor tasting bar (weather permitting).
Contessa Wine Cellars
3235 Friday Road
Coloma, Michigan 49038
GPS: N42º 10.101' W86º 18.312'
For more information and a list of the current wines available
---