L. Mawby
by
K.L. Sullivan
Summary: When visiting Leelanau Peninsula, be sure to stop at L. Mawby, a winery producing only sparkling wines. About 60 percent of the wines are produced using the Cuve Close Method and 40 percent are bottle fermented. According to Larry Mawby, "this is the only winery on the planet that makes sparkling wine from Vignoles." Autumn is a busy time of the year as visitors plan visits to coincide with fall colors.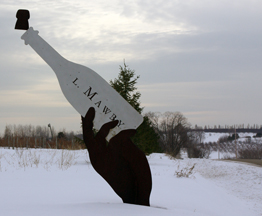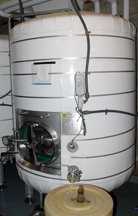 If you enjoy champagne and sparkling wines or are interested in learning about how the different flavors of sparkling wines can vary L. Mawby is a must stop. Look for the large sign showing a bottle of sparkling wine in a hand at the entrance to L. Mawby. The winery produces two lines of sparkling wine. The traditional method sparkling wines are the L. Mawby brand. The grapes are all from the Leelanau appellation and the L. Mawby line consists of six sparkling wine styles. The M. Lawrence wines are produced as non-appellation sparkling wines using the Cuve Close Method. Secondary fermentation takes place in pressurized tanks.The M. Lawrence line began in 2003.
The L. Mawby vineyards started in 1973 after Larry Mawby researched the area. They were the second vineyard to begin in the area. Wine production began in 1978. Larry decided to produce sparkling wines in 1984. Beginning with the 2003 harvest the winery produces all sparkling wines. The area produces good grapes for sparkling wines. Currently there are 18 acres of vineyards and the winery produces 8,000 cases of sparkling wine. Grapes grown in the L. Mawby vineyards include Seyval, Chardonnay, Regent, Pinot Meunier, Pinot Gris, Vignoles and Pinot Noir. They purchase some grapes from other vineyards on Leelanau Peninsula and Old Mission Peninsula.
According to Larry, sparkling wine is seeing an increase in sales. People are learning that sparkling wines pair very well with dinner. Sparkling wine does not need to be just a celebration drink. "Sometimes the food makes the wine taste better and sometimes the wine makes the food taste better." One can experiment with tasting a sparkling wine before eating a food and tasting a sparkling wine after eating food. Larry enjoys having picnics and showing people that sparkling wine can match a three-course meal.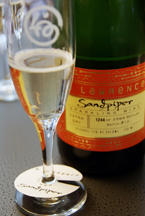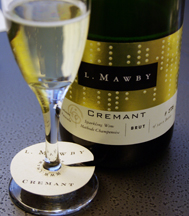 We enjoyed tasting several sparkling wines from the two lines. Sandpiper was a blend of several grapes including Seyval Blanc and Regent. It was fruity and cleansing with many small bubbles. This sparkling wine was in the M. Lawrence line and had a secondary fermentation in the cuve close method. Cremant was made from 100 percent Vignoles grapes and is in the L. Mawby line. It was barrel fermented and aged. It was dry, aromatic, with a full mouth feeling and had a long aftertaste. The L. Mawby Blanc de Blanc was made with Chardonnay and Pinot Gris grapes. It was dry and flavorful. The L. Mawby Blanc de Noir was made from Pinot Noir grapes and was also dry and crisp.
In order to help keep track of the wines you are tasting, small circular paper tags are placed on the wine glass stem with the name of the wine. This is a great idea as it makes it easy to track the wines you taste. Wine flights are offered. Two to three sparkling wines are served with cheese and crackers. The labels at the bottom of the glasses help to identify the wines.
L. Mawby is making a name for itself. Currently they ship sparkling wines to New Jersey, Illinois and California. The winery also exports to Denmark. Merchants and good restaurants are supportive of Michigan wines.
When planning a visit to L. Mawby, remember Saturdays in the fall tend to be busy. If you want to take an opportunity to relax and enjoy the sparkling wines available, plan to visit on another day.
L. Mawby
4519 South Elm Valley Road
Suttons Bay, Michigan 49682
N 44° 54.838' W085° 39.135'
---