Cherry Republic
by
Kathy Sullivan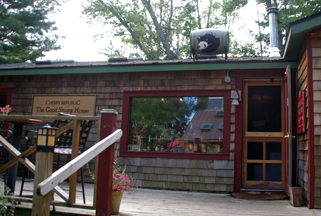 Summary: Cherry Republic is more than a winery. Wine, cherry and soda lovers will enjoy a visit. This enterprise is founded around cherries. Visitors to this tourist destination will discover so many cherry products including wines that it will be hard to decide what to take home. Located in Glen Arbor, Michigan the Cherry Republic is in one of the world's largest cherry regions.
There is no doubt that Bob Sutherland, owner of Cherry Republic, loves cherries. Over the past 21 years Bob has created numerous ways of incorporating cherries into many food products. He is interested in creating versatile and diverse products made with cherries. Most likely one of the most unusual products is cherry salsa. This concept did take a few years of work to create the perfect recipe. Today cherry salsa is a great seller. Bob also has a great sense of humor that he readily shares.
The beginnings of Cherry Republic were small starting with the sale of the lowly t-shirt emblazoned with "Cherry Republic." Today Cherry Republic's main site is located in Glen Arbor, Michigan. It is in one of the world's largest cherry regions. They make an innumerable number of cherry products available for purchase. Wines produced with cherries are just some of the many cherry products. Many of the products including the wines are produced by Cherry Republic. Wine production began in 2004.
Travelers to the Cherry Republic will discover a fun place to visit with three separate buildings. Landscaping and gardens that have humorous sayings posted separate these buildings. Take time to walk through the area, read the signs and have a good wholesome laugh.
The center building is the Great Hall and houses the gift items where many items are available. Samples for tasting are provided. In addition to numerous cherry food-related items, visitors will find carved cherry wood bowls and numerous t-shirts. Facing the garden from the street, the building to the right is the Bakery & Café.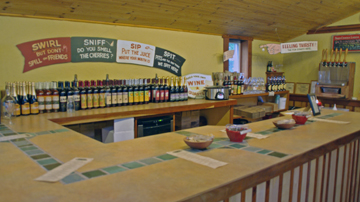 Those interested in beverage tastings will want to proceed to the Good Stomp House on the left where wine and soda pop tastings are provided. Children and adults may taste soda pop. Using the same wineglasses that adults taste wines with, children tasting soda pop are treated with the same respect as the adult wine tasters. Children are also asked what soda they like the best. Cream soda is very popular.
Visitors will quickly realize that tasting wine at Cherry Republic is fun. They are reminded to follow the four tasting procedures: swirl, sniff, sip and spit. However there is the added humor such as "swirl, but don't spill on your friends." For sniff, they are reminded to smell the cherries while for sip one is reminded to put the juice where the mouth is. Lastly, wine enthusiasts are reminded that pits are the only things they spit at Cherry Republic.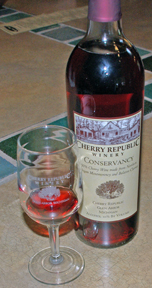 Wines
Since the cherry season is earlier than the harvest season for grapes, Cherry Republic is able to make use of winery equipment from other wineries. Their stainless steel winery tanks are housed at the Bel Lago Winery. All of these fun wines are made with cherries and some are blends of cherry wine and grape wine
Only fresh premium cherries are used to produce their wines. The goal is not to try to make the wines taste like grape wines, wanting to produce wines that taste uniquely cherry. Currently Cherry Republic is producing 4,200 cases of wine. It is available in the tasting room and by mail order.
Abbondanza Cherry Wine was a blend of tart cherries with Cayuga, Muscat and Viognier grapes. This is a dark pink wine for summer fun. Cherry Sangria was a light red with a slight tart taste. Liberty Sparkling Cherry Wine was a blend of Montmorency and Balaton cherries. This was a sparkling wine that offered an aroma and taste of tart cherries. There was fizz on the taste with a long cherry aftertaste. Conservancy Cherry Wine was 100 percent cherry. This wine was a translucent red. There was an aroma and taste of cherries. The finish was balanced with a finish of fruit, sweetness and crispness. One dollar for every bottle sold is donated to the Leelanau Conservancy. Cherry Red was a red purple color. This was produced with a blend of Merlot, Syrah, Cabernet Franc and Cherry. The aroma was of red stone fruit. The taste offered notes of red and black berries. There were mild tannins on the fruity finish.
Soda Pop
One of the favorite soda pops is the Boom Chugga Lugga. Black Cherry Cream Soda was a red color with a cream soda taste. Cherry Ginger Ale was a light orange color. There were cherry and spice notes. Root Beer had a strong root beer flavor with cherry nuances. It was smooth and sweet.
When considering a visit to Cherry Republic in Michigan, plan enough time to enjoy everything available including the Bakery & Café, gift shop and wine and soda tastings.
Cherry Republic
6026 S. Lake Street
Glen Arbor, Michigan 49636
GPS: N44º 53.772' W85º 59.340'
---