Cherry Creek Cellars
by
K.L. Sullivan
Cherry Creek Cellars has two wine tasting rooms. If you are looking for wine, either tasting wine room is fine. However, if you are interesting in tastings and history visit the tasting room located in an 1870's schoolhouse. Here you may have the opportunity to participate in wine tastings, fudge tastings and olive oil tastings with fresh baked bread.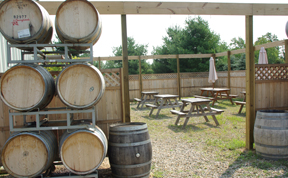 Outside of Cherry Creek Cellars, located in the tree-covered countryside of Michigan, are several oak barrel halves filled with pink and purple petunias. In front of the small winery tasting room, located at the winery, are six picnic tables, available for enjoying a glass of wine.
When we entered the tasting room, we met Al, an assistant in the winemaking process and wine consultant. Al is friendly and enjoys sharing his knowledge of wine at Cherry Creek as well as his extensive knowledge of world wines.
Cherry Creek Cellars, a relatively new winery, with an acre of Pinot Noir and a half-acre of Vidal, produces 3,000 cases of wine. They hope to use the Vidal grapes to produce an ice wine in the future. The winery focuses on dry wines. However due to customer demand, Cherry Creek provides semi-sweet and sweet wines. Currently, Cherry Creek buys grapes from vineyards in Michigan. John Burtka, winemaker and co-owner with his wife, Denise, has strict requirements for the grapes they purchase from vineyards. One third of the wines sold in the tasting rooms are dry. Cranberry Passion is the best selling wine.

Michigan is a state renowned for its cherries. Cherry Creek uses a Balaton cherry to make its Cherry Wine. This cherry was developed in Hungary after WWII near Lake Balaton. In 1989, Michigan State University took cuttings and developed them in their nurseries. MSU began selling the cherries in the mid 1990's. A sweet wine, the Cherry Wine is 100% Michigan Balaton Tart Cherries with four percent residual sugar.
Cherry Creek sells ninety percent of their wine in their two wine tasting rooms. After visiting this winery, we drove to their second tasting room located in a 19th century schoolhouse. The building was in use as a schoolhouse from the 1870's to the 1950's. The schoolhouse opened in March 2006 as a tasting room.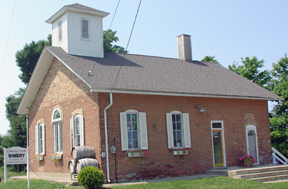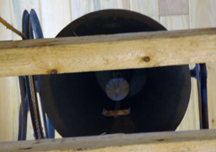 The outside of the schoolhouse is of brick with a bell tower at the top. The original bell, calling children to school, is in operating condition. In the 1960's, the building was renovated into a cottage. Today a sign urges children 12 or younger to ring the bell once before parents may taste the wines. The walls of the tasting room are lined with knotty pine and the floor is maple. The tasting counter is wood protected by a thick gloss glaze.
We met Denise Burtka at the tasting counter. Denise's ready smile indicates she likes being involved with the winery. In addition to discussing the wines, she talked about the gift items available in the tasting room. Visitors enjoy the gift selections and frequently buy wine and gifts at the schoolhouse. Cherry salsa, barbecue sauce, straw crackers, and more fill the display shelves. Wreaths and wine accessories are also available.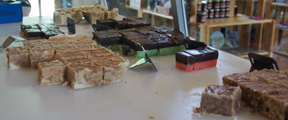 Unique in this tasting room is the delicious fudge available. Denise makes the fudge weekly. Several kinds are available including vanilla nut and chocolate. Heath and Butterfingers fudge are the most popular. Besides wine tastings, fudge tastings are available.
A popular item is the Balsamic vinegar and Italian Extra Virgin olive oil. Tastings are available. Visitors buying the vinegar or olive oil fill their own bottles. Customers like this olive oil and vinegar and make repeat visits to purchase more and order it by mail.
Denise mentioned that they have numerous visitors to the schoolhouse tasting room located on US 12. Many visitors are traveling to Illinois, Indiana and Michigan's Ann Arbor. US 12 is a picturesque road to travel. Some visitors to the tasting room have second homes in the area and frequently stop by the tasting room.
At Cherry Creek, the emphasis is on fun and learning about the wines. On weekends, fresh baked bread and tastings of dipping oils are available. Tastings of wine and fudge are available throughout the week. Wine classes about wine and food pairings are offered at the schoolhouse site four times a year. In addition, four times a year gourmet wine dinners are offered. At these dinners, a different wine is served with each course and John talks about each wine. The tasting room at the Schoolhouse site participates in all of the Pioneer Wine Trail events.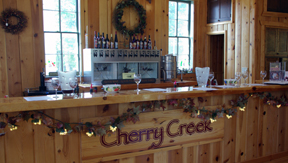 Between the two tasting rooms, we tasted several wines. The Gewürztraminer is a dry Gewürztraminer with a spice bouquet. There is fruit on the taste and aftertaste. This is a good wine to pair with foods. Montage blend is a Cabernet Sauvignon and Chancellor Noir blend with red fruit, good tannins, acid and fruit balance. Dune is produced with the Alsatian Auxerrois grape. Dune is very dry with a very long fruit aftertaste. Cabernet Sauvignon has a red fruit bouquet. The fruit flavor lingers on the aftertaste. Merlot has pepper on the nose and taste, with a dark red fruit and pepper on the aftertaste. Summer Breeze is a blend of Riesling, Gewürztraminer, and Vidal. This wine has a floral bouquet, sweet with fruit taste and is dry on the aftertaste.
The future is bright for Cherry Creek Cellars with plans to increase production, increasing the size of the tasting room at the winery and dreams of opening another tasting room.
Cherry Creek Cellars
2199 North Concord Road
Parma, Michigan 49224
GPS: N 42° 15.910' W084° 38.915'
Cherry Creek Old Schoolhouse Winery
15750 US 12
Cement City, Michigan 49233
Schoolhouse GPS: N 42° 03.039' W084° 18.069'
---