Left Foot Charley
Winery, Tasting Room and Wine Bar
by
Kathy Sullivan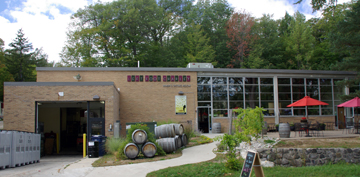 Summary: Left Foot Charley Winery, Tasting Room and Wine Bar is located in a renovated area of one of the buildings on the campus of a former state asylum. Bruce Ulbrich, owner and winemaker, has created a wine bar and tasting counter adjacent to the winery. Large windows allow visitors to see areas of the winery.
Left Foot Charley in Traverse City, Michigan was established in 2007. The focus is on creating quality white wines from Michigan grapes. The winery sources grapes from an assembly of individual private growers. Bruce Ulbrich wants to create wines that showcase the growers.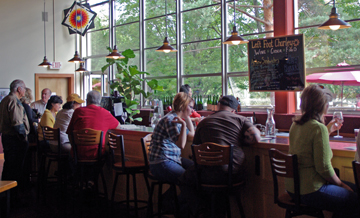 The tasting room is long with bar stools available lending it to be a great place to relax and enjoy quality wine, hard ciders and a snack. In a corner a small conversation area is set up for relaxing and enjoying a glass of wine. Visitors can view the adjacent winery through large windows. The local residents are happy to have a nearby winery and tasting room.
Left Foot Charley has several unique features including the name. Why Left Foot Charlie? The owner's mother bestowed this nickname upon him. As a child Bruce would stumble quite often. His mother also thought he resembled Charlie Brown. After a difficult time searching for a good winery name, Left Foot Charley was chosen.
The site of the winery is also unusual. The owners chose to reuse a laundry building in what was part of a large asylum in Traverse City. The asylum closed in 1989 and according to Bruce, the laundry facility was in good condition when he wanted to use it as a winery and tasting room.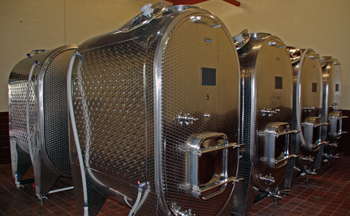 Today large stainless steel tanks can be seen behind large plate glass windows that separate the winery from the long tasting counter. Several of the tanks are unusual. These tanks are oval shaped standing about six feet tall and thirty inches in width. Bruce likes the way the movement of wine occurs within an oval shape. These tanks were produced in Slovenia by Jaklic.
The winery has several vineyards where they source grapes. Ten are located on Old Mission Peninsula, three on Leelanau Peninsula and one in Atrim. Left Foot Charley produces 4,000 cases.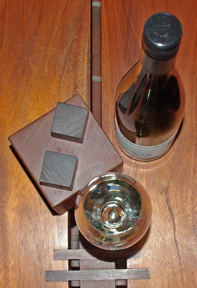 Wines
Dry Riesling 2009 was a straw yellow color. Grapes were harvested from vineyards on Old Mission Peninsula. The aroma offered floral and tropical notes. There were tropical nuances with a twist of citrus. The finish was crisp and fruity. Pinot Grigio 2009 was a pale yellow with an aroma and taste of lemon grass. The finish was crisp with lemon nuances on the aftertaste. Pinot Blanc 2009 was clear with a slight yellow hue. There were mineral and apple notes on the aroma. The taste had apple with citrus nuances. The finish was crisp with apple notes. Pinot Gris 2009 was clear with yellow hues. The aroma offered tropical fruit nuances. The taste had tropical fruit and citrus notes. The finish was crisp with tropical fruit yielding to citrus. Riesling MD (Medium Dry) 2009 was clear with a pale yellow hue. There were mineral notes on the aroma while the taste had nuances of peach and citrus. The finish had notes of peach yielding to citrus and then back to peach. Murmur 2009 was a house blend that changes every year. The 2009 blend consisted of Gewürztraminer, Pinot Grigio and Riesling. The aroma was of floral and citrus notes. There were citrus notes on the taste and finish.
Rosé 2009 was a blend of Cabernet Franc, Lemberger and Leon Millot. This is a good wine for a warm summer afternoon. Bruce has an interesting take on rosés as indicated by the back label of this wine. "In this Red centre wine culture we inherited, pink has a diluted connotation. It's too delicate to be red and certainly too racy to be white. This Purgatory stature has left the best rosés wandering aimlessly…."
Hard Ciders
The winery produces two hard apple ciders. Sparkling Hard Apple Cider offers an aroma of apple and baking spices. The taste was like fresh apple juice. The finish had noticeable apple and cinnamon nuances. Cinnamon Girl Apple Cider offered cinnamon and apple from the aroma through the taste.
When planning to visit Left Foot Charley, schedule enough time to enjoy the wines with an item from the munchies menu.
Left Foot Charley
806 Red Drive
Traverse City, Michigan 49684
GPS: N44º 45.383' W85º 38.660'
---