Willow Vineyard
by
Kathy Sullivan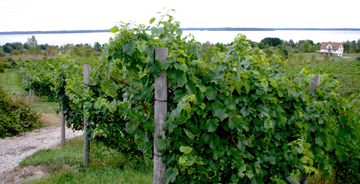 Summary: Willow Vineyard, a boutique winery, is on a winding stone driveway. Upon reaching the tasting room and winery, visitors will have beautiful scenery and quality wines. Enjoy tasting wines with a purchased plate of seasonal snacks.
After traveling along a stone winding driveway, travelers will reach the delightful Willow Vineyard with an unbeatable view of Grand Traverse Bay. Vineyards line the hillsides sweeping towards the blue water. The vineyards are very photogenic. The name comes from an old willow tree on the property.
The tasting room is a delightfully boutique room with a quaint touch to it. While tasting wines enjoy browsing the wine accessories including hand painted wine glasses and the numerous antiques that decorate the tasting room.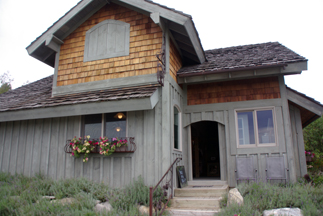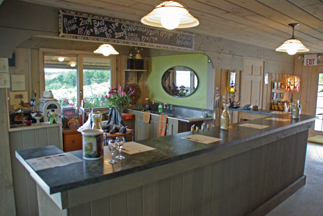 Jo and John Crampton are happy with the vineyards and wines produced in the onsite winery. Currently the winery produces 1,400 cases of wine. Wines are made using their own grapes. These wines are sold from the tasting room. Part of the tasting experience can include purchasing a snack plate, Willow Snack with a View. The items include French bread, cheese, fresh fruit and chocolate – all the things that can pair well with wines. In testament of the quality of Willow wines, while in the tasting room, we overheard a returning customer say, "I fell in love with your Chardonnay." Isn't this a comment that every winemaker would like to hear?
Jo and John Crampton had previously been in the landscaping business and owned nurseries in the southern part of Michigan. After retiring from the landscaping business they chose to move to Leelanau Peninsula. In 1992, after talking with Larry Mawby of the L. Mawby winery, the Cramptons decided to build a home, construct a winery and plant vineyards. The vineyards consist of eight acres with heavy clay soil. Varieties in the vineyards are Chardonnay, Pinot Gris and Pinot Noir. The winery, located in the lower level of their home, has several gleaming stainless steel tanks.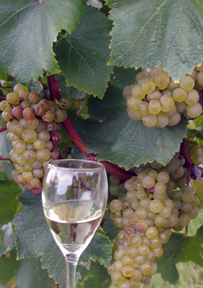 Wines
In the winery, John, the winemaker, uses only grapes from his own onsite vineyards unless the harvest is low. In that case he sources grapes from local vineyards. Visitors who enjoy the wines produced at Willow Vineyard will want to purchase several bottles as all wines are sold only from the tasting room.
Chardonnay 2009 offered an apple aroma and taste. There was a touch of citrus on the taste. The finish was crisp. The wine was aged in French oak. Baci Rosé 2009 was a light red with orange hints. This wine was a dry rosé of Pinot Noir. The aroma and taste had notes of strawberries and cherries. The finish was crisp and fruity that yielded to pepper nuances. Pinot Gris 2009 was a light straw color. There were notes of pear on the aroma while the taste offered pear and peach nuances. The finish was crisp and fruity.
Enjoy a visit to Willow Vineyard and consider purchasing the available snack plate.
Willow Vineyard
10702 E. Hilltop Road
Suttons Bay, Michigan 49682
GPS: N44º 54.357' W85º 38.426'
---