Old Shore Vineyards
by
Kathy Sullivan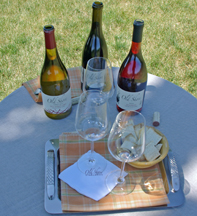 Summary: Old Shore Vineyards (OSV) located in the Lake Michigan Shore AVA, provides a delightful vineyard wine tasting experience. How often do you have the opportunity to enjoy a private outdoor wine tasting within feet of a prolific vineyard? This is the experience that Old Shore Winery offers to wine enthusiasts.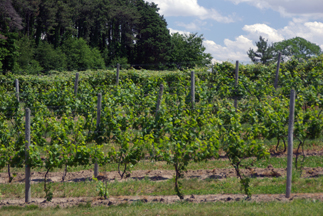 Arriving at Old Shore Vineyards for our scheduled wine tasting, we were quickly greeted by Sofia who came gently running to investigate us. Sofia is a cream colored furry Labradoodle. The Old Shore Vineyards' dog enjoys greeting visitors and running through the vineyards. Old Shore Vineyards has named one of their wines Sofia, "in honor of her dedication to vineyard scouting, chasing birds and naps in the sun—A dog's life indeed". Quickly Dannielle Maki greeted us with a friendly smile. Dannielle along with her husband David, own Old Shore Vineyards. Dannielle is enthusiastic and passionate about the wines produced from these onsite vineyards. She noted that "the Macroclimate of being near Lake Michigan moderates the temperatures and allows there region to grow vinifera. The vineyard name derived from the couple discovering seashells while digging pit holes for soil testing. They believe their property was the pre-glacier shoreline—thus Old Shore Vineyards."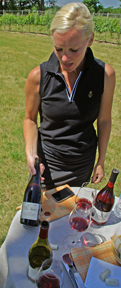 In 2005 David had the vineyards planted Pinot Noir and Pinot Gris varieties. In 2006 David planted more Pinot Noir and Pinot Gris vines. His plan was to sell the grapes to wineries. The vineyards are named and include Turkey Nest Vineyard, Barnyard Vineyard, Sofia Vineyard, Tree Line East and Tree Line West Vineyards. Turkey Nest Vineyard was named because a turkey nest was discovered in the vineyard. Danielle maintains the vineyards and oversees sales and marketing. Leaf pulling, pruning and harvesting, are all done by hand.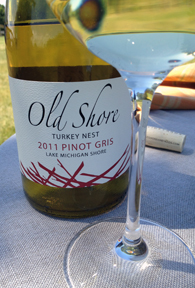 Wines
In 2008 Cornel Olivier from Stellenbosch, South Africa partnered with Old Shore Vineyards as the winemaker. He is also the winemaker at Two Lads Winery on Old Mission Peninsula. In 2009 he produced OSV's first commercial production of wine from the estate Old Shore vineyards.
Produced from three vineyard blocks, Pinot Gris Turkey Nest 2011 was produced by fermenting the grapes from each block separately and blending them. The wine offered an aroma of tropical fruit. The taste had pineapple and orange blossoms. The finish was crisp and fruity. This is a good 3P (patio, porch, pool) wine. Pinot Noir Tree Line 2010 was a blend of 50 percent stainless steel and 50 percent French oak. The wine offered cherry notes. The finish had mild, chewy tannins with fruit on the aftertaste. Sofia Rosé 2010 was produced from 100 percent Pinot Noir from a single vineyard block. The color was red to reddish/orange. The wine had cherry aromas with a taste of cherry and vanilla. The finish was crisp with a fruity finish. The wine had a slight perceived sweetness from the fruit.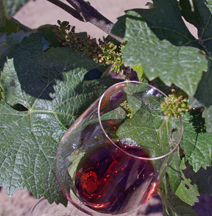 History of the Land
Prior to 1920 the land had been a farm. The renovated barn on the property was built in 1895. The Weber family purchased the property in 1920 and it remained in the family until 2005. The Weber family planted, harvested and sold sugar beets, wheat, hay, and corn. Fruits grown on the property included peaches, sweet cherries, apples and raspberries. At one time with several acres of peppermint, the Weber family distilled the peppermint. The Wrigley Company in Chicago purchased it. In 2005 David Maki purchased 65 acres of the property and began the vineyards.
Old Shore Winery offers a unique wine tasting for wine enthusiasts. Call to make an appointment. You will be sure to enjoy the special experience Old Shore Vineyards offers visitors.
June 2012
Old Shore Vineyards
264 Bowntown Road

Buchanan, Michigan 49107

269-422-1967
GPS: N41º 54.206' W86º 27.673'
---
Visit the Michigan winery, lodging facility and restaurant that partner with Wine Trail Traveler.