Ciccone Vineyard and Winery
by
Kathy Sullivan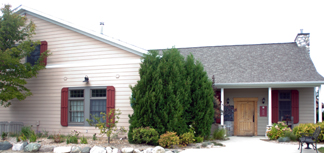 Summary: Ciccone Vineyard and Winery produces estate grown and bottled wines. Ciccone Vineyard and Winery is located among the beautiful countryside of Suttons Bay, Michigan. Private events including weddings can be held in the renovated red barn.
The tasting room is delightfully friendly. Wood beams add character and ambiance to the room. An ornate cross adorns the wall over the stone fireplace. The vineyards are located near the tasting room. When the vineyards are fully leafed out, Suttons Bay cannot be seen unless one stands high. During late fall, winter and early spring viewing the water should be much easier.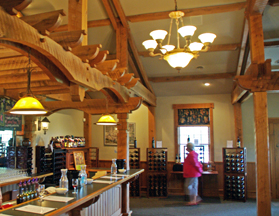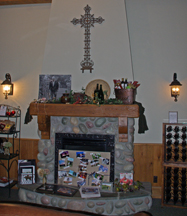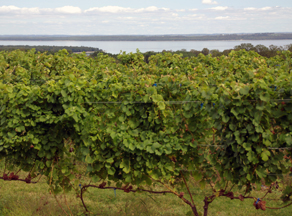 Silvio T. Ciccone and his wife, Joan, purchased the property in the 1990's and in 1995 planted the vineyards. The Ciccone vineyards are onsite and consist of 14 acres. The soil consists of mostly clay with pockets of sand and stone. Grape varieties include Chardonnay, Gewürztraminer, Riesling, Pinot Blanc, Pinot Noir, Cabernet Franc, Cabernet Sauvignon, Merlot, Malbec and Dolcetto. The first harvest was 1998.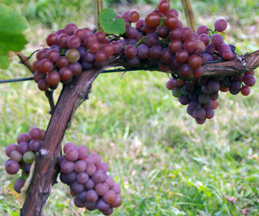 Silvio retired from a career with General Dynamics and wanted to retire in the Leelanau area. He was familiar with the area because he had camped on Leelanau Peninsula. When Silvio was growing up he had been brought up around vineyards and winemaking. Before moving to Suttons Bay, Silvio made wine for himself and then commercially. With the right property and an interest in winemaking this was a perfect second career for Silvio.
Currently Ciccone Vineyard and Winery produces 3,000 cases of wine and Silvio would like to eventually double that production. As winemaker, Silvio wants his wines to reflect the terroir of this Michigan area.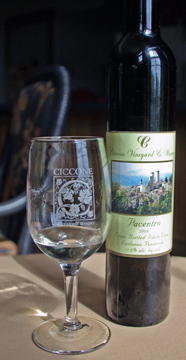 White Wines
Pinot Grigio 2008 was clear with a yellow hue. There were mineral and apple notes on the aroma. The taste offered citrus and apple notes. The finish was fruity and crisp. A suggested pairing was with an antipasta dish. Riesling 2008 was clear with a yellow hue. The aroma had floral and tangerine nuances. The taste was smooth with tangerine notes. The finish was fruity with a tangerine aftertaste. Suggested pairing was with appetizers that features gonzola or bleu cheese. Pacentro 2008 was a blend of Pinot Blanc and Muscatto. This straw-colored wine's aroma was very floral with especially orange blossoms. The taste was smooth with orange notes. The finish was sweet but dried on the aftertaste. The label depicts Pacentro Italy where Silvio's parents lived before moving to the United States.

Red Wines
Dolcetto 2008 offered an earthy and dark fruit aroma. The taste was of dark fruit with plum nuances. There were mild tannins on the crisp and fruity finish. Lee La Tage 2008 was a dark red blend of Cabernet Franc, Cabernet Sauvignon, Merlot and Malbec 2008. The aroma and taste offered red berry fruit especially red raspberries. The finish was crisp and fruity with mild tannins. Due Rosse (two reds) 2008 was a blend of Marcehal Foch and DeChanauc. The result was a dark red wine with an aroma of red berries. The taste had red berry with earthy nuances. The finish was sweet and fruity. Suggest pairings were with barbequed or grilled meats.

Tribute to Silvio's Parents
Silvio and Joan add a back label on most wines that pays tribute to his parents. "These wines are dedicated to the memory of my father, Gaetano Ciccone, & my mother Michelina DiIulio, who immigrated to this country from Pacentro Italy. Their six sons Guido, Rocco, Neilo, Pietro, Gaetano & Silvio are forever grateful for their love of Italian wines & the sacrifices they made for all of us."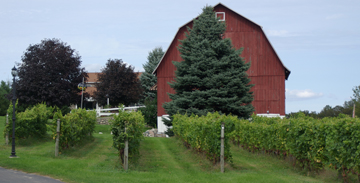 Visitors to the Ciccone tasting room will see a large red barn set back from the tasting room. The Ciccones renovated this 1930's barn and it is now an event center for private events including weddings. The atmosphere is rustic with elegance. Tiny lights add sparkle and the light wood floor adds an air of light and ambiance to the large room. An outside venue is also available for outdoor weddings.
Enjoy a visit to Ciccone Vineyards and Winery where quality wines, terroir and ambiance are important.

Ciccone Vineyard and Winery
10343 E. Hilltop Road
Suttons Bay, Michigan 49682
GPS: N44º 54.416' W85º 38.821'
---