Domaine Berrien Cellars
by
Kathy Sullivan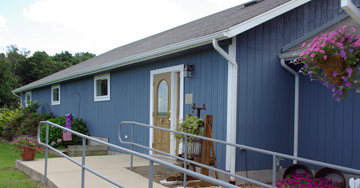 Summary: Enjoy a visit to a friendly and cheerful tasting room located in Berrien Springs, Michigan. Visitors will discover two dozen wines to choose from. Domaine Berrien also sells grapes to other wineries.
Domaine Berrien is located in Berrien Springs, Michigan. Wally and Katie Maurer own Domaine Berrien. Wally is the winemaker and viticulturist who specializes in red vinifera wines using only estate grown grapes.
History
Thomas Fricke, Katie's father and a retired engineer, purchased the property and planted different grapes to see what would grow well. Grapes were sold to other wineries. Thomas and Wally made wine as a hobby.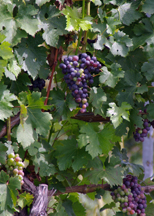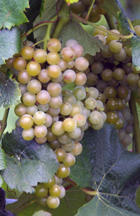 Today the vineyards consist of 40 acres of vines including Cabernet Franc, Pinot Noir, Chardonnay, Merlot, Cabernet Sauvignon, Syrah, Marsanne and Viognier. Eight of the acres are planted with Niagara grapes. Plans are already in place for planting an additional 20 acres of grapes. Commercial customers may also purchase grapes from Domainee Berrien. Currently the winery is producing 4,300 cases and the Maurers are looking to produce 5,000 cases.
Inside the winery, a small area has an observation deck that overlooks a portion of the winery facility where stainless steel tanks are located.
Flagship wines include Pinot Noir, Cabernet Franc and Marsanne.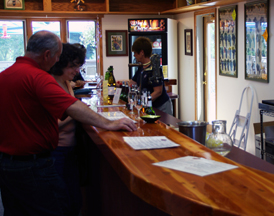 White Wines
Traminette Sweet 2008 with four percent residual sugar was a straw color. The aroma was of honey and honeysuckle while the taste was sweet with notes of honeysuckle. The taste lingered and dried. Viognier 2008 was a pale yellow. The aroma and taste offered peach and melon nuances. The crisp finish had melon notes. Marsanne 2008 was a pale yellow with an aroma of honeysuckle. The taste was like a fruit salad yielding to citrus. The crisp finish was dry yielding to fruit.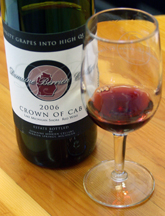 Red Wines
St. Vincent 2008 was a ruby pink color. The aroma was of red tone fruit and the taste had cherry notes. The finish was very mild with cherry notes. Crown of Cabernet 2006 was aged in oak for 24 months. The color was ruby sienna. The aroma and taste were of black fruit and earthiness. The finish was crisp and fruity with mild tannins. Grandma's Red 2008 was a blend of de Chaunac and Chelois. The color was a deep opaque purple. The aroma was sweet. The taste was sweet with four percent residual sugar. A clothing selection is available for this wine, featuring Little Red Riding Hood and the Wolf dressed as Grandma.
Enjoy a visit to Domainee Berrien Cellars & Winery where you will view acres of vineyards and be able to choose from a number of wines to taste.
Domaine Berrien Cellars
398 East Lemon Creek Road
Berrien Springs, Michigan 49103
GPS: N41º 57.310' W86º 26.958'
For more information about Domaine Berrien Cellars
---