Chateau Aeronautique Winery
by
Kathy Sullivan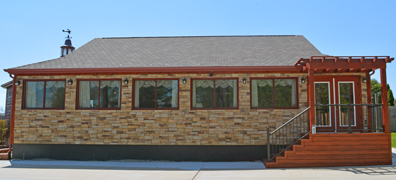 Summary: Chateau Aeronautique Winery is a small boutique winery located in a Michigan airpark near Jackson, Michigan. The winery is owned and operated by enthusiastic owner and winemaker Lorenzo Lizarralde. Upon meeting Lorenzo, visitors will quickly learn that he has two major passions - wine and aviation. At Chateau Aeronautique Winery, Lorenzo is seeking to produce fine, sophisticated international-style wines.
Chateau Aeronautique Winery is located adjacent to an airpark in Jackson, Michigan. Owner and winemaker Lorenzo Lizarralde is an avid international pilot and passionate about wine. Lorenzo also flies a Cessna as a hobby. Currently the Cessna is resting in the winery facility. Lorenzo's international travels has allowed him to travel to numerous wine regions of the world including Bordeaux, Champagne and Sauternes in France, as well as wineries in Germany and South Africa. He delights in telling stories about his unique experiences in these regions.
Visitors will discover a unique and delightful tasting room adjacent to Lorenzo's home. The tasting room gazebo opened in 2009. Lorenzo is friendly and enthusiastic. He was quick to stop and greet everyone visiting the tasting room. Adjacent to the tasting room, a patio is available for visitors who want to enjoy a glass of wine outside on a lovely day.
When asked about his first interest in wine, he grinned and said "Girls." Lorenzo followed this up adding that he liked visiting wineries and had a passion for learning about wine. First, he began collecting wine. Eventually while talking about his wine cellar, a copilot suggested that Lorenzo begin crafting his own wine. Soon Lorenzo was making his own wine.
To get a real sense of Chateau Aeronautique Winery, the back label on the wine bottles states, "Our winery expresses a nostalgia for days past with its grass runway and vintage airplanes, and models itself after the Chateaux of Bordeaux and Burgundy with vinifera wines aged in French oak barrels."
While visiting with Lorenzo, he showed us some of the unusual details of the original tasting room. The unique tasting room was built as a gazebo tasting room. Lorenzo pointed out the rosewood tasting counter that was crafted by an Italian company in Egypt. The floor is reminiscent of flooring in Versailles.
As the popularity of Chateau Aeronautique Winery grew, the need to increase the size of the tasting room grew. In 2016 an addition was added to accommodate a long rectangular tasting counter. One wall is painted with a colorful mural of Tuscany. Works of art by local artists are displayed on the walls. During May 2017, the art was comprised of unique paintings with airplane pieces added for a three-dimensional look.
Current plans for fall 2017 include opening a second tasting room in the Irish Hills. The building will include a new winemaking facility. This facility will overlook a 20-acre vineyard.
Current wines are produced with grapes sourced from Michigan. Lorenzo believes, "If you want to make world class wine, you have to know what world class wine is like." In addition to crafting red and white still wines, Lorenzo crafted two cases of traditional sparkling wine.
Wines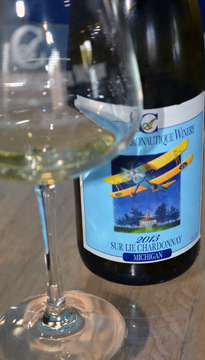 Sur lie Chardonnay 2013 was aged in French oak for 24 months. The wine was a yellow color. Aroma notes included apple and vanilla. The taste was of green apple, vanilla, caramel and citrus. The wine was full-bodied and smooth. The finish was crisp. Dry Riesling 2013 was a pale yellow color. The wine was crisp and dry offering mineral notes.
Aviatrix Crimson 2012 was a blend of Cabernet Franc, Merlot and Cabernet Sauvignon. The wine was a ruby color with a sienna hue. The aroma was of black fruits. The taste offered plum, blackberries and black cherry notes. This was a medium-bodied wine with bold tannins. The finish was crisp and fruity. Syrah 2012 was a ruby color. The aroma was of black fruits and spice. The taste offered notes of plums, blackberries, and spice. This was a full-bodied wine with medium-soft tannins. The finish was crisp.
Cabernet Sauvignon 2012 was a translucent red color. The wine was very fruity with notes of blackberries and blueberries. The wine was dry with good tannins. The fruity finish lingered. Cabernet Franc 2013 was a translucent dark red color. The aroma was earthy with notes of plums. The taste included notes of pepper and tannins. This dry wine had a long finish with notes of peppers and tannins.
Passito Cabernet Sauvignon 2013 was produced with raisined grapes. The wine was a translucent sienna color. The aroma was intense with notes of raisins. The mouthfeel was silky and reminiscent of sweet dried black fruits. The finish was crisp. Pair this wine with sweet desserts. On Mother's Day weekend, Chateau Aeronautique Winery was pairing this wine with colorful cupcakes for Mother's Day.
Watch for the opening of Chateau Aeronautique's second tasting room in the Irish Hills coming in late 2017.

Chateau Aeronautique Winery
1849 Rives-Eaton Rd
Jackson, Michigan 4920
GPS: N 42º 21.8563' W 84º 25.3350'
Article written May 2017
---