Lemon Creek Winery Fruit Farm and Vineyard
by
Kathy Sullivan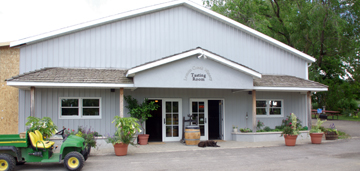 Summary: Lemon Creek is a family owned winery, farm and farm market. Currently the 6th generation operates the farm. In addition to acres of wine and juice grapes, Lemon Creek has 50 acres of peaches and apples. Seasonal fruits are available for U-pick and pre-picked.
Over the U-shaped tasting counter, small stained glass lights add to the experience. Jeff Lemon noted that they "try to get to know the people who come in." Browse the many wine related items in the tasting room while enjoying tasting some of the many wines available.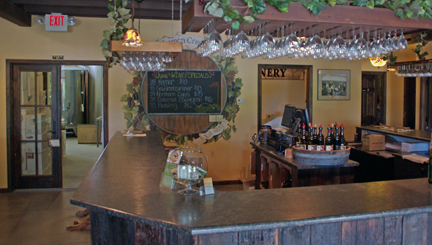 Background
Jeff Lemon is the winemaker at Lemon Creek Winery. The farm has been in the Lemon family for 157 years. Jeff and his brothe, Tim, are the 6th generation on the family farm. Jeff and Tim have worked in the vineyards for over three decades. According to Jeff, Lemon Creek Winery fell into the wine business when the Lemons and their neighbors planted Vidal grapes in the early 1980s as a result of St. Julian and Tabor Hill wineries needing grapes. As might be expected there was an over abundance of Vidal production. The Lemons decided to develop a farm market and winery. The winery started in 1984.The farm market drove the winery.
Today there is the Lemon Creek Vineyard tasting room and a tasting room located in Grand Haven.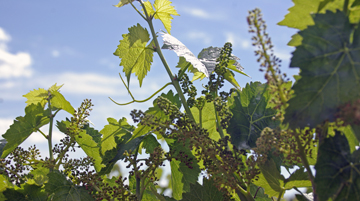 Vineyards
In 2012 Lemon Creek has 150 acres of vines with 19 varieties that include Vidal, Cabernet Sauvignon, Chancellor, Chambourcin, Chardonnay, Cabernet Franc, Merlot, Vignoles, Kerner and Malbec. Lemon Creek also grows Concord and Niagara grapes that are used for the Farm Market's U-Pick.
Wines
When tasting wines note the quote on the glass, "When your name is on it, your heart is in it." Another great quote from the Lemon family and on their wine bottle labels is "Farming is our business, growing grapes our profession, selling good wine our ambition."
Today the winery produces 8,000 cases of wine. Lemon Creek Winery uses a trained winemaker to produce their wines. They make seven white wines, one dry rose and 10 dry reds.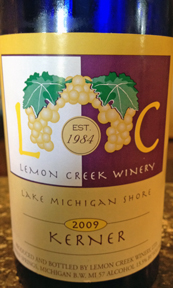 Kerner 2009 was produced from Kerner grapes, a German grape variety. The wine was a light straw color with a floral and yellow stone fruit aroma. The taste had notes of yellow stone fruit. The finish was crisp with fruit yielding to roses. Riesling 2010 is one of Jeff's favorites. The aroma was aromatic. The taste was crisp and dry. Compass Rosé, a light red, was a blend of Cabernet Sauvignon, Merlot and Cabernet Franc. The wine offered notes of red berry fruit. The finish was crisp with a fruit explosion on the aftertaste followed by a slight minerality.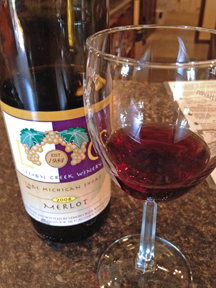 Merlot 2008 was ruby color with red cherry notes. The finish had chewy tannins and a cherry aftertaste. Cabernet Franc 2008, was a red color with red cherry notes. The finish, with mild tannins, was fruity. Cabernet Sauvignon 2008 was ruby with black fruit nuances. The finish had tannins and a fruity aftertaste. Meritage 2008 was smooth. The finish was dry with tannins and pepper nuances.
Cabernet Sauvignon Icewine 2007 was a burnt orange red. The aroma and taste reminded one of strawberry rhubarb pie. The wine was balanced and finished with a nice sweetness and crispness. The Cabernet Sauvignon Icewine is a unique wine and not frequently discovered. It is a must try wine. Snow Moon 2008 was a Vidal Blanc Icewine. The taste reminds one of a spoonful of honey.
Events
It is obvious that Lemon Creek wants to showcase quality wines and for people to have fun. The upcoming event at the time of our visit was the Annual Father's Day Festival and Corvette Car Show. The winery also participates in the Annual Vintage Blue Bash – Berrien Springs and the 17th Annual Harvest Festival – Berrien Springs.
When planning to visit Lemon Creek, plan to call in advance if you have six or more people in your group.
June 2012
Lemon Creek Winery Fruit Farm and Vineyard

533 East Lemon Creek Road

Berrien Springs, MI 49103
GPS: N41º 57.494' W86º 26.765'
---